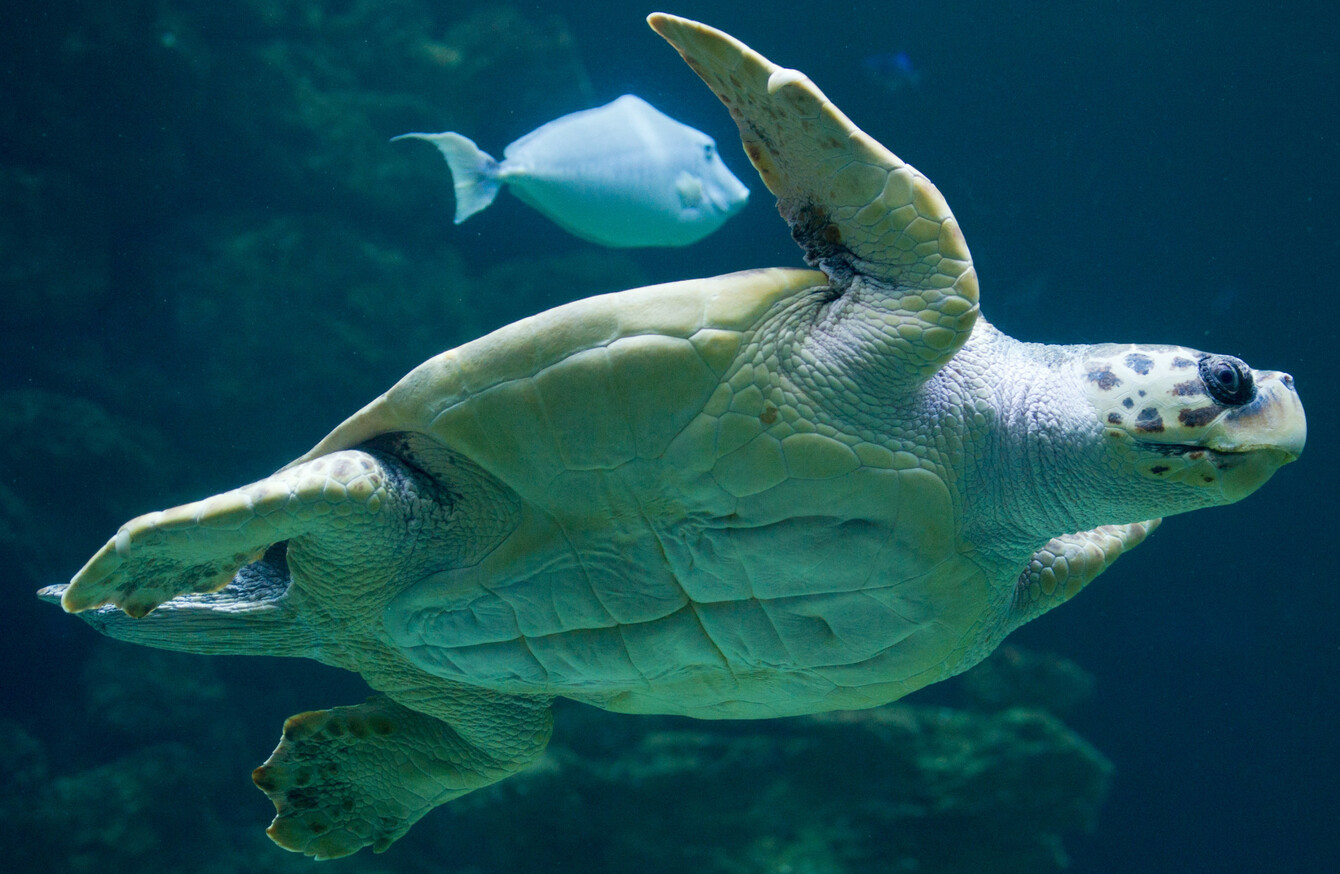 Image: DPA/PA Images
Image: DPA/PA Images
HUNDREDS OF MARINE turtles die every year when they become entangled in plastic rubbish, according to new research.
The rise in plastic refuse in the ocean and on beaches is killing turtles of all species, with a disproportionate impact on hatchlings and young turtles, research by the University of Exeter shows.
A world-wide survey covering the major oceans where turtles live discovered that 91% of the entangled turtles were found dead. They also suffered serious wounds from entanglement, leading to maiming, amputation or choking. Others that survived were forced to drag discarded rubbish or debris with them.
The survey found turtles are being tangled up in lost fishing nets, plastic twine and nylon fishing line, as well as six pack rings from canned drinks, plastic packaging straps, plastic balloon string, kite string, plastic packaging and discarded anchor line and seismic cable. Turtles were also discovered entangled in discarded plastic chairs, wooden crates, weather balloons and boat mooring line.
The research, published in Endangered Species Research, sheds light on the true threat of plastic pollution to marine turtles, which, other research has shown, also eat plastic rubbish, and marine creatures caught up in it.
Professor Brendan Godley. Professor of Conservation Science and Director of the Centre for Ecology & Conservation at the University of Exeter's Penryn campus and the lead author warned that as plastic pollution increases more and more turtles are likely to become entangled.
The report concluded that, based on the survey results, that more than 1,000 turtles are likely to die due to entanglement. But the figure is likely to be a 'gross underestimation' of the scale of the threat to turtles. Not all dead turtles strand on beaches, especially young animals, and some decay at sea. Some of the experts surveyed said that not all stranded turtles are found and that some are removed by local people to eat.
All species of turtle were found entangled, but Olive Ridley turtles are the most likely species to get tangled up. The species nests in the hundreds of thousands. It forages in areas where marine debris can aggregate. It may also be attracted to feeding on marine rubbish, including discarded fishing tackle.
The report concludes: "Entanglement with anthropogenic plastic materials, such as discarded fishing gear, as well as land based sources, is an under reported and under researched threat to marine turtles."
But it points out some communities are actively working to rescue turtles that get tangled up. Fishermen in Sicily volunteer to take part in the rescue of turtles in difficulty at sea and on beaches, and are trained to transfer them to rescue centres.