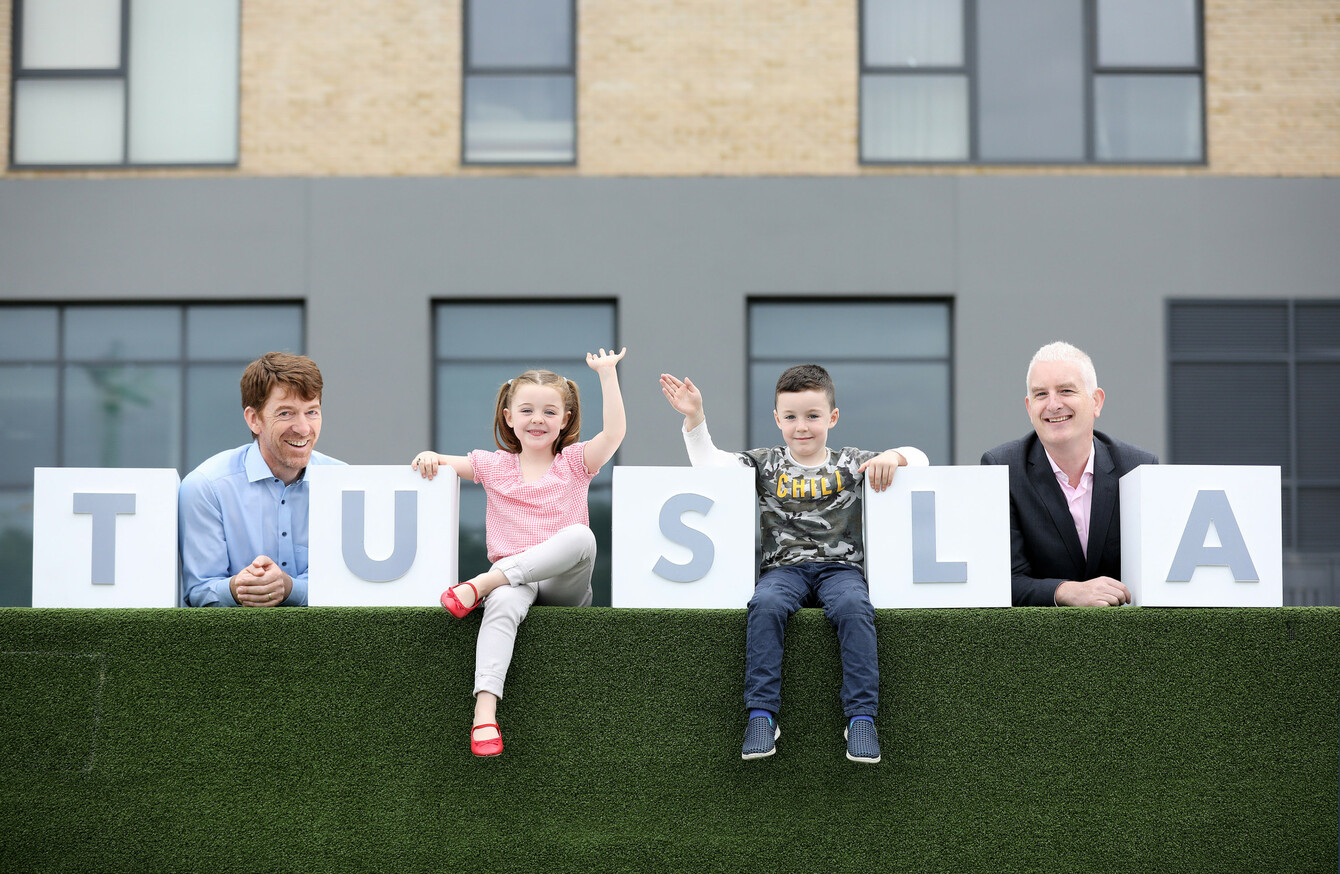 The launch of Tusla's new database yesterday with Scott McDonagh (6) and Naoise Roddy (6) in the middle of Gerard Brophy (left) and Fergal Collins (right)
Image: Julien Behal
The launch of Tusla's new database yesterday with Scott McDonagh (6) and Naoise Roddy (6) in the middle of Gerard Brophy (left) and Fergal Collins (right)
Image: Julien Behal
THE NEW COUNTRYWIDE database that will be used by Child and Family Agency Tusla will keep information on children and adults "in perpetuity", it has said.
Tusla unveiled the national rollout of its new National Integrated Information System yesterday, which will ditch paper records across 17 separate social work areas and put them all in one IT system.
Some 450,000 records of open and closed cases involving children that come into contact with social workers have been put into the new system, and all new cases will be put into it too.
All the data that gets fed into the system through referrals will be kept on there and on file, but chief social worker Gerard Brophy told reporters yesterday that there will be some cases where this data on individuals is not kept and deleted.
He also said that the new system will allow vital information to be put on file that will give Tusla "huge insight into individual children".
"It now gives us the ability to find information instantly," he said. "It also gives us the ability to keep that information safe."
The issue of files kept by Tusla, and how they were acted upon, came under sharp scrutiny in the case of garda sergeant Maurice McCabe. 
The agency apologised to McCabe after a series of errors led to it sending the garda a letter containing false allegations against him that he'd digitally penetrated a child.
The original error containing the false allegation had remained on file for years despite it being incorrect. It had originated from a completely separate case where that information was mistakenly put onto a file about McCabe.
Brophy said yesterday that there will be cases under the new IT system where clearly erroneous information will be deleted and not kept on file.
"Concerns arrive in a number of different ways, and investigations are done," he said. "And where it's obvious that either a person wasn't there or let's say in cases where a person's name is incorrect, or being attributed to the wrong person or information given maliciously, that can be deleted.
We also have situations where information is copied mistakenly in the system, so that can be deleted.
The chief social worker did, however, defend the practice on keeping records on file in most cases "in perpetuity".
#Open journalism No news is bad news Support The Journal

Your contributions will help us continue to deliver the stories that are important to you

Support us now
"This can be important," Brophy said. He said that in cases where children may have come into contact with them over concerns raised or an incident, it was vital to retain a history of reports, photos or notes available for "years to come".
He added: "It's getting that balance that individual citizens are protected and their rights are protected, where it is spurious we appropriately delete that, but we also protect the citizens involved."
The head of the programme management office at Tusla Fergal Collins also told reporters that the information is kept "very securely".
"You don't get access unless you're a Tusla employee," he said. "The system records any interaction with it… There's no data on hard drives, it all works off a remote system.
We keep all data in perpetuity on the system. We'll work on a new policy if we have to remove that data and get them off the system.