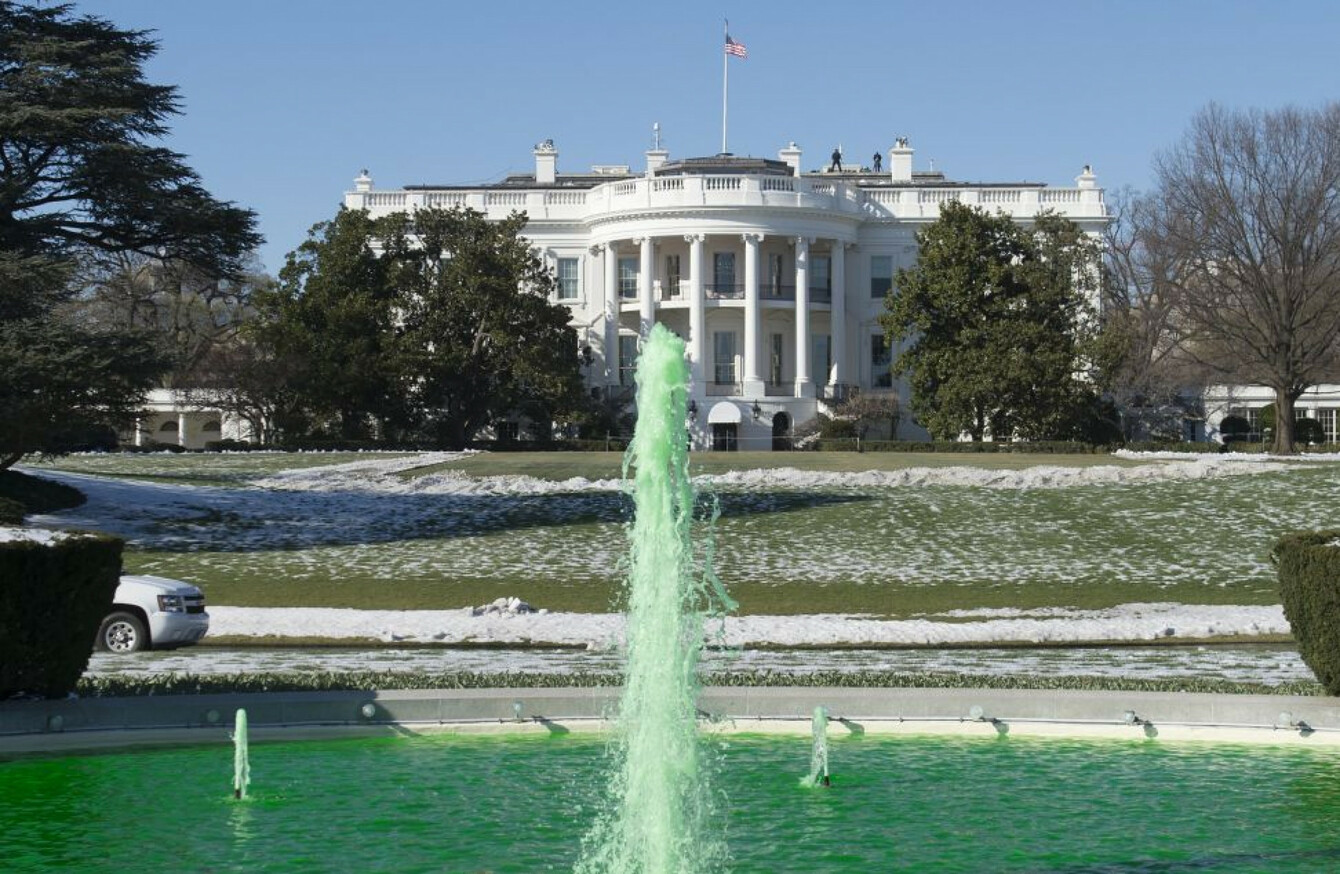 The fountain is dyed green on the South Lawn of the White House in Washington, DC last St Patrick's Day
Image: AFP/Getty Images
The fountain is dyed green on the South Lawn of the White House in Washington, DC last St Patrick's Day
Image: AFP/Getty Images
TÁNAISTE SIMON COVENEY will discuss how he wants Ireland to win a seat at the UN Security Council during today's Cabinet meeting.
The government has launched its campaign to take a seat during the Council's 2021-2022 term. It is up against Norway and Canada for the two available spots in a June 2020 vote.
Last summer, Taoiseach Leo Varadkar said he would like to secure the seat "so that [Ireland] can play an even greater role in international affairs and to achieving a world of laws".
"In a time of global uncertainty, rising terrorism, and threats to peace, it is right that we expand our diplomatic footprint overseas," he added.
The St. Patrick's Day programme of travel will be used as an opportunity by ministers to lobby world leaders on the issue, with the campaigners hoping to build "momentum and visibility for our candidature".
Background
The UN Security Council first sat in 1946. According to its charter, its primary responsibility is to maintain international peace and security. It has 15 members, and each member has one vote.
Last month, Coveney travelled to UN headquarters in New York to make Ireland's case.
While spending a day in the headquarters, he met with representatives of 50 African, Arab and Caribbean countries.
The main opposition though – Canada and Norway – are two member States with very strong standing at the United Nations and are both already engaged in high-level political campaigns.
While the ballot is more than two years away, the campaign is fully under way to gain support from the 192 other UN member States who will vote in the election.
A government source believes that Ireland's tradition of being a strong supporter of a rules-based international system (a fundamental principle of the UN) is key, as is the fact that, as a small state, the UN is central to our foreign policy.
Ireland became a member of the UN more than 60 years ago and it is understood the ambition to secure the Security Council term purposefully coincides with centenary of Irish independence. Sources believe Ireland is getting "a positive response" from other states so far.