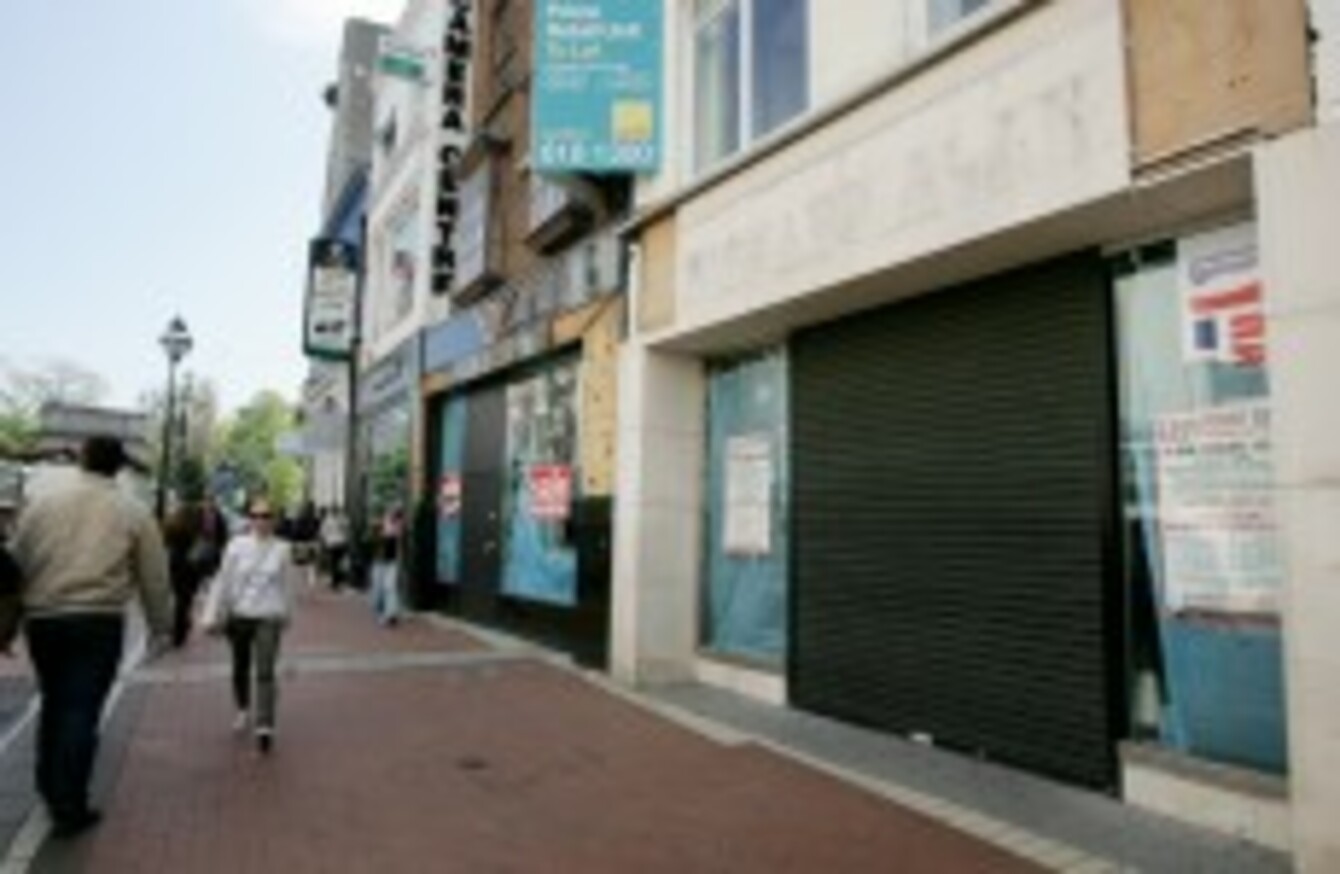 Image: Sam Boal/Photocall Ireland
Image: Sam Boal/Photocall Ireland
THE STRETCH ALONG Grattan Street and Castle Street in Sligo town has the highest rate of vacant retail units in the Republic of Ireland.
A report issued by CBRE shows that the high street had a vacancy rate of nearly 25 per cent during the first quarter of this year.
Nearby O'Connell street fared somewhat better though, with a vacancy rate of 12.5 per cent.
Athlone experienced a further increase in ground floor vacancy at the start of this year, with the current level resting at 21.6 per cent, up from 18.2 per cent this year.
O'Connell street in Limerick came in at 16.3 per cent.
Patrick Street in Cork recorded an increase, climbing from 13 per cent in the last quarter of 2013 to 14.3 per cent in the first three months of the year.
Tourist towns seem to buck the trend, with Killarney, Galway and Kilkenny coming in at between two and three per cent.
In Dublin, the level of vacancy on Grafton street fell to 7.5 per cent in the early part of this year compared to 10.8 per cent in Q4 2013. The level on Henry Street was 12.8 per cent, with a large level of transactions blamed for a jump from 4.3 per cent.
Call for action
Commenting on the rate of vacancy on Irish high streets, Retail Ireland director Stephen Lynam called on new councillors elected on Friday to work to revive towns and cities.
"A key problem is the high level of local authority charges, such as commercial rates. It is vital that both voters and candidate in Friday's elections remember that a recovery in the retail sector will reduce vacancy rates, increase the rates base and ultimately provide extra funding for local authority services."
He continued: "A key way to make that happen is to reduce rates for retailers and even offer rates holidays for retailers that take on a vacant unit. That way w can breathe new life in to our towns and cities.