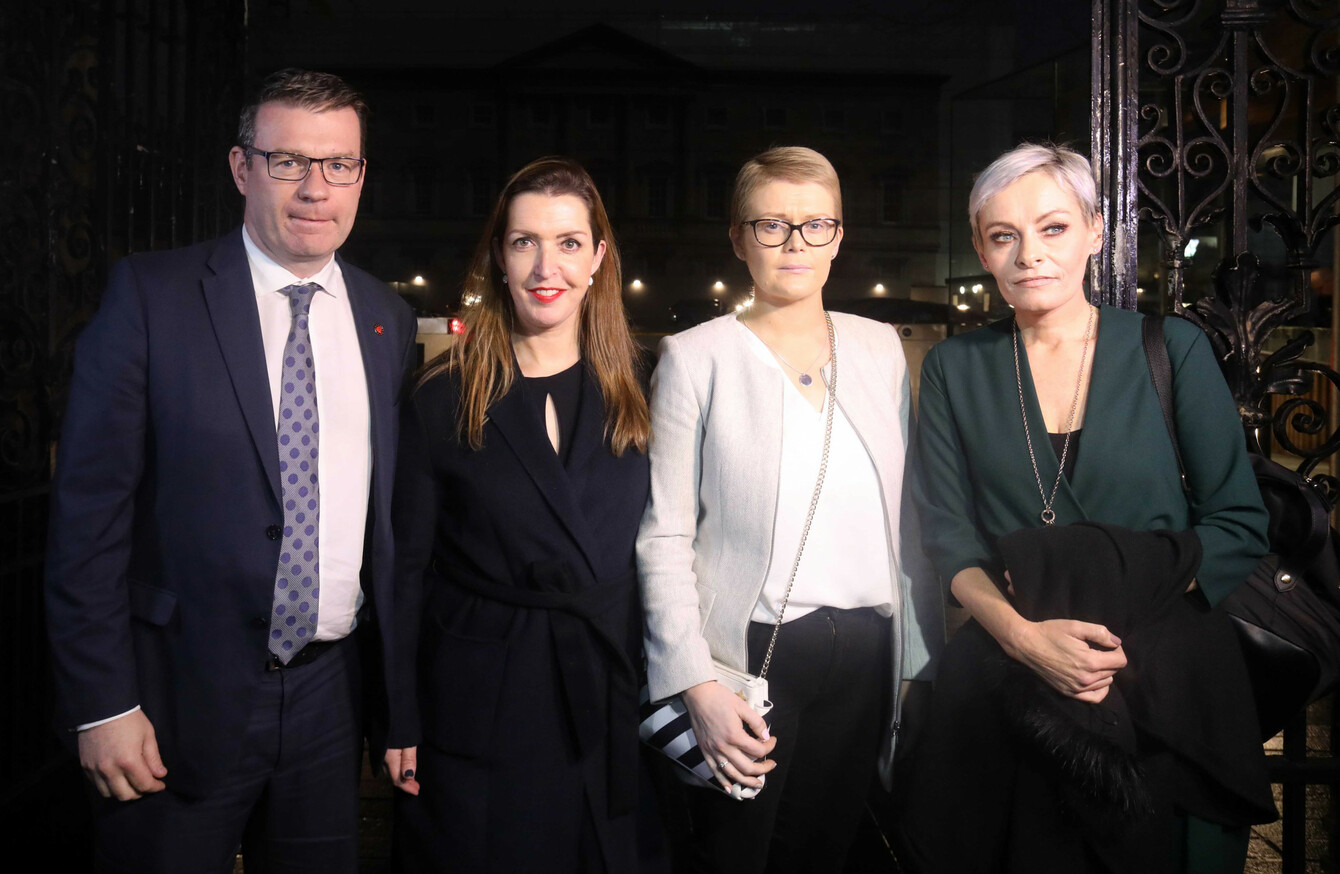 (L to R) Labour's Kelly with Vicky Phelan, Tracey Brennan and Aine Morgan
Image: Leah Farrell/Rollingnews.ie
(L to R) Labour's Kelly with Vicky Phelan, Tracey Brennan and Aine Morgan
Image: Leah Farrell/Rollingnews.ie
LABOUR TD ALAN Kelly has said that Ireland "owes it" to women suffering from cervical cancer to give them access to a drug that has the potential to extend their lives. 
Speaking to reporters this evening, Kelly was joined by Vicky Phelan, Tracey Brennan and Aine Morgan. All three women have cervical cancer, but the government has so far only agreed to pay for a costly, advanced medicine called pembrolizumab in Phelan's case as she was one of the women affected by the CervicalCheck scandal.
The women joined the Labour TD in calling on the government to give equal access to the drug for all women who may benefit from it as soon as possible. 
"The most important thing is equity of access," he said. "I believe it can be sorted very soon.
These ladies here – the best Christmas present they could get is to know pembro will be available for them for here on in… After what the country has gone through in relation to the CervicalCheck scandal, as a country we owe it to the women suffering from cervical cancer to do that as well. 
Kelly said he'd spoken with Health Minister Simon Harris on the matter and had received positive indications that the government could reach a positive decision in the coming days. 
Phelan has said the drug is allowing to live with the disease despite her terminal diagnosis in January of this year.
The drug has been offered by the State to the 221 women affected by the CervicalCheck crisis off-licence, but it has yet to receive clearance at the European level. 
One dose every three weeks costs €8,500 and it is recommended that patients stay on this dose for two years. For a certain cohort of women with cervical cancer, their tumours can respond to the treatment and improve their lives.
Kelly said: "It's had a dramatic impact on Vicky's health and life. We need it for all women. Equity of access is absolute and necessary. 
In particular Aine and Tracey haven't really the time for this to go on very long. We need equity of access for this now… We need this immediately. 
For the women whose physicians have decided they need pembro… the government needs to step up. These women have to have this drug. The three ladies around me deserve this drug. It's not acceptable for them to have to go fundraise to get this drug. 
He called for the same scheme in place for Phelan to be put in place for Tracey Brennan and Aine Morgan as soon as possible, and the same done for other women in their situation who could benefit.
"To be honest with you, I think I'm too young to die," Morgan said. "There are other women like this out there… time isn't on our side. We need this as quickly as possible."
Brennan: "We're just calling for equal access to give a chance."
Phelan said that there was no reason the two women beside her this evening shouldn't receive the pembrolizumab treatment she has been getting.
#Open journalism No news is bad news Support The Journal

Your contributions will help us continue to deliver the stories that are important to you

Support us now
She said: "The thing is, the difference between this drug -  and Aine and Tracey will tell you – as they've been on palliative chemotherapy. It's devastating, it affects every part of your life, and they've exhausted it at this stage.
The beauty with this drug is that it's targeted, you can have a test done to see if your tumour will respond to it. Most women on palliative chemotherapy will end up in hospital. To me it's a no-brainer [to give the drug].
It is not known how many women could benefit from pembrolizumab treatment at this time, but Kelly said the numbers may be low at present but are likely to grow. 
Kelly added that a briefing had been organised for TDs and Senators this evening, giving them the opportunity to engage with patients and clinicians on the issue of pembro.
The HSE has said the use of pembrolizumab in the treatment of cervical cancer has been approved by the FDA in the USA, but does not yet have a licence in Europe.
"On that basis, the use of the drug for the treatment for cervical cancer cannot yet be considered for national reimbursement by the HSE and is not approved by the HSE for reimbursement," it said. 
With reporting from Michelle Hennessy