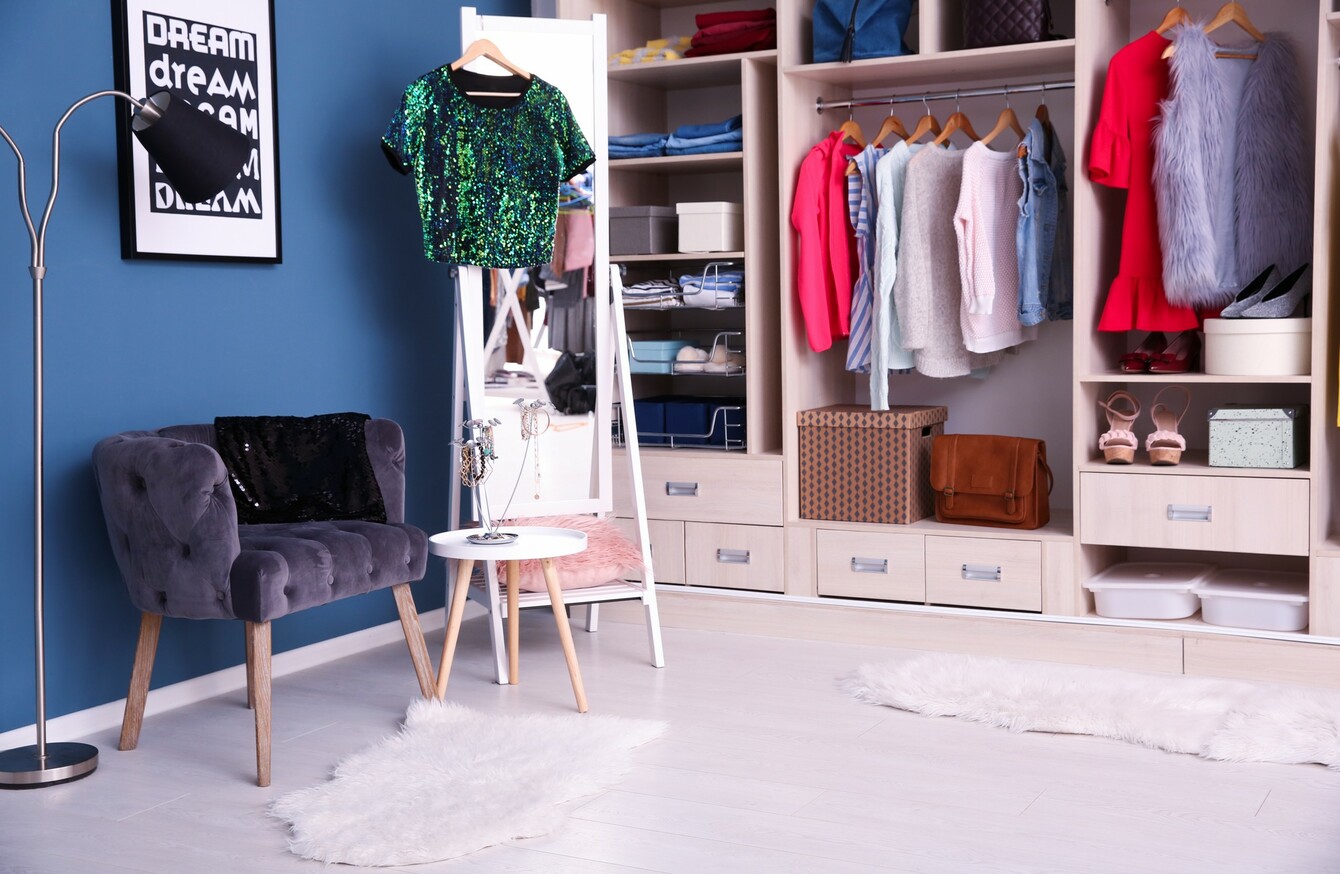 Image: Shutterstock/Africa Studio
Image: Shutterstock/Africa Studio
DREAMING OF A walk-in wardrobe but lacking in space? We've searched high and low on Instagram for some efficient wardrobe ideas that will (almost) do the same job. No wardrobe malfunctions here.
Branch out: If you're the neat and tidy type then a minimalist design that involves one hanging rail, might just work for you. It will let you display all of you favourite pieces and give the impression of a walk-in wardrobe instantly. We love how @theminimalistwardrobe incorporates this beautiful branch.
Find similar wooden clothing racks on Etsy.
Blend in: A wardrobe that colour matches your walls will create uniformity and the illusion of more space as it blends in seamlessly and won't stick out like a sore thumb. A mixture of closed and exposed compartments, like @lindagaaso has here, brightens up the space by adding contrast, too.
Komandor specialise in bespoke wardrobes that will take your space into account.
The right angle: If you can't get your mind off a walk-in wardrobe, choose to use space wisely. A corner wardrobe will cleverly zone your bedroom and create that walk-in effect. @asyotiman uses the corner well and incorporates plenty of hanging space; perfect for those who need to suit up regularly.
Find a wide choice of corner solutions on SlideGlide.ie.
Screen dream: If a whole new room is off the cards then look at investing in a room divider. Here, @thebeyondkoncepts uses a large crittall screen to create an impressive walk-in wardrobe that saves on space. We love the addition of the curtain for any quick outfit changes, too.
D&R Design are your go-to for indoor crittall room dividers.
Room for two: Many wardrobes need to accommodate two people, so a side each with enough space to hang everything is a must. @irenejordan.asesoriadeima maintains symmetry that's sure to avoid any 'how come you have more space than me?' arguments.
For a large wardrobe that should easily accommodate two, look to IKEA.
Feature wall-to-wall: If clothes are important to you then why not make your wardrobe a real feature? This one might require the most investment but we love how @tunahankoca emphasises closet space through the use of compartments that light up in this richly textured bedroom. Keeping it orderly might be the next challenge, though.
See a Capital Bedrooms and Kitchens for a choice of large fitted wardrobes that can cover the wall.