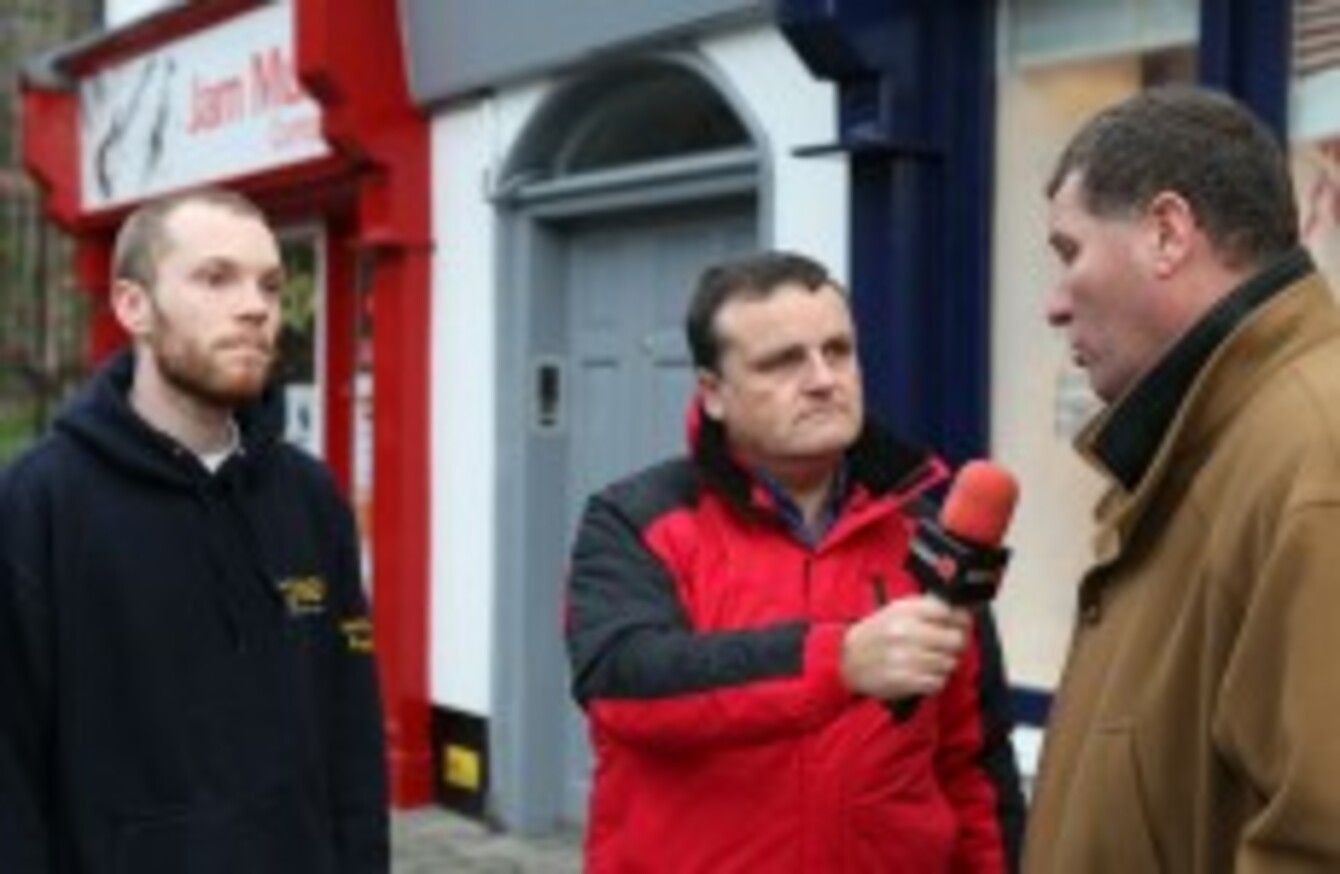 Munnelly (L) debates with Lawlor (R) outside the TD's constituency office in Naas this afternoon
Munnelly (L) debates with Lawlor (R) outside the TD's constituency office in Naas this afternoon
THE LEADER OF the group of students who have occupied the constituency office of a Fine Gael TD in Kildare confronted him as he gave an interview outside his office this afternoon.
The eight students have spent over 24-hours in the constituency office of Anthony Lawlor and have said they have enough supplies to stay there for the next week. They are protesting against possible education cuts and the reintroduction of third-level fees in the budget next week.
The TD said earlier today he is reluctant to involve gardaí in the matter but said he would not be entering into negotiations with the students.
However when giving an interview to Kildare.TV outside his own office this evening, Lawlor was interrupted by the Maynooth Student Union president Rob Munnelly and a debate ensued:
This evening the students were visited by Union of Students in Ireland (USI) president Gary Redmond and Munnelly told TheJournal.ie that the office was "extremely comfortable" and that they were prepared to be there over Christmas if needs be.
"We are warm, comfortable and well stocked. Heading into day three in the next few hours," he said. "This is not just a student issue: it's a family issue, and it's a national recovery issue."
Munnelly has said that the group will continue its occupation until the campaign succeeds or "the gardaí drag us out by force".
The group of eight students says it has come equipped with a chemical toilet and enough food for a week.
It is the latest in a string of occupations by students.
On Tuesday, a group of students from the USI briefly occupied the Department of Jobs.
On Wednesday, students from the Free Education for Everyone (FEE) campaign chained themselves to desks in the office of Fine Gael TD Brian Walsh in Galway city. Two students got onto the roof of the building. Nine of the students were later arrested.