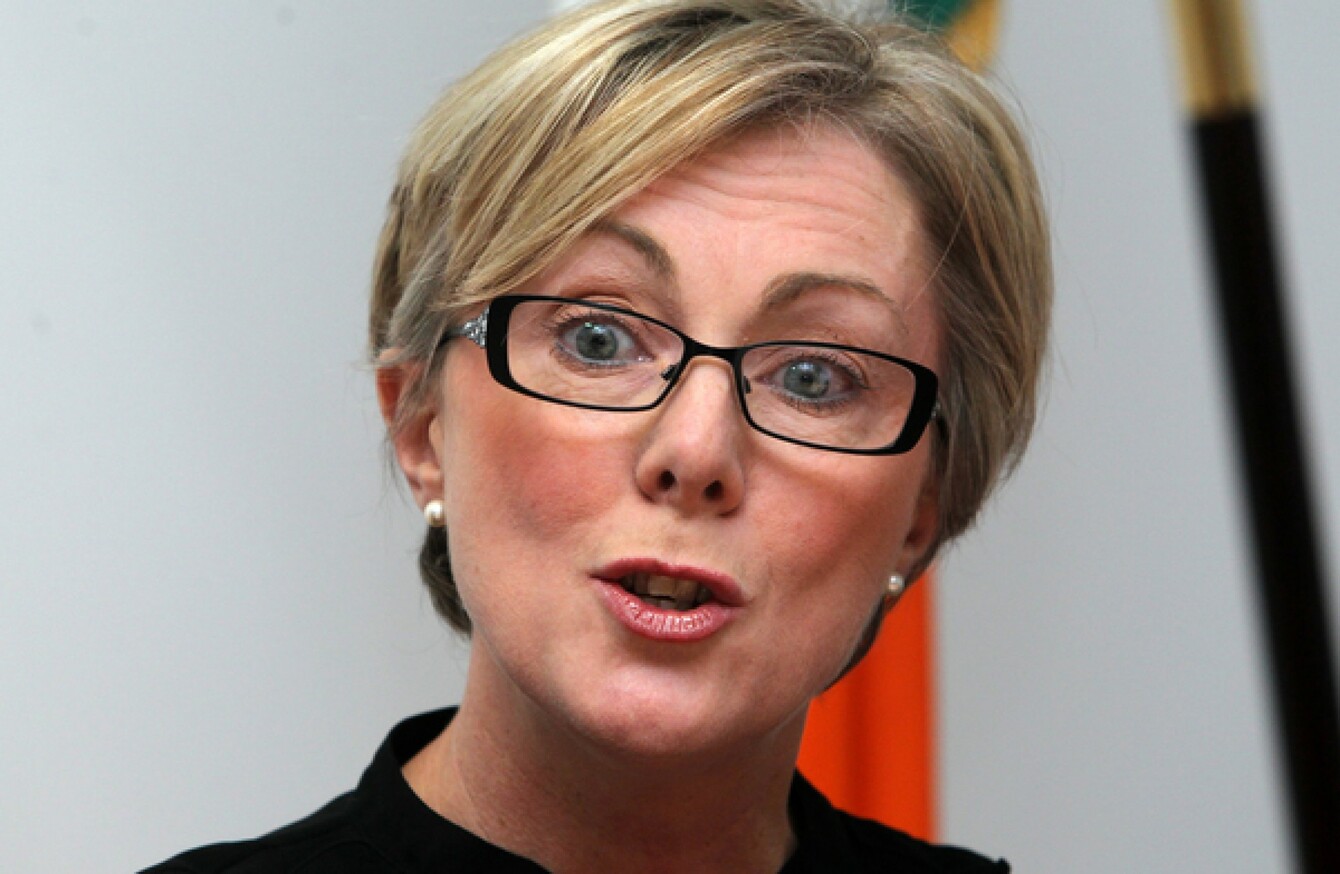 Image: Sam Boal/Photocall Ireland
Image: Sam Boal/Photocall Ireland
The Government chief whip Regina Doherty has said that Fine Gael's attempts to implement water charges in the past was "a cock up", as the political row over the controversial charges continued.
Speaking on RTÉ's Saturday with Claire Byrne, Doherty said that the party had made a "catastrophe" of trying to introduce water charges in the country.
This comes as a political row over the final report of the water charges committee between Fine Gael and Fianna Fáil threatens to undermine the confidence and supply arrangement between the two parties.
"I'm not blaming Fianna Fáil for the catastrophe that we made of this for the last number of years," said Doherty.
"I completely and utterly accept that what we put forward – how we put forward the particular policy that we wanted to put to the Irish people was a cock-up.
No bones, no standing behind doors, it was a cock-up.
In a heated panel discussion, Doherty clashed with Fianna Fáil's justice and equality spokesperson Jim O'Callaghan over the report, which is due to be voted on by committee members next week.
Fianna Fáil and Fine Gael TDs have been at loggerheads all week over the report, with public back and forth barbs being traded between high-profile members of each party (including Environment Minister Simon Coveney).
Fine Gael states that the report as is – which calls for the scrapping of water charges, the end of the metering programme and refunds for all who have paid already - would violate EU laws around conservation.
The party has said that it will not sign off on recommendations on water it states violate EU law.
Fianna Fáil, for its part, have claimed that the Fine Gael leadership contest – touted to be between Ministers Leo Varadkar and Simon Coveney – was getting in the way of the governing of the country.
TDs claim that Simon Coveney had expressed support for the deal reached by the water committee last week, but had radically changed tack since then and come out against it.
Fine Gael – for its part – contends that Fianna Fáil had given in to the "populist" position put forward by the Sinn Féin and Solidarity-PBP TDs on the committee.
'Downright stupid'
Fine Gael TD Alan Farrell came in for strong criticism from all members of the panel today for what was labelled as a "personal attack" on Fianna Fáil Environment spokesperson Barry Cowen.
In a post on his Facebook page earlier this week, Farrell levelled strong criticism towards Barry Cowen and other members of his family who had served in politics.
#Open journalism No news is bad news Support The Journal

Your contributions will help us continue to deliver the stories that are important to you

Support us now
The Dublin Fingal TD criticised policy decision enacted by Barry Cowen's father, Ber Cowen, when he served as a TD in the late-70s. He also criticised Cowen's brother Brian Cowen, who served as Minister for Finance and Taoiseach during the late-2000s.
"It's not something that I could ever subscribe to," Regina Doherty told Claire Byrne this afternoon in relation to the post.
When you actually have to revert to being personal between two politicians of two political parties I think you've lost the argument and I think that's pity.
Jim O'Callaghan also criticised the post by Farrell.
"I don't like the idea of politicians referring to the families of other politicians," he said.
"Alan Farrell is perfectly entitled to criticise Fianna Fáil for its stance on water policy.
But what he shouldn't be doing is making personal attacks at people's family.
Former Environment Minister and Labour Party TD Alan Kelly also criticised Farrell's post, saying it was "downright stupid".