Image: Shutterstock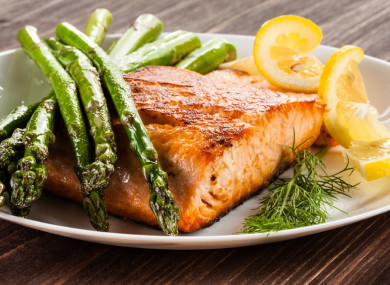 Image: Shutterstock
HOME-COOKING AND MESSY kitchens tend to go hand in hand.
Preparing an elaborate dinner often leaves you with tons dishes piled up in the kitchen sink, which can feel especially cruel if you're the one tasked with doing the washing up too.
The key to avoiding extra clean-up is to choose a recipe that minimises the amount of equipment you need. 
These one pan meals are perfect for those who dread the thought of washing greasy pots, or scraping down yet another chopping board. Whip up one of these delicious meals without worrying about being elbow-deep in dishes afterwards…
Shakshuka: This baked eggs recipe works well for lunch, brunch or even dinner. All you need is one big skillet or a pan and you have a beautiful, flavourful meal, which is delicious, healthy and super easy to make.
Heat some olive oil in a large non-stick pan. Add thinly sliced onions, chopped chilli, chopped cloves of garlic and fry until the onions are caramelized. Donal Skehan adds a few teaspoons of harissa here for an extra kick. Add two tins of chopped tomatoes, season with salt and pepper, let it cook for about 10 mins. Using the back of a spoon, make four small wells into the mixture, and very gently break an egg into the well. Let it simmer for further 10 mins on low heat until the egg whites are done and the yolks are still runny. Serve with crusty bread for dipping.
Cheat's sausage casserole: This meal comes together incredibly well with Irish sausages, rice and any veggies you have in the fridge. Heat oil in a pan, add chopped onions, tomatoes, mixed peppers and fry for about two to three minutes. Add two to three sausages chopped into the pan, fry for about 4 to 5 minutes. Add one cup of long grain rice and two cups of chicken stock, cover the lid and let it cook until the rice is done. Ready to serve!
Mushroom risotto: This Italian-inspired dish is ready under 20 minutes – I love this recipe from Easy Peasy Foodie. Start by preparing a litre of good quality chicken or vegetable stock. Fry one finely chopped onion and a chopped clove of garlic, until the onions are translucent. Chop the mushrooms into thin slices, toss them into the pan and sauté for 5 to 6 mins until they release all the water and dry up. Add a cup of arborio rice/risotto rice and fry for a minute (you could add a good splash of white wine at this stage for extra fanciness). Now gradually add small quantities of stock and keep stirring. As the stock evaporates keep adding more and continue stirring until the rice is cooked al dente. Serve with freshly grated parmesan. Use any variety of mushrooms available.  
Spiced chicken tray bake with root vegetables: This wholesome, healthy and comforting meal cooks in an oven tray, meaning even less washing up. Use chicken legs, thighs or breasts and mix and match spices to suit your taste. Jamie Oliver uses paprika, fresh thyme and a glug of balsamic in his Hit And Run Chicken Traybake.
Preheat the oven to 180 degrees celsius. In a small bowl mix together about two tbsps of sumac or the spice of your choice with two tbsps extra virgin olive oil, a tsp of cumin, salt and pepper. Rub this mixture over 4 chicken thighs and place a slice of lemon on top of each thigh, pop it on the roasting tray. Chop root veggies like carrots, baby potatoes, beetroots, parsnips and sweet potatoes, arrange them around the chicken thighs. Season the vegetables with salt and pepper and drizzle olive oil. Bake in a preheated oven for 45 mins to 55 mins.
One pan salmon and asparagus: Add a splash of extra virgin olive oil to a non-stick pan, plus some dried mixed herbs, paprika, salt and pepper. Place the salmon skin side up on the heated pan. Place the asparagus around the salmon, and season with salt and pepper. Cover with a lid and let it cook on low heat until they both are well cooked. The Healthy Tart brushes some miso paste on her salmon first for more depth of flavour.