10 January 2012: An Indian child carries a plastic pouch containing food in Hyderabad, India
Image: Mahesh Kumar A/AP/Press Association Images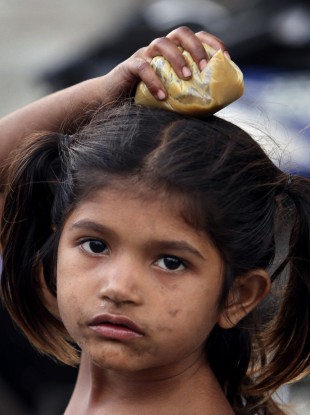 10 January 2012: An Indian child carries a plastic pouch containing food in Hyderabad, India
Image: Mahesh Kumar A/AP/Press Association Images
WHERE IS THE deadliest place in the world to be if you are a girl between the ages of 1 and 5?
According to a new UN report, it is India or China.
In India, the risk of dying between ages 1 and 5 is more than 75 per cent higher for girls.
The report, Sex Differentials in Childhood Mortality, looked at estimates from 149 countries that had a population of 1 million or higher in 2009.
The estimates span from the 1970s to the first decade of the 2000s.
The figures showed that there were 76 male infant deaths for every 100 female infant deaths in China, compared with 97 male infant deaths in India.
The average in the developing world is 122 male infant deaths for every female infant deaths.
For the child mortality sex ratio, there were 56 deaths of male children for every 100 female in India in the 2000s, compared with 111 in the developing world.
The Department of Economic and Social Affairs (UN-DESA) report says this indicates "substantial excess female mortality" and shows that in China and India, "female disadvantage in under-five mortality is large and persistent".
In the 2000s in India, the ratio of male to female child mortality was estimated to have fallen to 56. This means the risk of dying between ages 1 and 5 is more than 75 per cent higher for girls.
The report showed that equity in survival between females and males does not imply equal mortality rates.
In India and China, the sex ratio of under-five mortality declined between the  1970s and the 2000s, meaning that even though mortality was declining in both countries, girls did not share in survival improvements to the same extent as boys.
Among infants under age 1, girls continue to have the advantage in survival in all countries apart from China and India.
The report states that sex ratios by age in the 1953 census of  China were normal at birth but rose with age:
indicating that while infanticide was no longer occurring in the early 1950s, in the 1930s and 1940s significant percentages of girls had still met untimely deaths in childhood whether through infanticide or through lethal neglect or maltreatment in later childhood.
In India, the female mortality disadvantage begins slightly later and extends through the early childhood years.
parts of India are characterised by a strict patrilineal family organisation, where girls are married outside of their family, often at considerable cost to their parents, and subsequently have little contact with their natal family.
Adult sons, on the other hand, are expected to provide support to their parents. In this environment, sons are far more highly prized than daughters.
According to the report:
The plight of girls in China and India should remain in the global spotlight as there is evidence that girls are not benefitting as much as boys from the mortality declines in these countries.
The interaction of strong son preference and declining fertility has continued implications for the health and survival of girls in these countries. Both countries have implemented policies and programmes intended to improve the status of girls and women as well as directly influence families' treatment of girls, but no significant change is apparent in girls' relative survival as yet.
Read: