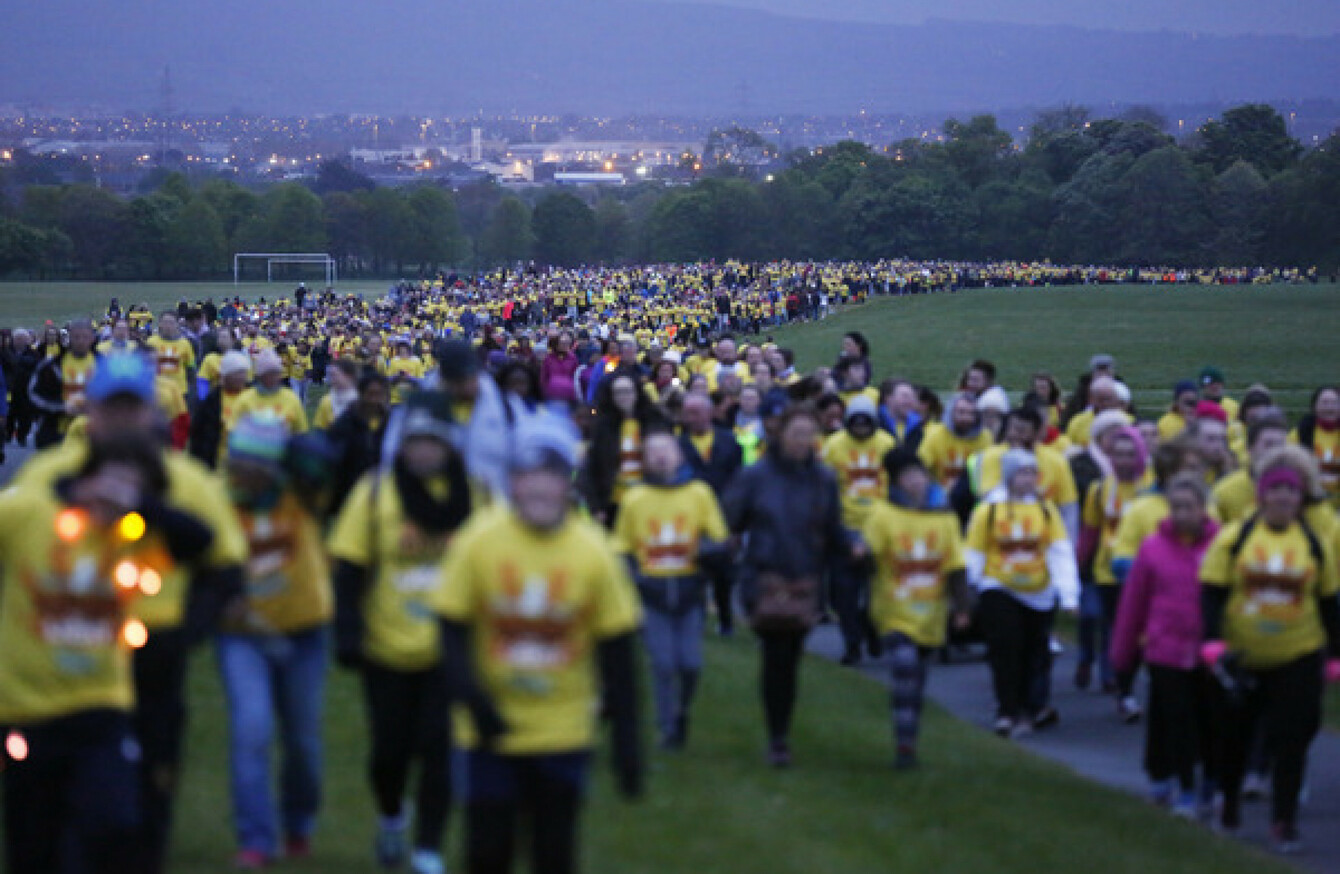 Image: Rolling News/Sasko Lazarov
Image: Rolling News/Sasko Lazarov
AROUND THIS TIME last year, 200,000 people around the world left their beds before 4am all in aid of one uniting concern – supporting those who struggle with their mental health and those who have been affected by suicide.
This year marks the eleventh year of Darkness Into Light, proudly supported by Electric Ireland. In 2009, 400 people walked five kilometres in order to raise funds for Pieta House. Last year, the event had spread to 150 locations, 16 countries and across five continents.
The lasting impact
Over the last decade, supporters have managed to raise almost €20 million to fund a free crisis helpline, available 24/7. This has helped to support 8,000 people with face-to-face therapy last year at Pieta House and over 40,000 to receive intervention and bereavement support since 2006.

By the end of the school year, Pieta will have reached out to over 7,500 students with a free schools' programme called the Resilience Academy. It's designed to increase young people's resilience, hope for the future, ability to cope with difficult feelings and connection to their school.
But why has the event struck a chord with so many people? We spoke to the lifeblood of the powerful, hope-charged event – the people who walk in it.
1. 'A friend we lost 10 years ago'
On my mind as I walked was a friend who we lost 10 years ago next month. How I wish I had been capable of speaking with him 2009 – I didn't have the words. It seems like a pathetic excuse now but that was how talking about mental heath was back then and for many it still is.
It seemed impossible and scary just to ask a simple question. 'Are you ok?' And to really listen. As I walked, I remembered him and how he would have laughed his ass off at me getting up for 4am to go for a walk.
Emma, 42
2. 'Seeing the crowds had me in tears'
I signed up because raising awareness around mental health is very important to me, but I had no idea how to do it. Seeing the crowds of people taking part last year had me in tears at the starting line.
It was so emotional seeing people of all ages and stages of life come together to support such a worthy cause – and it really hit home to me that mental health issues don't discriminate. Everyone is affected in some way, whether it be directly or indirectly. There are few things that would get me out of bed at 4:15am on a Saturday, but Darkness Into Light is one of them.
Amy, 24
3. 'It was almost magical'
Someone close to my family took their own life and the angst and trauma it left on them was seriously heartbreaking.
I must say, it was almost magical. People are lining the roads with candles. In Skerries, the finish line is out on a peninsula so you're running uphill towards the dawn while the Balbriggan Gospel Choir are singing.
Sean, 34
4. 'In dark times, there will always be light at the end'
I signed up for it because I loved how people across the country came together to support Pieta House. The concept itself is so smart because it helped communicate that even when there is a dark time in your life there will always be light at the end with people waiting and being there for you.
I felt part of a community that supported each other. Especially among people who have different physical levels, everyone helps one another make to the end, with so much singing and laughing along the way.
Aoife, 26 
5. 'We've lost far too many people to suicide'
I can't put my finger on any one singular reason as to why I signed up, but plenty of people close to me have suffered from — and suffer with — depression. Life can't always be highs – there are plenty of lows. We've lost far too many people to suicide across the country. It's so important to raise awareness that by simply opening up and talking, that it can prevent suicides.
Last year was my first year doing Darkness Into Light and I've never experienced anything like it. It was an absolutely amazing morning and the perfect way to remind yourself that at the end of all the darkness, there is light — and with the help of others, particularly those close to you, you can get there. 
Emma, 23
6. 'The solidarity of everyone walking together was unforgettable'
What inspired me was to raise awareness and money for such an important cause close to my heart. I wanted to give back and being able to do so within my own community was so special. Mental health affects us all in some way and these services are so vital. In our numbers walking we let everyone struggling know we truly care and support them.
My experience was amazing – the solidarity of everyone walking together was unforgettable and further helped break the stigma around mental health for all ages and backgrounds. It was a very special moment.
Hannah, 26
7. 'It gave me a real sense of community living in Vancouver'
I've done Darkness Into Light for years. I'm very passionate about it. I also did it twice when I lived in Vancouver. It gave us a real sense of community over there. I remember getting up at 4am and meeting in a park and I'd say 90% of the people there were Irish – you'd bump into every Irish person you know. That's my favourite part – something people are doing for the Irish community has spread so far overseas.
I have suffered myself from mental health and I know a lot of people who do suffer too. A lot of people are still too afraid to talk about it, even though I know as a nation we've come a long way. We definitely need to improve our mental health services and the ability for people to talk about it. For the first time my parents are getting involved this year which is great – it's such a good conversation-starter. 
Rachael, 31
8. 'As a psych nurse, I knew I had to support it'
I've always wanted to do it but I was afraid to do it on my own. Then I felt a bit hypocritical to be studying psychiatric nursing and not supporting it. In Ireland we don't talk about suicide, it's 'they died suddenly'. I wanted to be more visible and let people know that if they ever need to talk, they can do it with me. It's very important to show people it's OK, people are there to support you and that there's help that you can access.
Beforehand, everyone was dancing and chatting – complete strangers were talking about why they were there. It was a nice thing to see a tight-knit community talking and watching the sunrise together. Sometimes the people you least expect around you can be the most supportive. 
Jaimie, 28
Darkness Into Light, proudly supported by Electric Ireland since 2013, takes place on 11 May, when light will spread across the world in over 200 venues, in 19 countries and across five continents. Find your local Darkness Into Light here, or if you're not able to make it on the day, search for a friend to sponsor or donate to Pieta House here.
Source: Pieta House/YouTube
If you need to talk, contact for free:
Pieta House 1800 247247 or email mary@pieta.ie – (available 24/7)
Samaritans 116 123 or email jo@samaritans.org (available 24/7)
Aware 1800 804848 (depression, anxiety)
Childline 1800 666666 (for under 18s, available 24/7)