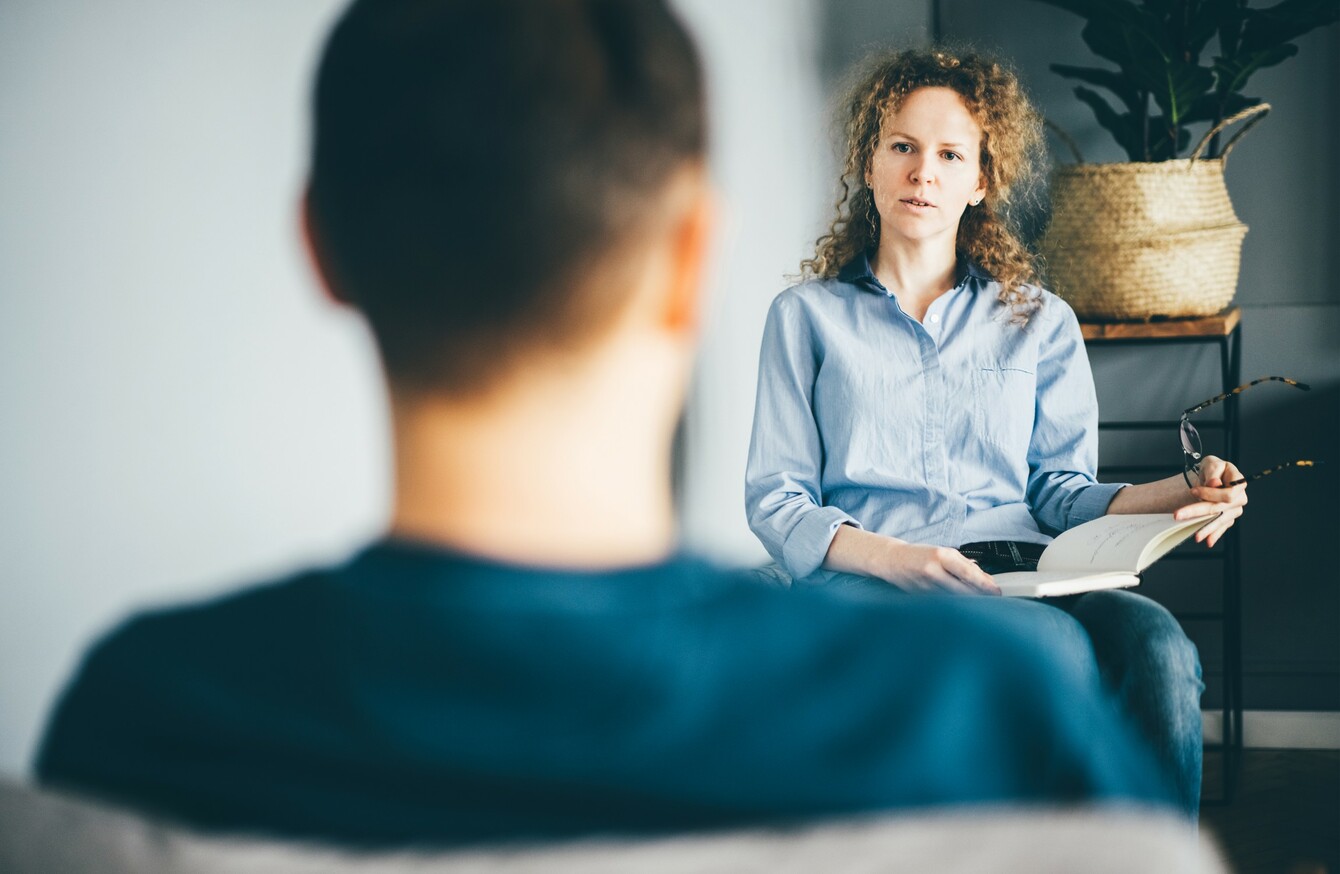 Image: Shutterstock/Mariia Korneeva
Image: Shutterstock/Mariia Korneeva
"THERE'S STILL THIS idea that counselling is not for men – that it's not manly to seek help," says Bernie Hackett, vice chair of the Irish Association of Counsellors and Psychotherapists. "That preconception is still out there for a lot of men."
Work stress, relationship problems, anxiety – these are issues that most of us will be familiar with. But research suggests that men are slower than women to look for help and support when they need it. One US study found that roughly one in 11 men were experiencing daily signs of depression or anxiety, but fewer than half of those had sought help. 
There is hope, though, that the landscape is changing. Recent years have seen a big focus on mental health, with men in particular in the spotlight. "Men are coming forward a lot more than they would have done," Bernie says. 
So what are the misconceptions still stopping some men – or anyone else – from seeking support? We talked through some of the biggest myths about counselling and counsellors.
1. 'It's only for people with depression' 
There's a persistent idea, says Bernie, that if you attend counselling it must mean you have depression or a similar condition. But for most, it's more about dealing with the everyday pressures of life.
"For the majority of people it's about life and their circumstances and what they're experiencing," she says. "People present with relationship issues, work stress issues, addiction issues, and counselling can help them work through what they're going through."
2. 'I'd have nothing to talk about' 
What do you talk about in counselling? That's often a question that comes up when people are encouraged to visit a counsellor by someone else, says Bernie – whether that someone else is their GP or a friend or loved one. 
Often, the issue is that we don't know how to talk about the issues we're facing. "People see the counsellor and they say, 'I don't know what to say, I'm grand'. But inside they're feeling so burdened."
Talking through our problems is hard, of course – but this is where a good counsellor's training comes in. "Usually a counsellor can draw them out to think about why they're there, why a GP or a friend might have suggested that they attend." 
3. 'The counsellor is going to ask me about my deepest childhood memories'
Will you end up talking about a weird dream you had when you were seven years old? Not unless you want to, says Bernie. "If there are deep seated emotional areas that someone has been carrying for many years, sometimes you might go back to talk about earlier years. But not unless the client wants to go there, that's very important."
In your first session with a counsellor, they should ask you about your goals from the counselling process, and you'll agree a plan together. "The counsellor's role isn't to push someone into somewhere they don't want to go." 
4. 'It's just a chat? I can do that with my friend in the pub'
Talking things through with friends and loved ones can be great. But counselling is different, says Bernie:
When we talk to a friend or relative [about troubles or worries], we're often protecting them – we might not say something because they don't want to go there. Say for a bereavement, you might not talk because you're afraid of upsetting other people in your family. But you feel a need to talk.
With a counsellor, it can be easier to be completely open, she says. And their training contributes too. "The skill of the counsellor, through their training and experience, the way they interact with the client" – it all helps in getting to the root of the issue.
5. 'The counsellor won't get it'  
Sometimes we can be reluctant to speak openly because we fear that the person we're talking to won't understand. That shouldn't be an issue in counselling, says Bernie. "We're all human beings. The counsellor will do his or her best to understand what is going on for that person."
6. 'It means I'm weak – I should be able to deal with my own problems'
"This is what puts people off seeking help sooner," Bernie says. And men can be particularly vulnerable to "the idea that I should be strong enough – that it is seen as weakness that I need to go to somebody and talk to them."
But we do all need help and support on occasion to deal with our experiences. And ignoring that can sometimes make it more difficult. "People think, I should be able to deal with this," says Bernie. "And then whatever the problem might be develops further as they're trying to push it away" 
7. 'I'll have to lie on a sofa'  
This is an age-old stereotype that has nothing to do with counselling today, says Bernie. "Counsellors and psychotherapists don't have people lying on a sofa. That human connection, face to face, is really important." As a rule you sit on a chair, and the counsellor does too, and you talk to each other.
Of course, the Covid-19 lockdown meant that counsellors were forced to move all their conversations to calls and video – but as restrictions ease, in-person sessions are now resuming. 
8. 'It's a racket – once you start it'll go on for years'
If you begin a course of counselling, will you be locked into an endless spiral of uncovering traumas from your past? Not so, says Bernie. Rather, counselling is normally a relatively brief process focusing on a particular issue that you want to work through. 
You'll set out goals for the process in your first session, and agree how long you want it to go on for. "Usually what we suggest is that we work for a number of sessions, see how we're going and what is working for the client. And then if there's still work to be done, we might agree to work for another number of sessions. The client is always free to say 'I don't want to come back!'"
The Irish Association for Counselling and Psychotherapy is the industry body for counsellors and psychotherapists in Ireland. To find an accredited counsellor near you, click here.