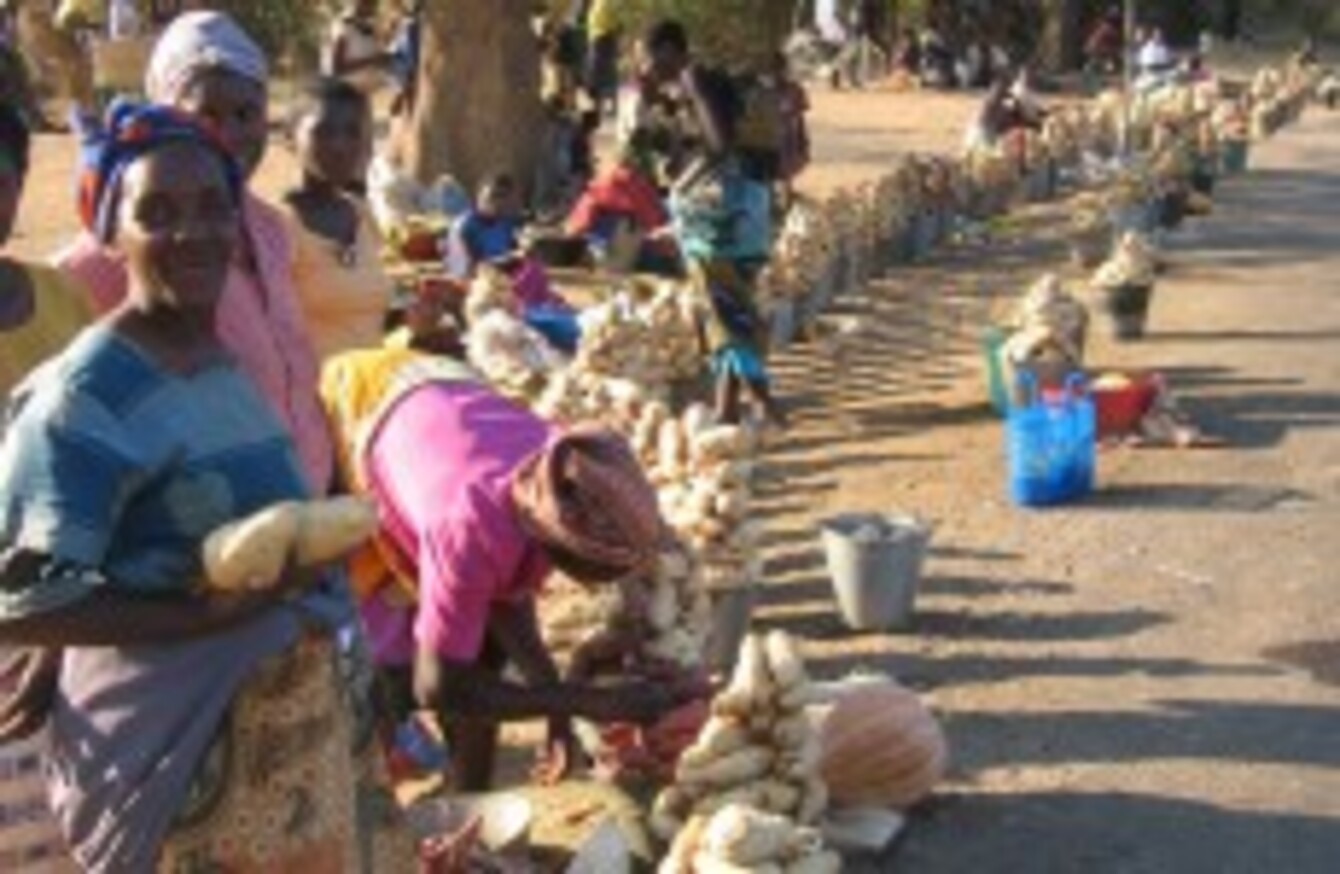 Zambian women sell sweet potatoes from the side of the road near Monz
Image: JOSEPH SCHATZ/AP/Press Association Images
Zambian women sell sweet potatoes from the side of the road near Monz
Image: JOSEPH SCHATZ/AP/Press Association Images
WOMEN IN DEVELOPING countries have been hit harder by poverty because of a combination of rising food prices and climate change induced drought, delegates at a major international conference on women's rights in Dublin will hear today.
The price of basic food stuffs in many developing countries have risen by over 100 per cent since 2008 – pushing families who spend 80 per cent of their incomes on food deeper into poverty, according to Oxfam Ireland.
The higher cost of basic staples such as rice and corn has a disproportionate impact on women because they represent 70 percent of the world's poor.
Droughts are hitting east and west Africa harder and more frequently – with droughts now experienced every two years instead of every ten a decade ago. Women are most badly hit, as they are primarily responsible for farming in sub-Saharan Africa.
Jim Clarken, Chief Executive of Oxfam Ireland, said the disproportionate impact on women and girls in "no accident":
"It is the result of discrimination, or the denial of women's basic human rights, rooted in the historical subordination of women in societies and cultures around the globe. Gender inequality remains the most pervasive and fundamental obstacle to the eradication of poverty and a guarantee of human rights for all."
The statistics are bleak: women work two thirds of the world's working hours but earn just 10 per cent of the world's income and own 1 per cent of its property.
Equality would profoundly effect poverty
Saraswathi Menon, Director of Policy at UN Women, says that equality between men and women would have a profound impact on poverty levels in Africa, boosting annual growth by 0.5 per cent.
"In Sub-Saharan Africa it is predicted that economic growth rates will average 1.6 per cent per year from 2006-2015. Gender equality could increase average annual growth rates to 2.1 per cent, meaning that the number of years it will take for per capita incomes to double will be reduced by a full decade from 43 years to 33 years," she said.
If female farmers in Africa had the same access to resources (land, seeds and tools) as their male counterparts, they could grow enough extra food to feed more than 100 million of the world's hungriest people, according to the organisation.
Women and poverty
Oxfam Ireland is now calling on the Irish Government to commit to spending a greater share of the existing aid budget on programmes that target women and poverty.
"The Irish government has, for many years, supported initiatives that advance gender equality in the developing world and progress has been made in many areas," said Mr Clarken. "But some outstanding challenges remain in meeting commitments to gender equality and women's human rights and we'd like the government to address those.
Clarken added that the forthcoming Irish Presidency of EU offered "a real opportunity" for gender equality and violence against women to be prioritised in the post-2015 development framework, including comprehensive targets and indicators on gender equality and violence against women in EU discussions.