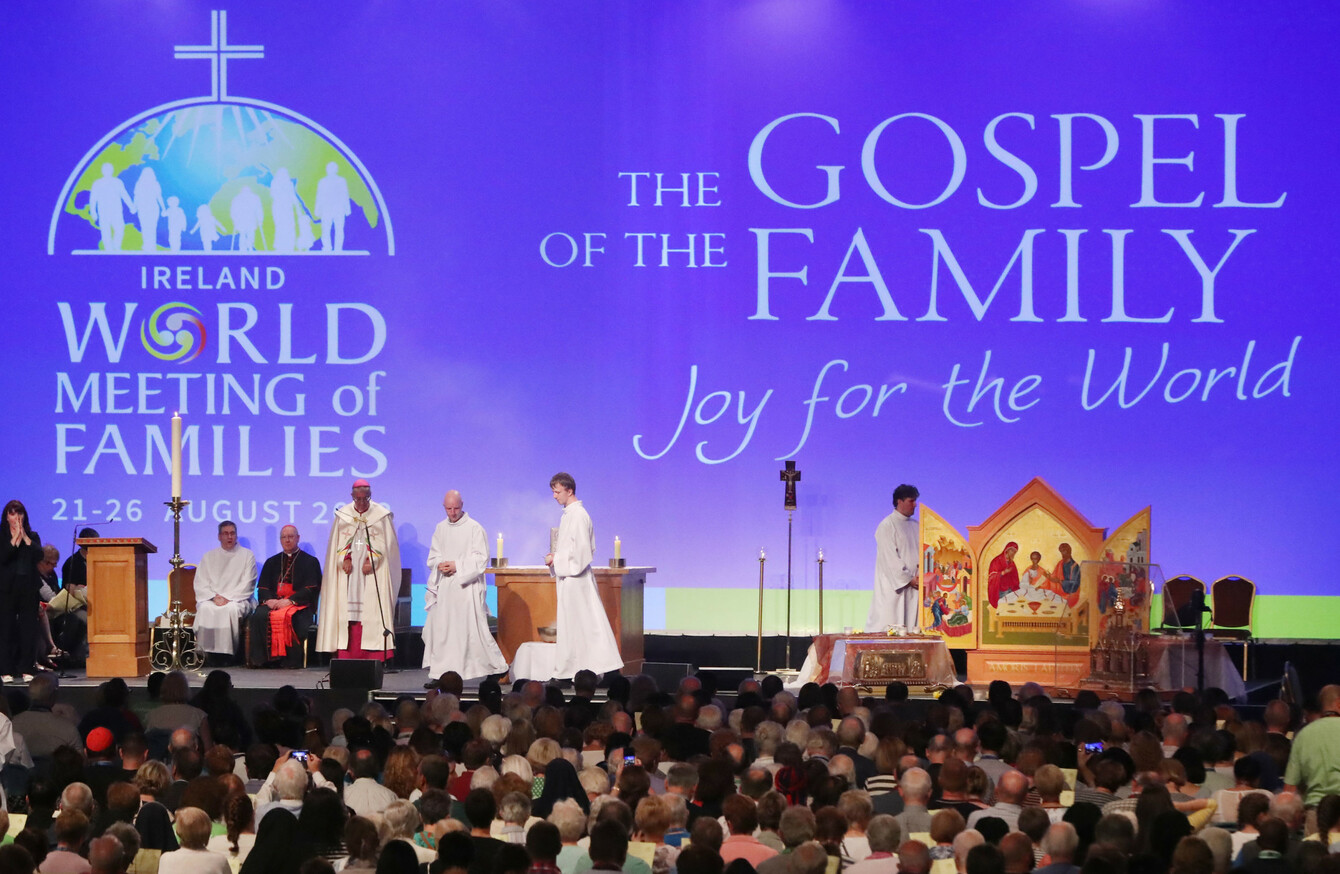 Image: Niall Carson/PA Images
Image: Niall Carson/PA Images
THE PASTORAL CONGRESS of the World Meeting of Families kicks off in Dublin's RDS today, with "family and faith" the theme of today's event.
The keynote speaker this evening is primate of All Ireland Archbishop Eamon Martin but, either side of that, there are over seven hours of panels, presentations and speeches at the congress.
This congress comes ahead of the visit of Pope Francis to Ireland this Saturday. The World Meeting of Families, and the Pope's visit, has been the subject of criticism with former President Mary McAleese describing the meeting as "essentially a right-wing rally".
The morning kicks off at 10am with seven panel discussions, including "celebrating family in the Judeo-Christian tradition", "a Christian response to homelessness" and "dignity and safety in a digital age".
Presentations before lunch include a session on "domestic devotion" and another on "Choose life: Pope Francis on the 'throw-away' culture".
At 2.30pm, Archbishop Eamon Martin's keynote speech will focus on "the welfare of the family is decisive for the future of the world".
Following that there'll be testimonials from young people on "their hopes and dreams for marriage and the family in the third millennium".
A number of evening panels will then focus on the question of why you should get married in church and supporting families coping with addiction.
A final presentation will look at how the LGBT+ community in Westminster were welcomed to the central London Farm Street parish.
The programme said: "[They] have since contributed to the liturgical, spiritual and pastoral life of the Church… The positive impact this has had on both communities is considered, as is the learning for how other parishes may also want to extend a welcome to members of the Catholic family who are LGBT+."
Subsequent days of the congress will focus on the themes of "family and love" and "family and hope".
Speaking on the Marian Finucane show on RTÉ Radio 1 at the weekend, however, McAleese said of the event: "It's always been essentially a right-wing rally… and it was designed for that purpose, to rally people to get them motivated to fight against the tide of same-sex marriage, rights for gays, abortion rights, contraceptive rights."
The full programme can be found here.