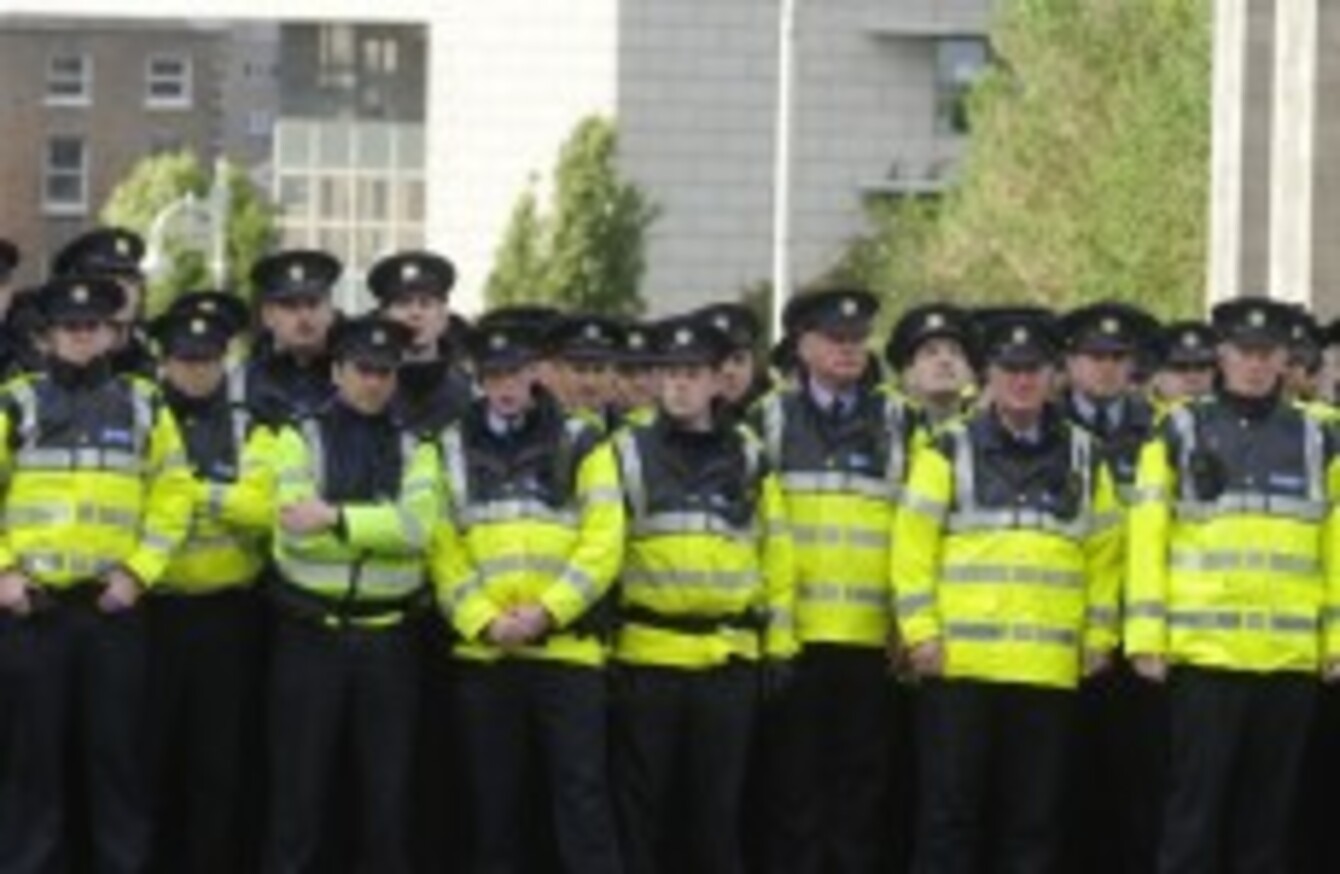 Gardaí in Dublin during the visit of Queen Elizabeth
Image: Laura Hutton/Photocall Ireland
Gardaí in Dublin during the visit of Queen Elizabeth
Image: Laura Hutton/Photocall Ireland
FORTHCOMING REDUCTIONS IN the number of gardaí will have a 'significant impact' on policing, a representative of a garda association has warned.
The projected cut in the garda payroll from 14,200 to 13,000 officers by the end of 2014 also risks leaving the service with a serious shortage of experienced supervisors, according to Aidan O'Donnell of the Association of Garda Sergeants and Inspectors.
Mr O'Donnell was responding to the revelation yesterday by RTE's Prime Time that voluntary retirements in An Garda Síochána – the primary means by which staff reductions are to be achieved – could leave eight per cent of stations without a permanent garda, and one in ten without a sergeant.
He said that of the AGSI's 2,300 members, 400 would be entitled to take retirement. "That's a significant reduction," he said. "There's no doubt that this would have some form of impact, a significant impact, on our ability to police effectively."
Speaking on RTÉ's Morning Ireland, Mr O'Donnell also warned that the cuts could have a knock-on effect as experienced officers retire, leaving newer recruits without effective supervision. Sergeants and inspectors are "supervisors of a young police force, with a very young profile," he said. "And when you take that also in terms of the moratorium on recruitment, there's a double-edged sword."
Minister for Justice Alan Shatter yesterday acknowledged that senior ranks will be "proportionately more liable" to take retirement, but insisted that these positions "will be maintained at the appropriate level through internal promotions". He told Morning Ireland this morning that "gardaí will fully meet their duties, frontline duties will continue and that the crackdown on organised crime will be maintained."
He also said that 13,000 was the number of gardaí on the force in 2006, adding: "No one suggested in 2006 that the force could not meet its obligations."
Mr O'Donnell refused to propose an alternative means to make budget savings, saying it is "very difficult for us to have a panacea for this issue". Asked whether the State's current tally of 670 garda stations was too high and could be a possible avenue for cuts, he acknowledged that the number of stations was a "historic issue". However, he said: "The traditional expectation that stations are available and are open, and you do have  a local guard and a local sergeant, that's something that sits very well with communities."