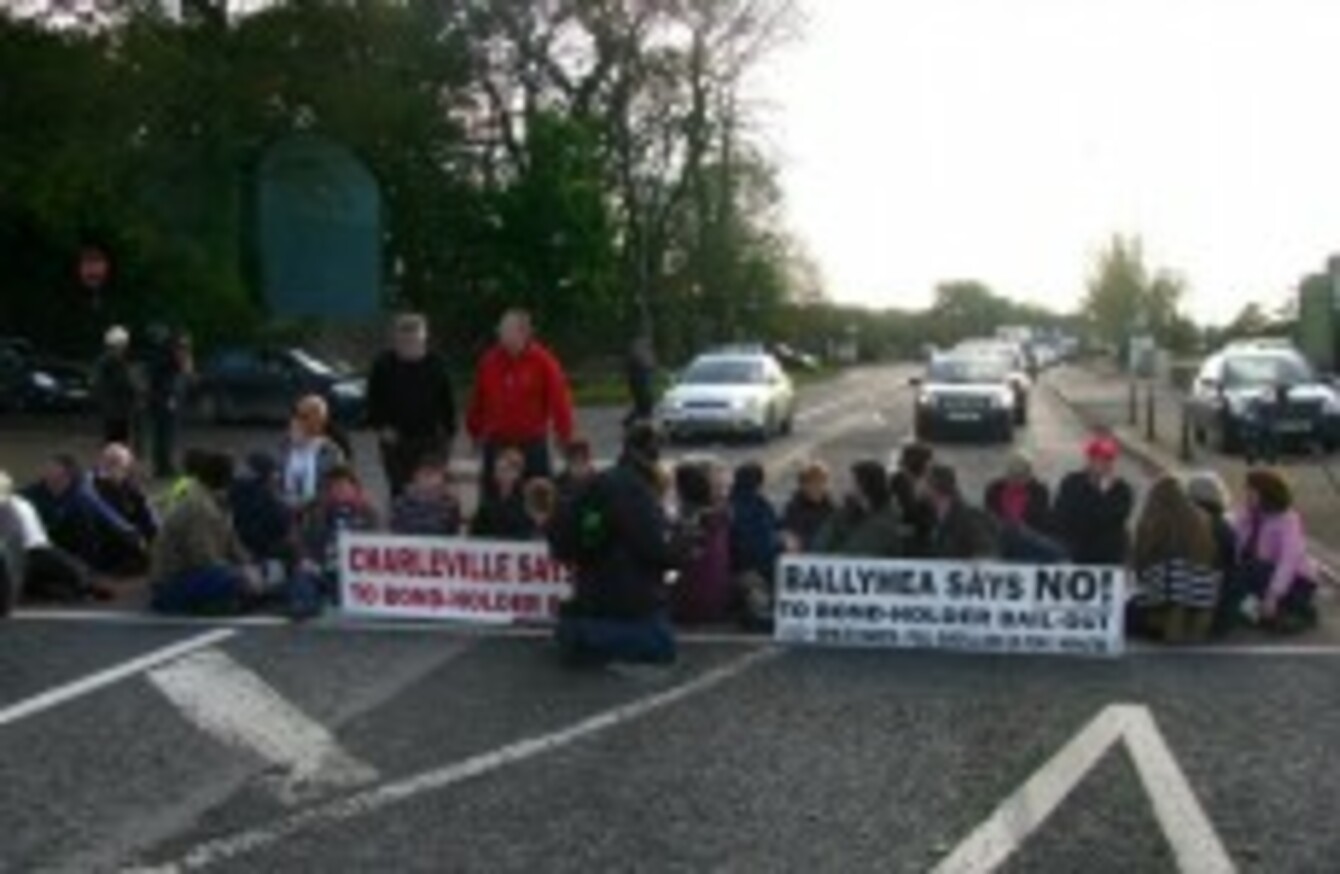 Ballhea protesters says no to the bondholder bailout.
Image: Diarmuid O'Flynn
Ballhea protesters says no to the bondholder bailout.
Image: Diarmuid O'Flynn
MEMBERS OF THE Ballyhea Bondholder Bailout group took their demonstrations to new levels today, creating a human roadblock to cause traffic chaos on the main Cork-Limerick road.
About 50 people gathered at Ballyhea at noon to protest against the payment of a US$1 billion Anglo Irish Bank bond tomorrow.
Following a march, the group sat down on the N20 Cork-Limerick road, blocking traffic completely for about 15 minutes.
One of the organisers, Diarmuid O'Flynn told TheJournal.ie that although they caused delays, they did not receive any abuse from drivers.
"Many people even gave us a thumbs up in support," he said. "It was very gratifying.
"We have been marching against the bondholder bailout every week for 35 weeks but we could not let tomorrow pass without doing something special," continued O'Flynn.
The group were heartened by today's turnout and that most of the marchers decided to participate in the roadblock.
It is not our preference to disrupt but it is reaching a critical stage.

We sat on the ground at a set of pedestrian lights but when a Garda car came and asked us to move, we did. This protest movement is not about confrontation."
O'Flynn said the group will continue to hold its small-scale events in various locations over the coming weeks.
"We are being told about the austerity but we're not told about the bonds being paid. Most people do not know almost €100 millino in bonds are due to be paid by the end of the year," he explained.