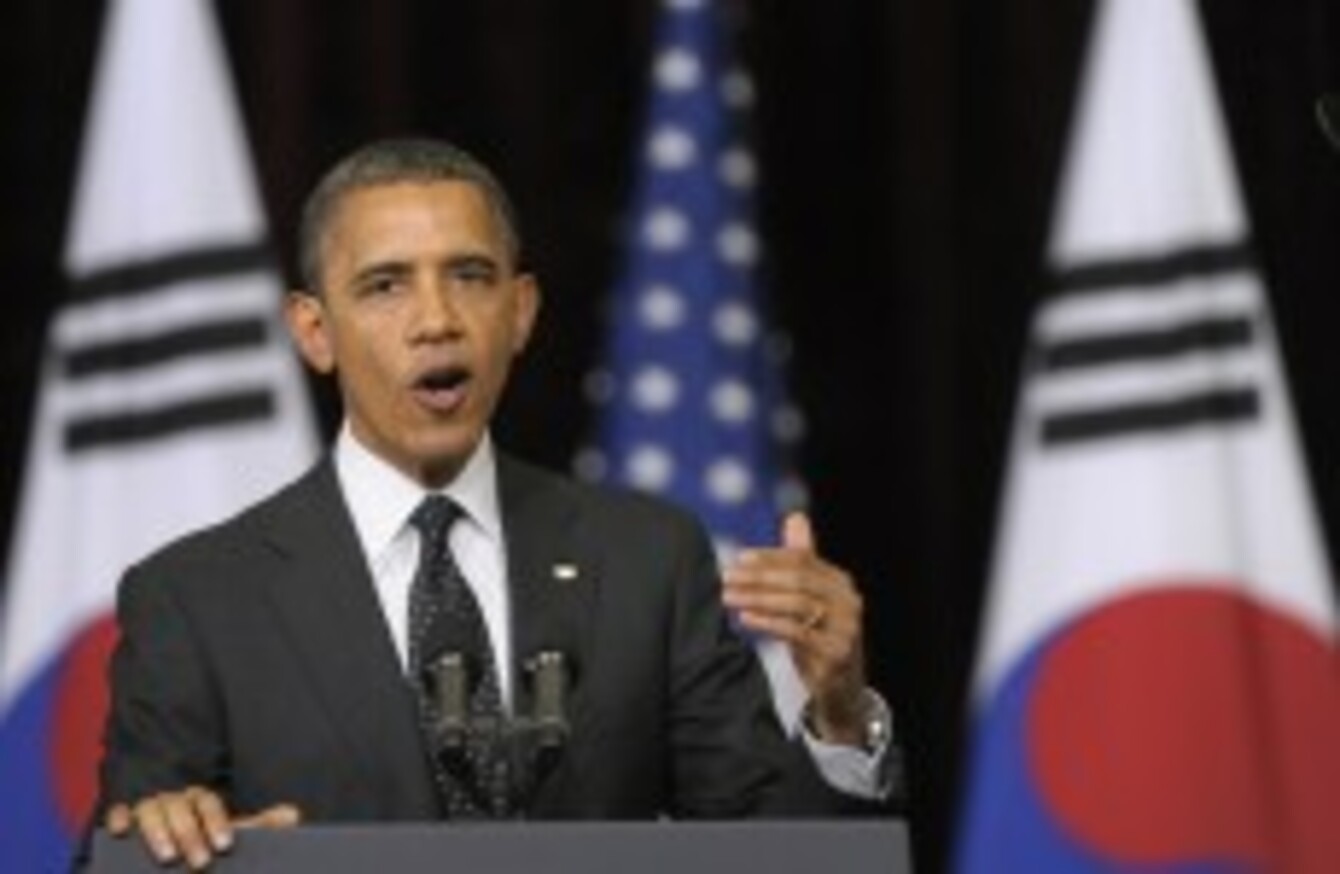 Obama speaking in Seoul
Image: Susan Walsh/AP/Press Association Images
Obama speaking in Seoul
Image: Susan Walsh/AP/Press Association Images
US PRESIDENT BARACK Obama has issued a stern warning North Korea and Iran to step back from the pursuit of weapons of mass destruction, including possible nuclear devices.
Speaking on a visit to Seoul, Obama called on new North Korean leader Kim Jong-un to "have the courage to pursue peace".
He also admitted that the US has more nuclear weapons than it needs, and outlined steps towards a downscaling of its arsenal. But the centrepoint of his address was North Korea.
"By now it should be clear," Obama said, addressing North Korea from the South Korean capital only about 30 miles away. "Your provocations and pursuit of nuclear weapons have not achieved the security you seek, they have undermined it. Instead of the dignity you desire, you are more isolated."
Obama also met separately with leaders of the two nations — Russia and China — that have thwarted US diplomatic efforts on Syria, and to a lesser extent Iran.
Seoul warned today that it might shoot down parts of a North Korean rocket if they violate South Korean territory, as worries about what Washington calls a long-range missile test overshadowed an international nuclear security summit. The summit of more than 50 nations opens with a dinner.
In a direct challenge to North Korean leaders, Obama implored them "to have the courage to pursue peace."
Obama said the world has made progress in reducing the threat of nuclear material but cautioned "we're under no illusions."
He declared flatly that the United States has more nuclear weapons than it needs and can cut its arsenal without weakening its security or that of its allies. He pledged to keep trying to rid the world of nuclear weapons despite disagreements with Russia over the next phase of a largely successful disarmament program he sees as a hallmark of his presidency.
This video shows Obama speaking at Seoul's Hankuk University:
[embed id="embed_1"]
YouTube/timesofearth