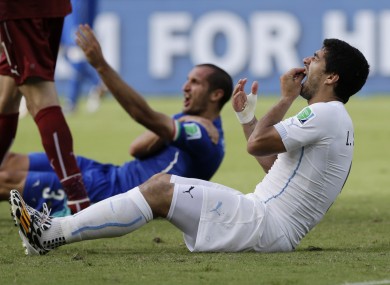 FIFA are looking at Suarez's clash with Chiellini.
Image: Ricardo Mazalan
THERE'S NO DEFINITIVE judgement on what happened yet, but it seems clear the Uruguayan footballer Luis Suarez has bitten an opponent for the third time in his career.
FIFA have launched disciplinary proceedings after the incident. Suarez has missed 17 career games as a result of two previous biting incidents and many are now calling for him to receive the maximum punishment of 24 matches – or 24 months.
But some say that would be excessive. Eamon Dunphy said this morning that "there's guys breaking each other's legs in football" adding that he'd rather have someone bite him on the shoulder than break his leg in a cynical tackle.
Today's poll: For how long would you ban Luis Suarez?

Poll Results: