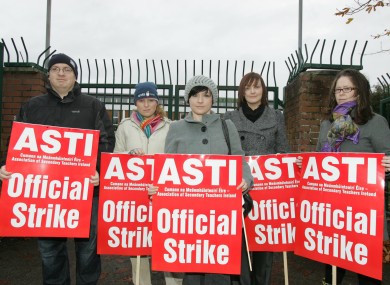 Secondary teachers participating in a public sector strike in 2009. Unions have threatened to hold industrial action if the government looks to cut their allowances.
Image: Leon Farrell/Photocall Ireland
TRADE UNIONS representing secondary and third-level teachers have said they will consider any attempt to cut teachers' allowances as a breach of the Croke Park Deal – and will be balloted on strike action if plans are pursued.
The heads of the ASTI and TUI – the two unions representing second-level teachers, with the latter also representing some lecturers – both told their national conferences today that cuts to allowances, as had been reported, would be a breach of the public pay deal.
Newstalk quotes the incoming TUI general-secretary John MacGabhann as saying "all bets are off" if the government departed from the commitments in the Croke Park Deal, which safeguarded pay and positions in the public sector in exchanged for increased flexibility.
"Let's be clear about this issue, as well: allowances are an intrinsic, indivisible part of the pay of teachers," he said.
Teachers' pay is protected by the Croke Park agreement. A cut in teachers' pay would be a breach of the Croke Park agreement, with all the consequence that that would bring.
The president of the ASTI, meanwhile, told his own congress that a ballot among his members on industrial action was "inevitable" if the government to ut allowances.
RTÉ quotes Brendan Broderick as saying his members had voted for the deal because they had no choice, and not because it was a good deal for public servants.
Figures published by the Department of Education last month showed that teachers received a total of €506 million in allowances in 2011, for tasks such as yard supervision, fulfilling the role of principal or vice-principal, and a teachers' educational qualifications. The latter allowance was removed for new teachers under the last Budget.
Earlier, at the congress of the primary level teachers' union the INTO, Ruairí Quinn had come under fire for appearing to suggest that some teachers did not understand the "gravity of the fiscal crisis".
INTO general secretary Shiela Nunan had said in response that teachers were fully aware of the effects of the economic difficulties, as they saw it in their classrooms each day. She said the 2012 Budget had been a "blunt object".