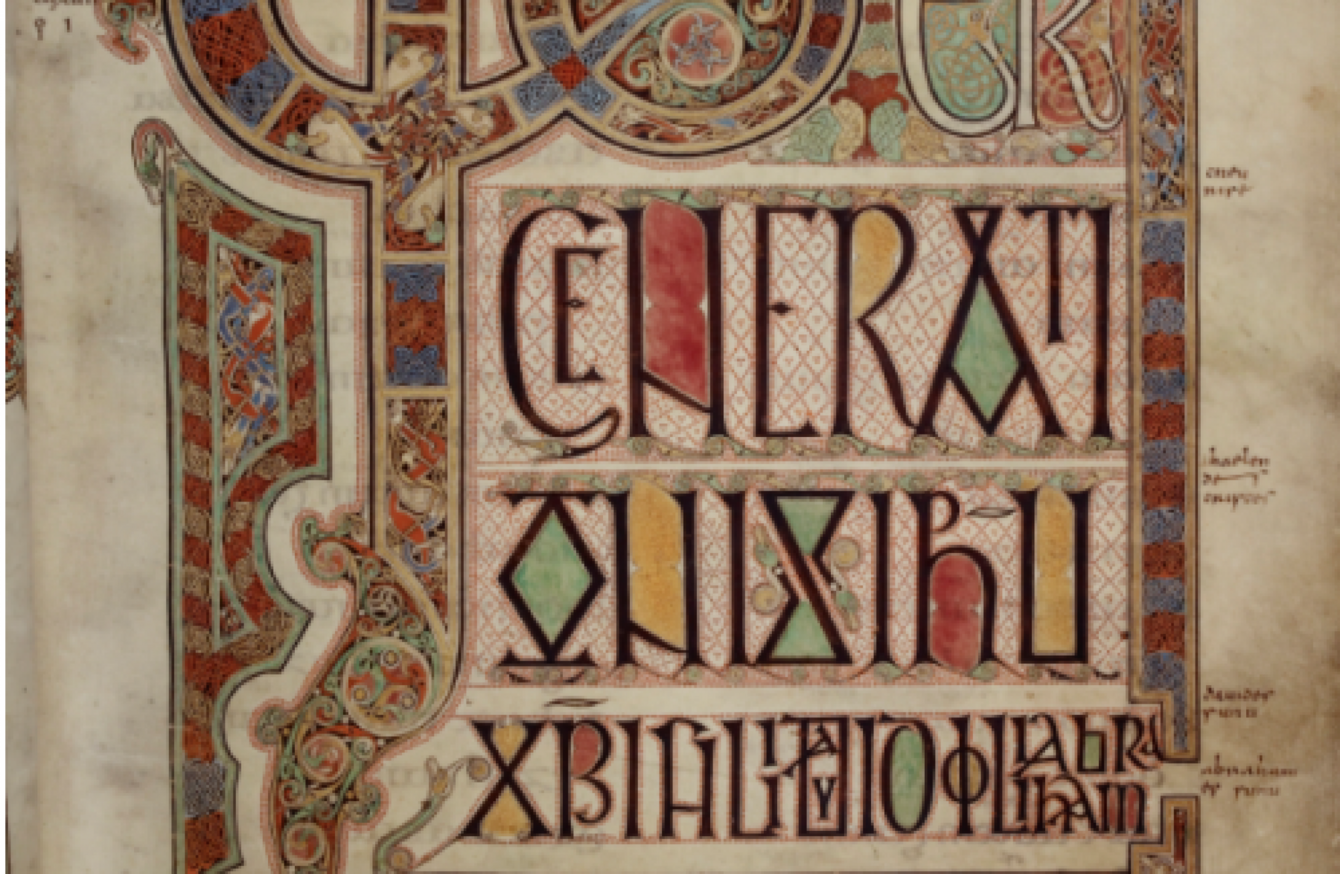 The opening of the Gospel of Matthew, in the Lindisfarne Gospels.
The opening of the Gospel of Matthew, in the Lindisfarne Gospels.
WIDELY REGARDED AS a medieval masterpiece, the Book of Durrow is going on loan to the British Library for an international exhibition.
The ancient manuscript currently resides in Trinity College Dublin but will go on display in London as a part of the Anglo-Saxon Kingdoms exhibition, opening on 19 October. 
Thought to have originated in Offaly, the Book of Durrow is believed to be almost 100 years older than the Book of Kells.
Dating back to about 650 to 700 AD, it is believed to be the earliest fully decorated gospel-book from Ireland or Britain to survive. 
"Our forthcoming exhibition will be the first opportunity to see the Book of Durrow in Britain since it was displayed at the Royal Academy in the 'Treasures of Trinity College Dublin' exhibition in 1961.
The Book of Durrow is one of the most spectacular surviving works of early medieval art and we are very grateful to Trinity College Dublin for loaning this manuscript to the exhibition," the British Library said. 
Dr Rachel Moss from Trinity College told Morning Ireland on RTÉ Radio 1 it is believed that the scribes that put together the book of Kells may have copied some sections from the Book of Durrow itself.
TCD librarian Helen Shenton added that the timing of the exhibition is very important as it opens six-months before the Brexit deadline and highlights the importance of cooperation between cultural institutions. 
"So in this political context – Here we are showing this manuscript that shows there are 1,300 years of shared culture, history and influences," she told Morning Ireland. 
The Book of Durrow has been digitised by TCD to coincide with the British Library's exhibition.