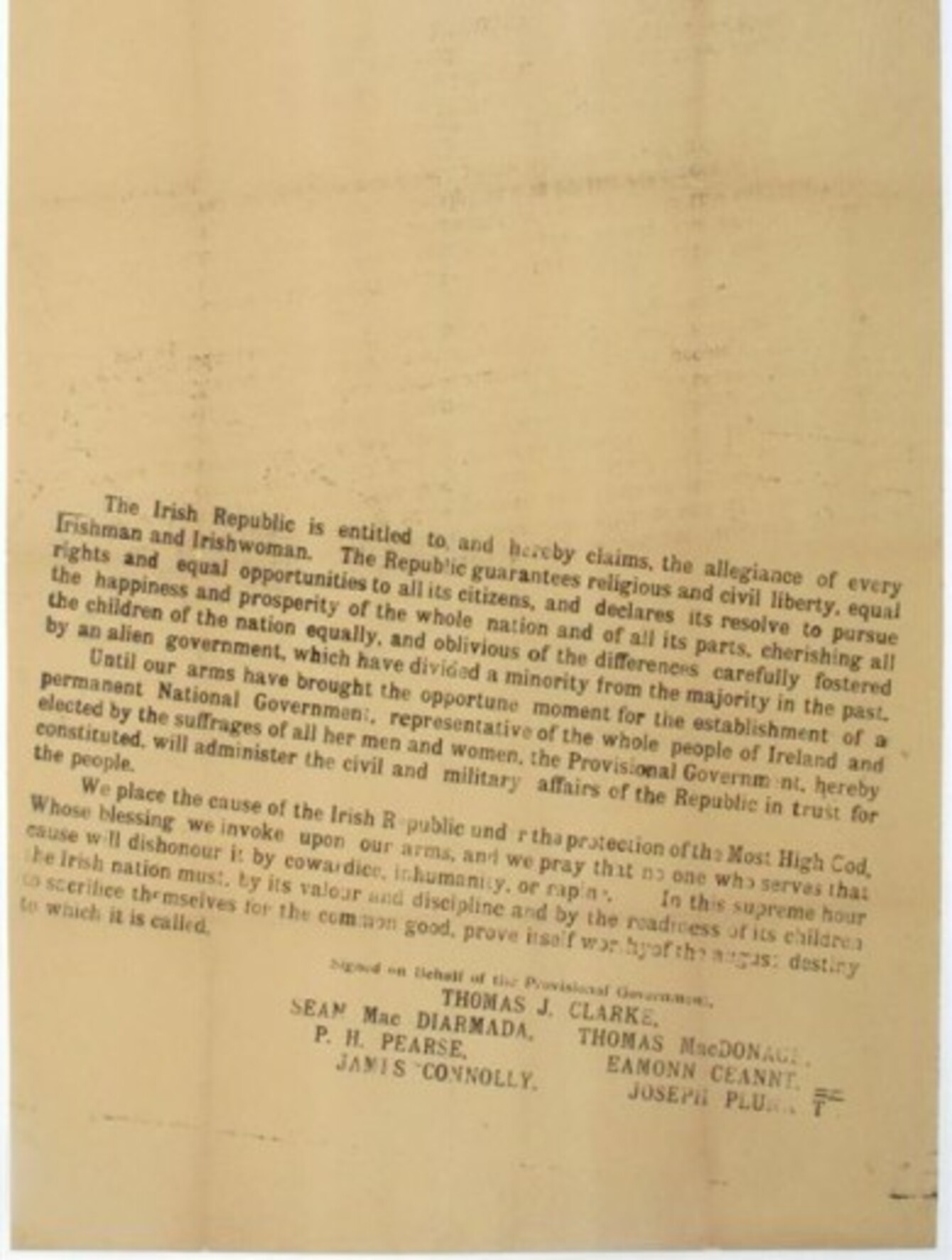 Image: Whyte's Auctioneers
Image: Whyte's Auctioneers
TWO ORIGINAL COPIES of the 1916 Proclamation are to go under the hammer at a Dublin auction on Sunday.
The documents will be sold by Whyte's Auctioneers along with other Easter Rising memorabilia, including rare commemorative medals, memorial posters and contemporary correspondence.
The most highly valued of the two sheets has been restored to museum standard and comes with a guiding price of between €150,000 and €250,000.
It was one of fewer than 50 copies published by the Irish Volunteers and Irish Citizen Army on 24 April, 1916, that survived the destruction of the week.
But Whyte's Auctioneers says the second copy is an even rarer document, having been printed on rebel presses seized by the British forces that entered the shelled Liberty Hall on 26 April.
The soldiers are said to have found the lower half frame of type still in the presses – the Proclamation was printed in two halves – and ran off as many copies as they could before selling them as souvenirs.
The fragile sheet of paper – which has a guiding price of between €5,000 and €7,000 - includes the final two paragraphs of the Proclamation and the signatures printed on the lower half.
Fewer than 15 examples of these half-sheets have been recorded, making it even rarer than the full-sheet document, according to Whyte's Auctioneers.
The items are available to view until Saturday evening at Whyte's gallery on Molesworth Street in Dublin 2.
The auction takes places at 1pm the following day in the nearby Freemasons' Hall.
More information is available at www.whytes.ie.