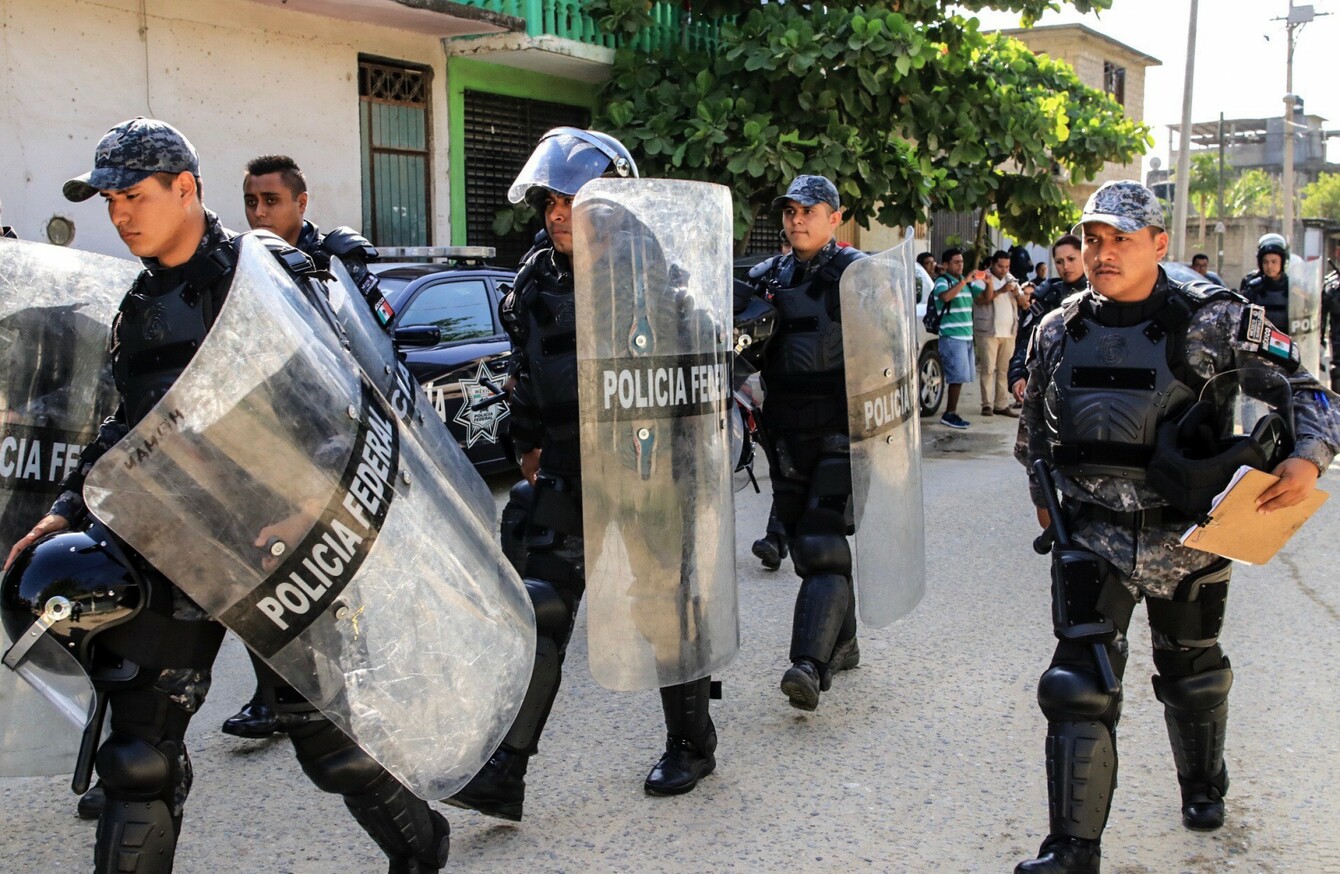 Armed police officers arrived as riot broke out
Image: Xinhua via PA Images
Armed police officers arrived as riot broke out
Image: Xinhua via PA Images
TWENTY-EIGHT PRISONERS have been killed during a riot at a Mexican prison.
Rioting inmates at the prison slit their rivals' throats and beat them to death, officials said.
Bodies were found strewn around the maximum-security wing, the kitchen and a prison yard after the pre-dawn riot at the Las Cruces federal prison, said the security spokesman for the state of Guerrero, Roberto Alvarez.
"The incident was triggered by a permanent feud between rival groups within the prison," he said.
State police have regained control of the prison, backed by federal police and the army, which set up a security cordon outside, he said.
The governor has ordered an investigation, including of prison staff, he said.
'Throats slit'
Guards said some of the victims had their throats slit, according to an internal state police report.
It also said gunshots had been fired in the maximum-security wing, apparently by prisoners.
There was a heavy security presence outside the prison with soldiers and riot police encircling the compound and two helicopters hovering overhead.
Dozens of anxious relatives had gathered, demanding news on their loved ones.
Overcrowding issues
Mexico's overcrowded prisons are frequently hit by riots and jailbreaks.
This was the deadliest since 49 inmates were killed in February 2016 in a riot at the Topo Chico prison in Monterrey, in the northeast.
Contraband weapons and drugs are rife within the prisons. Experts say organised crime networks often operate from inside prison walls.
After the Monterrey riot last year, authorities found dozens of knives, cocaine and flat-screen TVs inside, highlighting the control drug cartels had over the prison.
Acapulco, a resort town on Mexico's Pacific coast, has been hit by grisly violence between warring drug cartels in recent years.
It's just one of the hot spots in Mexico's war on drugs.
The country has seen a wave of bloodshed in the past decade that has left more than 200,000 people dead or missing as drug cartels wage war on each other and Mexican security forces.