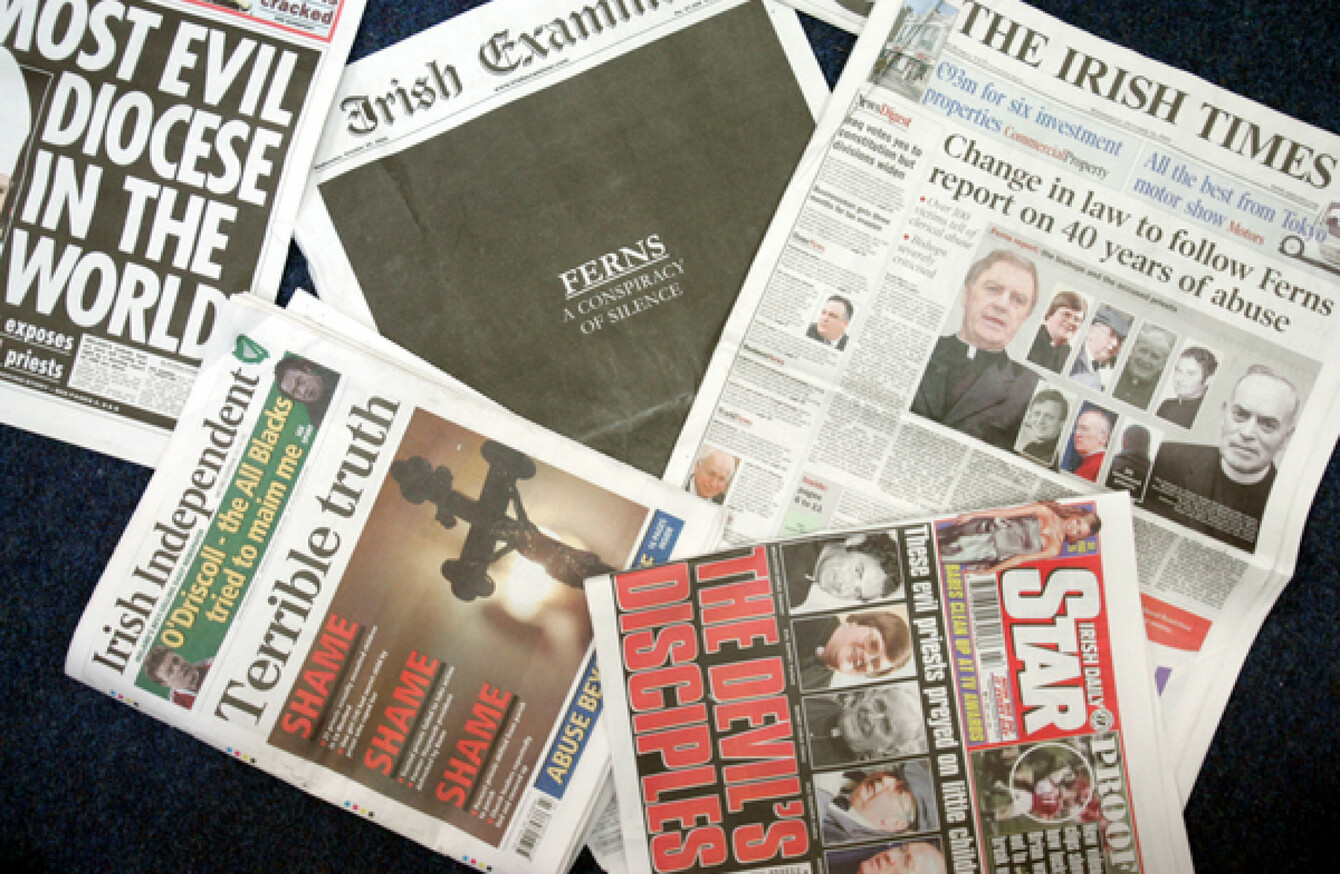 Image: Leon Farrell/Photocall Ireland
Image: Leon Farrell/Photocall Ireland
RIGHT AT THIS very moment, we're in the midst of what will probably be one of the biggest scandals of 2018 – as the details come to light that over 200 women were affected by the failure to communicate the findings of cervical cancer scans.
In a week that has seen HSE Director Tony O'Brien step down, readers around the country are scrambling to come to terms with the implications of the cervical cancer screening scandal as journalists bring it to light.
"George Orwell once wrote that 'journalism is printing what someone else does not want printed: everything else is public relations'," says Dr Robbie Smyth of the Media and Communications faculty at Griffith College. Griffith is among the institutions where tomorrow's journalists are learning the skills that they need to break stories like the ones below.
Although it's impossible to cover every important Irish scandal that journalists have unearthed, we've brought you a taste of some of the ones that we'll never forget.
"It is the hard-working brave writers and reporters who have repeatedly brought the agencies and institutions of government in Ireland to account," says Smyth. "These stories really are examples of journalism in its truest sense."
1. The phone tapping of journalists ordered by the Minister for Justice (1983)
It was what a bespectacled Pat Kenny referred to at the time as "the biggest political crisis since the Arms Trial", and was the result of phone taps on the Irish Independent's Bruce Arnold and The Sunday Tribune's Geraldine Kennedy which took place in 1982.
Kennedy shared how she was warned about the tapping two months before it came to light and that she thought it was "very strange and sinister", and it transpired that Joseph Ainsworth, Deputy Garda Commissioner was instructed to bring recording equipment to the Tánaiste and Minister for Finance Ray MacSharry.
2. The death of Ann Lovett (1984)
Having just come back into the media this week when her boyfriend broke his silence after many decades, the death of 15-year old Ann Lovett in Granard, County Longford caused outrage in 1984. Lovett died after giving birth at a grotto and would have turned 50 last April had she survived.
Emily O'Reilly, then reporter with the Sunday Tribune (now current European Ombudsman), investigated the story, which featured on the front page on February 5th. It sent shockwaves around the country, and brought the topic of unplanned pregnancy to the fore in Ireland.
It's a story that is still being covered today, with Rosita Boland's exclusive with Lovett's boyfriend at the time appearing in the Irish Times only a few days ago.
3. Clerical sex abuse (1990s)
It was a scandal that spanned many decades, affected Catholic communities in several different countries and sent shockwaves across the world. After a number of television documentaries were released in the 1990s, the public called for a government enquiry into the claims of abuse.
Most notably the Ferns Report, released in 2005, identified more than 100 allegations of child sex abuse between 1962 and 2002. It wasn't until 2010 that Pope Benedict XVI apologised to child abuse victims. In 2014, the Catholic Church in Ireland experienced another scandal when a mass grave at a former mother and baby home in Tuam, Co Galway was discovered.
4. Hepatitis blood contaminations (1994)
On February 21st, 1994 what became the Irish Blood Transfusion Service called a press conference that it was feared could effect as many as 100,000 women across Ireland. Anti-D, given to new mothers with rhesus negative blood. In 1991 the service was alerted by a British hospital that a batch of donated blood in 1977 may have been contaminated.
However, it was three years until a national screening took place and 1,200 were found to have been exposed to blood donors with the Hepatitis C virus. The scandal's impact is still being felt, as the State has paid out over €1 billion in compensations for contaminated blood.
5. The scandal that brought down Bertie (2006)
It was a story that grabbed headlines around the world, and which would eventually lead to Bertie Ahern stepping down as Taoiseach in 2008. The scandal? Ahern was accused of accepting corrupt payments in the series of events that led to the Mahon Tribunal, which investigated Dublin's planning process.
The tribunal had spent 15 years investigating payments to politicians, and concluded that Ahern had been "untruthful" in explaining the source of a number of big sums of money in his bank accounts. Ahern described the findings as "wrong and inaccurate".
6. Tracker mortgages (2012)
It was a news story that has affected 38,500 people so far in Ireland and its developments are still ongoing. Around this time last year, TheJournal.ie spoke to the first victim of the scandal to go public, a widowed father of three who was battling to keep his family home.
The scandal saw more than 33,000 customers of the country's banks being overcharged by their lender when they were either denied a tracker rate they were entitled to or charged the wrong rate of interest on their mortgage. According to the latest figures, the overcharging total is expected to reach €700 million.
–
"These stories show the importance of investigative journalism in Irish society," says Robbie Smyth.
"Here in the college our students can learn from the example of our own Dr Niall Meehan – who did incredible work on exposing the Bethany Homes scandal. Our aim as a school is to produce students who can think critically and independently. They are two of the crucial elements any good journalist needs and we try our best to instil them into our students."
Sound like something you'd love to be a part of? Griffith College offer 13 different courses in Journalism and Media Communications, meaning that no matter what your passion, you'll find a course that you'll love, across three different locations in Cork, Dublin and Limerick.