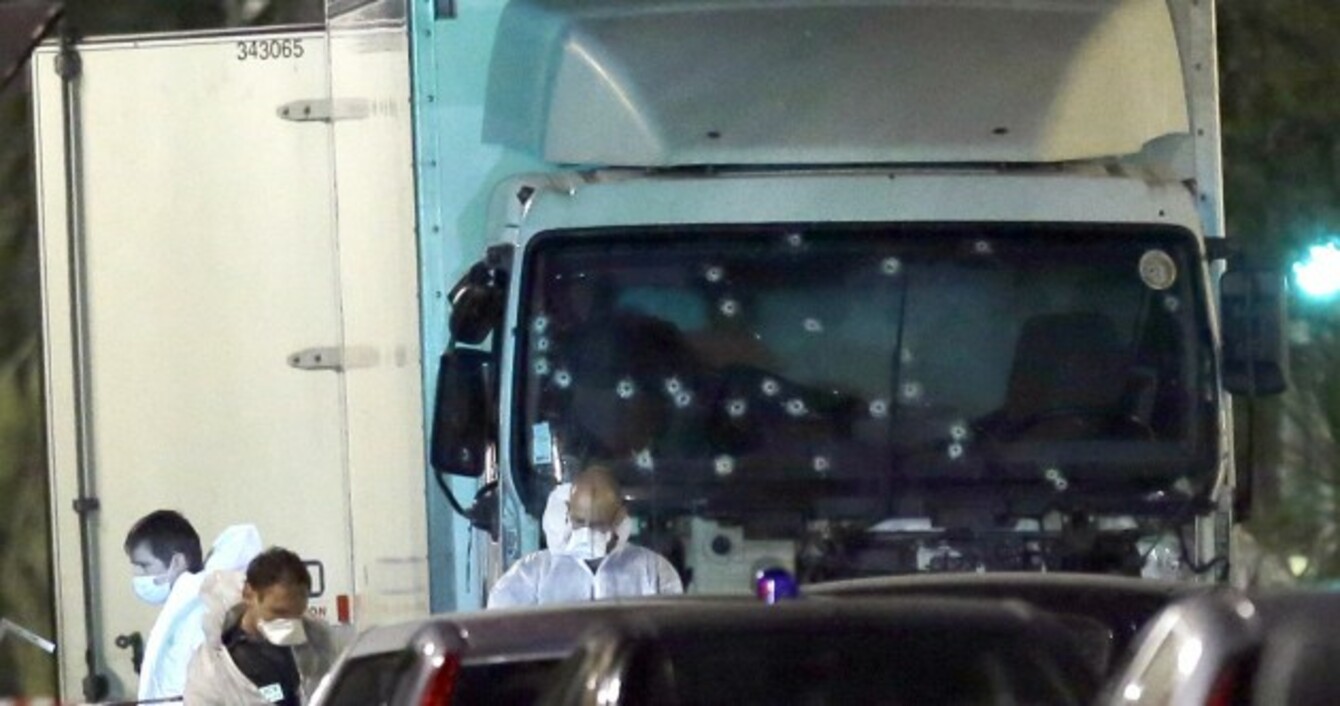 Forensic officers at the truck which ploughed through a Bastille Day crowd in Nice, France, killing at least 80 people.
Forensic officers at the truck which ploughed through a Bastille Day crowd in Nice, France, killing at least 80 people.
THE FRENCH PRESIDENT Francois Hollande has declared three days of national mourning following a Bastille Day attack that has left 84 people – including at least ten children – dead and 52 more critically injured. 
This video shows the moment at 10.30pm last night that a truck picks up speed travelling along the waterside Promenade des Anglais in Nice, before ploughing into the crowd who had been enjoying the city's fireworks display.
Police try in vain to flag it down but it appears to accelerate as the celebrations turn to screams and panic.
[NOTE: Content is not graphic but it may upset viewers]
Source: miniNightSon/YouTube
A state of emergency – which began last November following the Paris terrorist attacks which killed 130 people was to have ended on 26 July – will be extended for three months.
President Hollande said that Saturday, Sunday and Monday will be official days of national mourning.
Speaking this afternoon, he told a press conference that around 50 people are critically ill after the attack.
"As I speak, 84 people are dead, and around 50 more are in critical condition between life and death," he said after visiting a hospital in the city.
The prosecutor for the city of Paris confirmed that 202 people were wounded in the attack; 52 of these people are in critical condition and 25 are on life support.
The driver of the lorry has been identified by local media as a French-Tunisian man called Mohamed Lahouaiej Bouhlel who was a resident of Nice. His apartment in the city was searched by police this morning. A French police source told the Evening Standard that he "was known to police for violence, and using weapons, but had no direct links with terrorism".
However, French president Francois Hollande said that the attack was of an "undeniable terrorist nature" and the investigation will be handled by anti-terrorism detectives.
AFP quotes French state prosecutor Jean-Michel Pretre as saying that the truck drove over one mile through the crowd before coming to a halt.
The driver was shot dead by French police, bringing his murderous rampage to a close.
"France was struck on the day of its national fete, July 14, the symbol of liberty," a somber President Francois Hollande, said on French national television early this morning, denouncing "this monstrosity" — a truck bearing down on citizens "with the intention of killing, smashing and massacring … an absolute violence."
He said:
The terrorist character (of the attack) cannot be denied. All of France is under the threat of Islamic terrorists.
Police killed the driver of the truck in what witnesses on French TV said was a hail of bullets, but Hollande said it was not immediately clear whether he had accomplices. The Paris prosecutor's office opened an investigation for "murder and attempted murder in an organised group linked to a terrorist enterprise".
France has lived with soldiers in the streets since the November attacks, and just days ago authorities beamed with pride at the close of the month-long European football championships that ended on 10 July without incident.
Wassim Bouhlel, a Nice native, told The Associated Press that he saw a truck drive into the crowd.
"There was carnage on the road," he said. "Bodies everywhere."
He said the driver emerged with a gun and started shooting.
Sylvie Toffin, a press officer with the local prefecture, said the truck ran over people on a "long trip" down the sidewalk that ended near the Palais de la Mediterranee, a building that fronts the beach.
The president of the Provence Alpes Côte d'Azur region, which includes Nice, said the truck was loaded with arms and grenades, although police have not confirmed that. Christian Estrosi also told BFM TV that "the driver fired on the crowd, according to the police who killed him".
There is still confusion on what exactly happened on a night when thousands were celebrating. Witnesses, mostly unnamed, recounted on French television scenes of horror, with one saying the truck mowed people down like a ball in a bowling alley.
Video footage showed men and women — one or two pushing buggies — racing to get away from the scenes. Photos showed a truck with at least half a dozen bullet holes in its windshield.
The mayor of Nice tweeted just after the horror attack last night:
"We are terrified and we want to offer all of the families concerned our sincere condolences."
Hollande held a defence council meeting earlier today with key ministers before travelling to Nice.
French Interior Minister Bernard Cazeneuve said "we are in a war with terrorists who want to strike us at any price and in a very violent way."
Hollande announced a series of measures to bolster security. Besides continuing the state of emergency and the Sentinel operation with 10,000 soldiers on patrol, he said he was calling up "operational reserves," those who have served in the past and will be brought in to help police, particularly at French borders.
He reiterated that France is also bolstering its presence in Iraq and Syria, where he said earlier military advisers would be on the ground to help Iraqis take back the Islamic State stronghold of Mosul.
London mayor Sadiq Khan has said he is reassessing security levels in the British capital in the wake of what happened.
President Barack Obama condemned what he said "appears to be a horrific terrorist attack," while President Michael D Higgins said: "All the thoughts of those who value freedom and the public world are with the people of France at this time."
European Council president Donald Tusk said it was a "tragic paradox" that the victims of the attack in Nice were celebrating "liberty, equality and fraternity" — France's motto — on the country's national day.
The French ambassador to Ireland, Jean-Pierre Thébault, spoke of his "deep feeling of sadness" at what he said he saw as "an attack on all of us, on our way of living and our free choice of the kind of life we want to live". He continued:
It is France today, it was the US yesterday, in Orlando, and it's in so many places at the same time all over the world. Terrorism, Islamic terrorism in particular, is the threat we must now act upon. It is impossible for us to let our population, our freedoms be so constantly threatened.
He called it a "war" and said that each terrorist attack, from those in Iraq and Syria to those 'closer to home' such as last night's killings, should be considered "a wake-up call".
The Bastille Day is our St Patrick's. Imagine if a lorry went through a St Patrick's parade. I deeply pray for that never to happen but when you have something like this, what must be stronger than the feeling of sorrow must be the feeling to act upon this terrorism.
Taoiseach Enda Kenny has added his remarks to the Europe-wide outpouring of condolences saying he was "deeply shocked and saddened at this horrific attack".
He said:
Once again innocent people have been targeted at an occasion of joy and celebration. French people have suffered appallingly and have again been the victim of cynical, and wanton violence. We cannot and will not yield to this malevolence.
Writing online, Nice Matin journalist Damien Allemand who was at the waterside said the fireworks display had finished and the crowd had got up to leave when they heard a noise and cries.
"A fraction of a second later, an enormous white truck came along at a crazy speed, turning the wheel to mow down the maximum number of people," he said.
I saw bodies flying like bowling pins along its route. Heard noises, cries that I will never forget.
Graphic footage showed a scene of horror up and down the Promenade, with broken bodies splayed out on the tarmac, some of them piled near one another, others bleeding out onto the roadway or twisted into unnatural shapes.
"Help my mother, please!" one person yells out on the video. A pink girl's bicycle is briefly seen overturned by the side of the road.
This morning, the long stretch of promenade on which the attack happened remained cordoned off by French police. Irish journalist Stephen Milton, speaking to RTÉ Radio One's Morning Ireland, said that the atmosphere was "very strange, surreal" this morning with some locals happening upon the scene, apparently only waking up to the news of the killings.
Taoiseach Enda Kenny has said that one Irish person was critically injured in the attack and is being treated in hospital.
The Irish Embassy in Paris has advised that any Irish citizen in Nice needing help should contact them at 0144 176 700. If calling from outside France, add the French code: 00 33 144 176 700.
If you are an Irish person in Nice, we'd like to hear from you. You can get in touch by emailing news@thejournal.ie