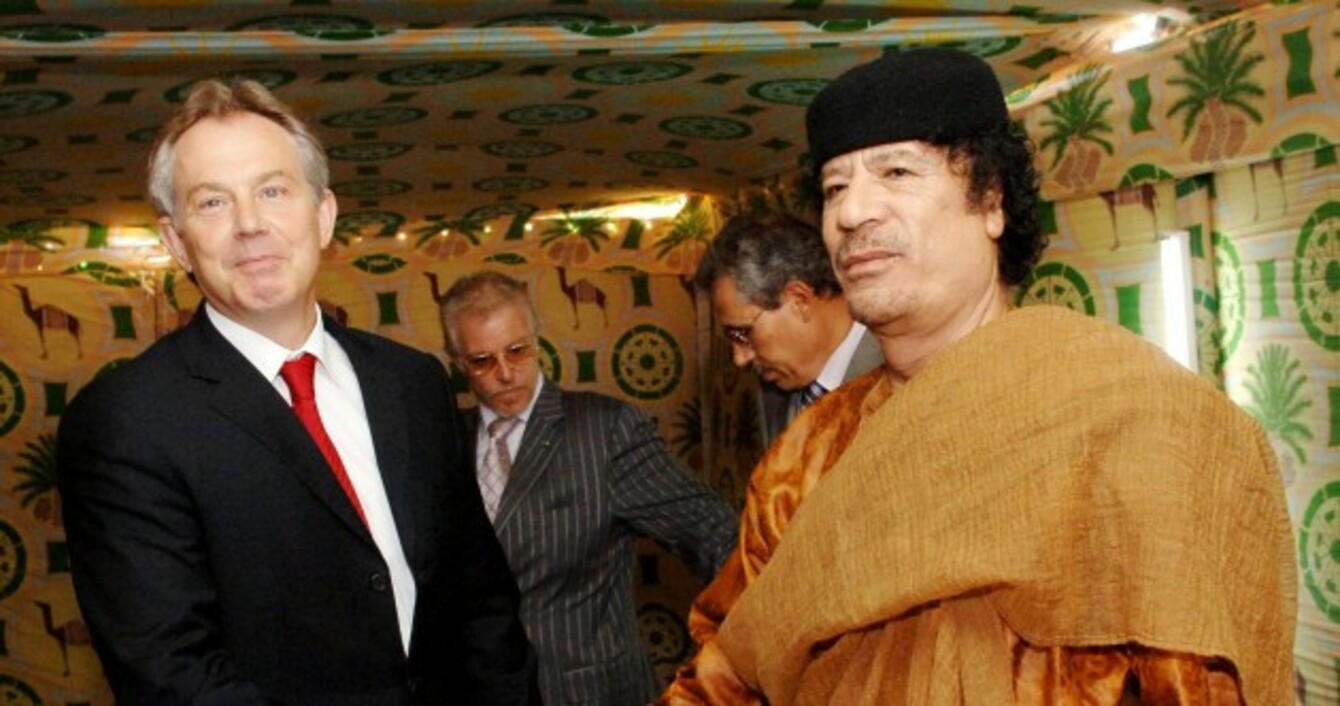 Image: PA Wire/Press Association Images
Image: PA Wire/Press Association Images
THE IRISH GOVERNMENT made contact with authorities in Saudi Arabia with concerns about an Irish resident who was arrested and tortured by Saudi intelligence officers.
Abdullah Abu Bakir Hassan, a Libyan businessman, was living in Dublin with his wife and three children, who were all born in Ireland.
He had travelled to Saudi Arabia to organise business documents for his company, which organised pilgrimages to Mecca from Europe, when he was arrested on 19 November 2005.
He was detained for more than nine months, during which time he was allegedly tortured and suffered serious injuries, including a stroke and paralysis.
The Irish government became involved when Hassan's family raised concerns about his welfare.
On 22 January, The Guardian mentioned an Irish resident in an article about British spies who worked with Muammar Gaddafi's government to investigate Libyan dissidents living in the UK and Ireland.
Hassan's case came to light when journalist, formerly with TheJournal.ie, Dan Mac Guill, questioned whether Hassan was the Irish resident featured in The Guardian article and wrote about Hassan's case extensively in his blog here.
Saudi Arabia arrest 
An investigation by TheJournal.ie discovered that following his release in late 2006, Hassan's passport was confiscated and he was unable to leave Saudi Arabia. He was arrested again on 17 May 2007, less than one year later, and phoned his family in Ireland to say that he would no longer be able to contact them.
His health deteriorated significantly while in prison. Hassan was unable to walk during his time in detention and was transferred from al-Ha'ir Prison to a hospital for 17 months until July 2011. He was offered an operation, but said that he would wait until he returned in Ireland.
Following this, he said "they got upset" and placed him alone in a room in the hospital where he was unable to call anyone for around four months and received "bad food".
He has only one arm, suffered a stroke and is paralysed.
Beaten and denied legal counsel 
Amnesty International took up Hassan's case, and in a report stated that he was allegedly beaten repeatedly and denied access to legal counsel. The security forces apparently accused him of opening a business without informing the authorities and meeting with suspicious people, which he denied.
The human rights group said that Hassan was interrogated about his links and relations to suspected people in Ireland and the UK and, according to him, replied, saying:
"I don't know who they are… Go ask Britain and Ireland! I don't know them."
The anti-torture non-profit group Alkarama also highlighted Hassan's case in the video below, where his case is mentioned (at 5 minutes 30 seconds). His wife and children were also interviewed.

Source: Dignity Films/Vimeo
A statement to TheJournal.ie from the Department of Foreign Affairs confirmed that the Government did make representations on behalf of Hassan's family in 2007, "on the basis of Mr. Hassan having Irish children".
The Department through our Embassy in Riyadh approached the Saudi Authorities on behalf of the family of Mr. Abdullah Abu Bakir Hassan following representations they made to the Department on his welfare.
The Department refused to comment on the nature of its dealings with the Saudi authorities, adding: "We are no longer providing consular assistance in this case."
In April 2010, Hassan was brought before the Specialised Criminal Court in Saudi Arabia.  He apparently had no access to a lawyer and was brought to the court handcuffed and blindfolded.
Trial 
Hassan described the four sessions of the trial that he attended to Amnesty International:
We did not know what our charges were until we went to court… The trial was a mockery… Each hearing lasted for 30 minutes, during which the judge would speak for around 25 minutes and I would be given only a minute or two to speak.
In April 2011, he was brought to court to hear the verdict against him.
Hassan was sentenced to five years' imprisonment, having been convicted of charges relating to belonging to the Libyan Islamic Fighting Group and unauthorised money transfers, which he denied.
Abdullah Abu Bakir Hassan was released on 31 October 2011 after signing a pledge that he would not speak to anyone about anyone he had met in prison, or about his case, or anything that would harm the security of the state and that he would not undertake terrorist activities. He was deported to Libya on 1 November.
Multiple attempts to contact Hassan or his family in Ireland proved unsuccessful.
#Open journalism No news is bad news Support The Journal

Your contributions will help us continue to deliver the stories that are important to you

Support us now
UK and Libya collusion 
The existence of his case emerged as a result of a report by The Guardian, which claimed there was co-operation between British spies and Colonel Muammar Gaddafi's government, whereby information was extracted from rendition victims as evidence and used in secret court proceedings in London.
Guardian Journalist Ian Cobain describes MI6 and MI5's close involvement in the secret abduction of Gaddafi's opponents, their subsequent torture, and how it played an active role in their interrogation and intimidation of Libyan dissidents living in Britain and Ireland.
The Guardian report specifically mentions the case of a British citizen, along with an Irish resident, Hassan, who were arrested and beaten.
The British citizen, Abdel Hakim Gellani, says he was also interrogated by two British men who declined to identify themselves.
Official documents recovered in Tripoli since the Libyan revolution, reveals that Tony Blair wrote a letter to Colonel Muammar Gaddafi for the "excellent cooperation" between the two countries' counter-terrorism agencies, where the UK and Libya worked together to arrange for Libyan dissidents to be kidnapped and flown to Tripoli.
A case, claiming damages on behalf of 12 men who were allegedly kidnapped, tortured, or tricked into travelling to Libya has been taken by London-based lawyers against the British Government.
The Guardian reports that an attempt by government lawyers to have that claim struck out was rejected by the High Court in London on 22 January, with Mr Justice Irwin, ruling that the allegations "are of real potential public concern" and should be heard and dealt with by the courts.
TheJournal.ie asked the Department of Foreign Affairs if it would be contacting the UK Government into allegations that there was possible British intelligence involvement into the detention and interrogation of an Irish resident.
The Department stated that it did not have anything to add other than the statement provided.
Hat tip: Dan MacGuill