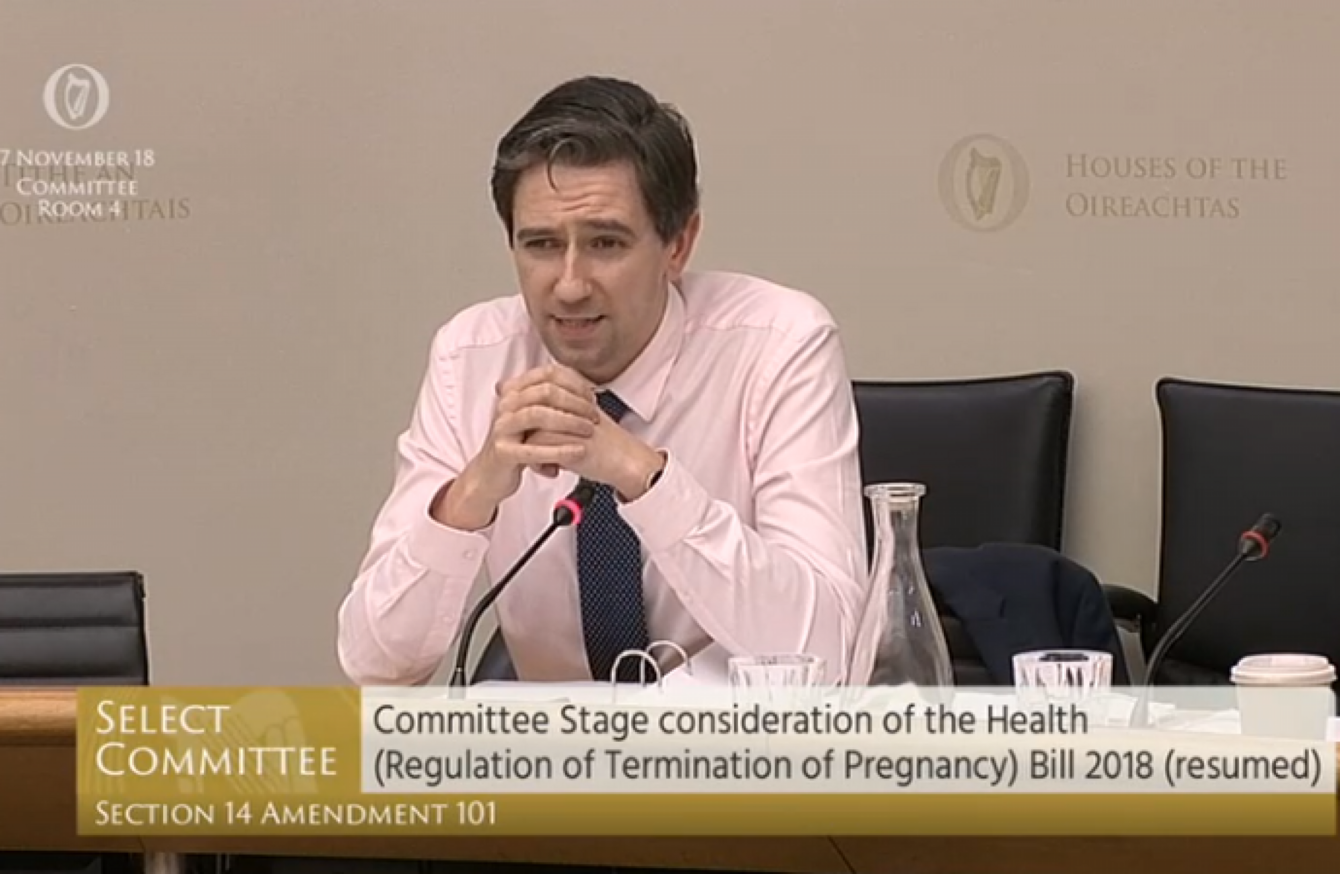 Image: Oireachtas
Image: Oireachtas
A JOINT OIREACHTAS Committee on Health has voted against an amendment which would have forced women to bury or cremate a foetus after terminating their pregnancy.
The committee, which has been considering changes to the Health (Regulation of Termination of Pregnancy) Bill 2018 this week, voted down the motion this evening.
The amendment sought to amend legislation which provides for legal terminations in Ireland, and was brought by a group of anti-abortion TDs, including Carol Nolan, Peter Fitzpatrick, Michael Healy-Rae and Michael Collins.
Among the issues raised by the TDs were the stress experienced by mothers in the moments after receiving a termination and the lack of guidance for medical professionals about what to do with terminated fetuses.
But responding to those concerns, Minister for Health Simon Harris called the proposed amendment "extraordinarily distasteful".
'Offensive'
"If a rape victim turned up at the doctor in early pregnancy … when that procedure takes place – a medical abortion – they would have to actually bury the fetus," he said.
"I'm not mansplaining that process to anybody, but there's not a woman in the world who'd want to go through that."
The Minster added that maternity hospitals already understood how to prepare for situations raised by the TDs, and claimed the unintended consequence of the amendment would mean criminalising women for not burying an aborted fetus.
Later in the hearing, Harris' colleague Kate O'Connell also hit out at the message the amendment gave to women who had suffered miscarriages.
"For those of us who have had miscarriages, we expected a baby and we grieved a baby, although those babies were only 13 weeks or 7 weeks [old]" she said.
"I find it offensive as a woman who's been in this situation. I don't want to inform anybody what I've done with my fetal remains.
"I don't want to inform the Minister, I don't want it in legislation, and I most certainly don't want people in this House prescribing what I should do with my used maternity pads, my soiled bed sheets, [or] my bath sheets."
The amendment was voted down by the committee, which subsequently adjourned until later this evening.