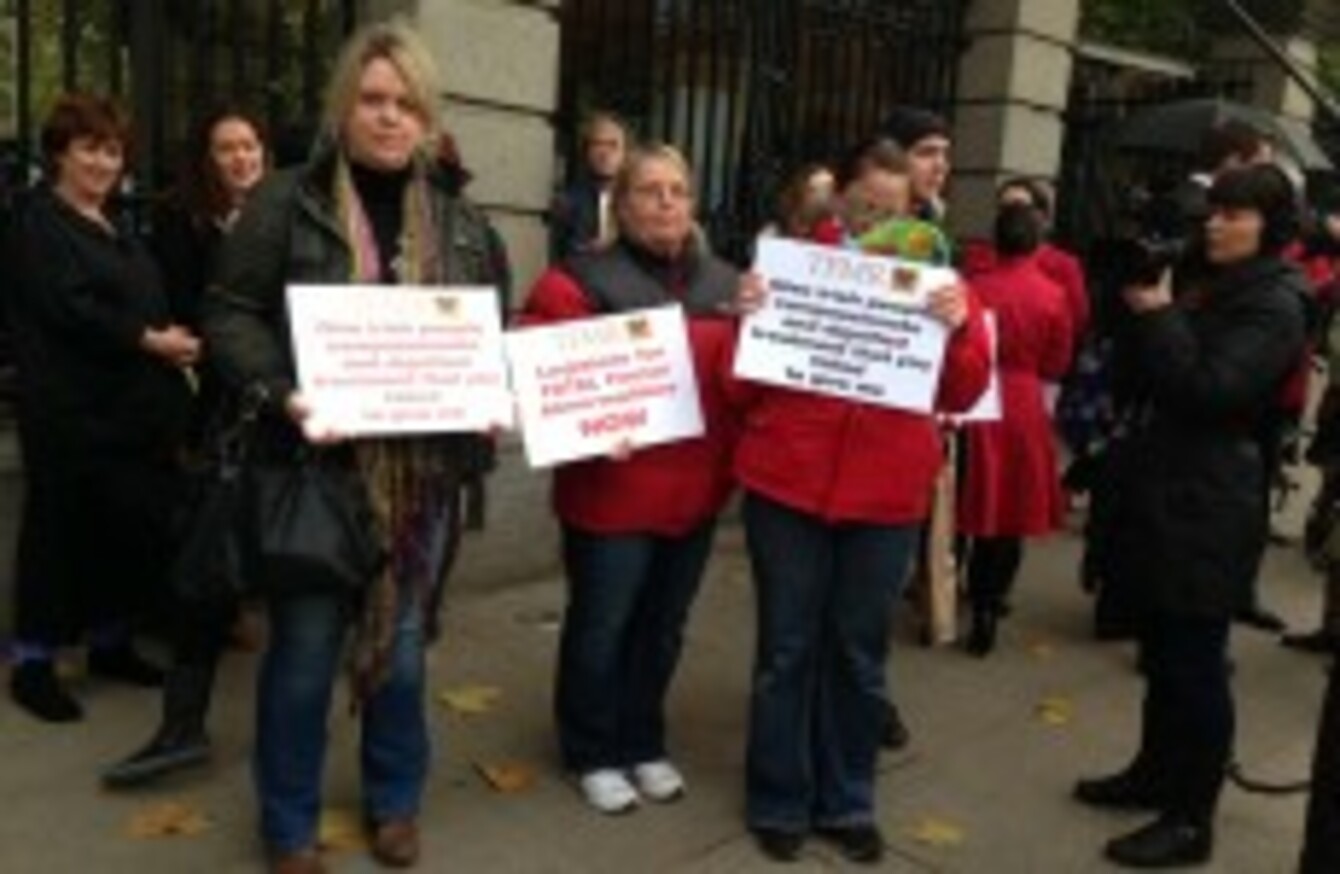 A demonstration outside the Dáil.
Image: Sinead O'Carroll/TheJournal.ie
A demonstration outside the Dáil.
Image: Sinead O'Carroll/TheJournal.ie
A WOMAN WHO was forced to travel to the UK to terminate her unviable pregnancy is filing a petition to the United Nations today claiming the Irish government violated her human rights by refusing to allow her to have the procedure here.
In 2011, Amanda Mellet, at 22 weeks of pregnancy, was told the fetus had Edward's syndrome, a fatal abnormality. She and her husband James Burke were "shocked" to learn that Ireland does not allow for a legal abortion in these circumstances and were told by a midwife at the Rotunda Hospital that couples in their situation opt to "travel".
The couple organised their trip themselves and after a week-long medical process in Liverpool, a hospital safely terminated the woman's pregnancy. She had an adverse reaction to pain medication which "left her weak, bleeding and struggling not to faint" on the flight back to Dublin the following day.
Post-abortion care
After this she said she never received adequate post-abortion care and was not offered bereavement counselling.
Speaking today, Mellet said:
How can it be justified that a pregnant woman must sneak over to England like a criminal to do what she feels is the most humane thing?  Words simply cannot express the depths of my hurt and anger over what James and I went through.
The Centre for Reproductive Rights and Termination for Medical Reasons Ireland (TFMR) are filing the petition on her behalf.
They said today that without the strength and the means to travel "Amanda would have been forced to carry to term, fearing every minute that she would give birth only to watch her baby die".
The two organisations are currently holding a press conference in Dublin to discuss the petitions and a small demonstration is also taking place outside the Dáil in support of the couple.
The Protection of Life During Pregnancy Bill does not include a provision for women to terminate a pregnancy in the case of fatal foetal abnormalities.
- Additional reporting by Sinead O'Carroll.