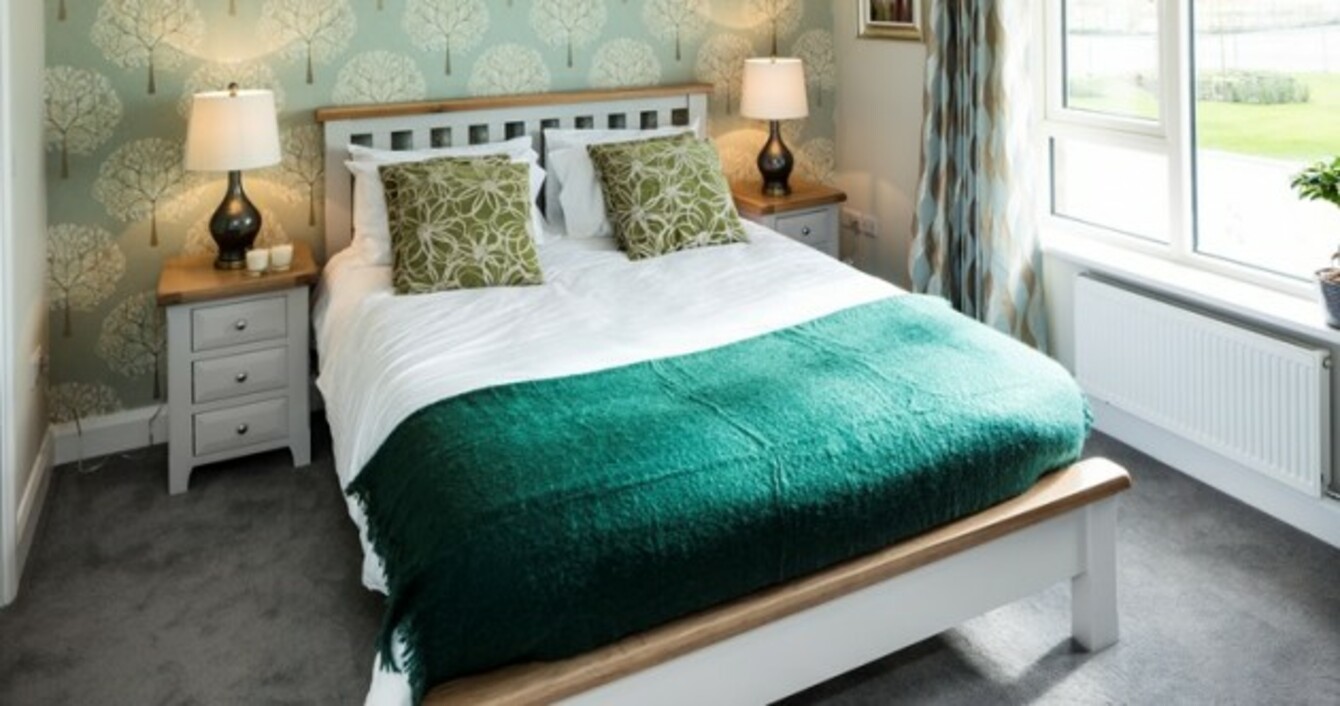 Interior of showhouse at Adamstown, Lucan.
Image: Peter Moloney
Interior of showhouse at Adamstown, Lucan.
Image: Peter Moloney
IT WAS FEBRUARY 2005 that the then Taoiseach Bertie Ahern stuck on his hard-hat and headed to Adamstown to launch an ambitious new development project aiming to ease the capital's housing crisis of the day.
This €2 billion new town would house some 20,000 people who would live on 70 acres of parkland, sports facilities, a rail station and multiple schools.
There were big promises and high hopes for the area.
Adamstown was the first of the so-called Strategic Development Zones (SDZ) which benefitted from fast-track planning (something today's government is also planning to help solve the housing crisis).
Dubbed Ireland's first 'ghost town' in 2012
Plans for Adamstown stalled and it became Ireland's first 'ghost town', garnering international media attention.
In 2014, instead of 20,000 living within the development, only 1,250 of its homes and apartments were occupied, and South Dublin County Council stepped in.
However, in 2016, Dublin is in a whole new crisis.
Last year, of all house purchases made, just 24% were first-time buyers. Housing Minister Simon Coveney told TheJournal.ie that in a healthy market it should be around 55%.
First-time buyers rebate
It's been less than a week since first-time buyers heard details of a new grant scheme that could see them getting up to €20,000 towards their deposit.
Since then, there has been a lot of speculation from opposition parties, and housing experts, about what impact it will have – positive or negative.
It's for this reason that all eyes were on Adamstown this weekend.
The first phase of a 177 new home development in Adamstown was launched by joint Agents Savills & Leahy Residential on behalf of developer, Castlethorn Construction.
The launch of the Alderlie development came just three days after the Government announced a Help-to-Buy scheme.
David Browne, Director of New Homes at Savills said he was interested to see how fast the units would sell following the announcement of the tax rebate scheme.
Browne told TheJournal.ie today that as of this afternoon, 49 houses of the 177 have been sold.
'Most successful sale this year'
"This is the most successful sale we have had this year," he said.
He said demand for the three and four-bed units had been stronger than initially anticipated following the introduction of the help-to-buy initiative.
However, he pointed out that unlike other new builds, which are often on large land bank field sites, Adamstown is unique with its SDZ status.
The infrastructure is already in place here. The announcement of the Phoenix  Park tunnel reopening, the train station, a crèche, three schools – there's a lot here already.
Since the rebate scheme announcement last week, there has been speculation that house prices will rise.
Price hikes 
Last week, one development in Dublin's commuter counties, the developer added between €17,500 and €45,000 to the price of houses since the Budget speech.
This is merely a snapshot of one development post-Budget, and not indicative of any trend.
It is also not the case with Adamstown, said Browne.
"We announced the price before the Budget. A three-bed house is priced at €270,000, a four-bed is priced at €345,000 and we stood by it."
Browne said in his opinion, the 5% rebate on the deposit will help first-time buyers, although he said of the buyers he spoke to at the weekend, not many appeared to understand how it worked and how they could avail of the rebate.
Affordable homes
"It is absolutely going to help," he said, adding that the scale of this weekend's sale should show developers that there is a market to build affordable homes for first-time buyers.
With the Government saying there is little it can do in relation to the restrictive Central Bank rules (which requires first-time buyers to have a 10% deposit when buying), Housing Minister Simon Coveney has said this initiative will help fix the "broken house market".
Those on the opposition benches don't think it is that straight forward.
Fianna Fáil Spokesperson on Housing, Planning and Local Government, Barry Cowen told TheJournal.ie that "nothing is more certain than night follows day than prices are going to go up with this scheme".
Prices are going to go up, there is some anecdotal evidence of that already.
He said his party had serious reservations about it and would be tabling a number of amendments to the scheme ahead of the vote.
Lowering the cost of construction 
Cowen said the scheme is operating in isolation, and other initiatives should have been brought in alongside it to bring down the cost of building a house.
These include looking at certification costs, construction costs, and VAT. Cowen said the scheme should be assessed on a yearly basis as to whether it is working.
One major problem for Cowen is the €600,000 ceiling on the rebate.
Coveney said the scheme is for houses under €400,000, but said the €600,000 ceiling is there to stop someone who buys a house just over the €400,000 mark from being unable to benefit from the scheme.
'People crying in my office'
Cowen said the ceiling mark for the scheme is simply too high for a first-time buyer and wants it reduced.
The big mistake is giving the €20,000 on houses up to €600,000 when we have 130,000 people on the housing list and I have people crying in my office saying they can't afford a deposit. The likes of that galls me, it is off-the-wall stuff.
He said he has heard a number of independents also have reservations about the new scheme and encouraged them to support Fianna Fáil's amendments.
"No one has that money, these are ordinary people – young gards, teachers, whose parents have educated them in the hope they might be able to one day get on the property ladder," he added.
While it's not common for Sinn Féin to agree with Fianna Fáil on a lot of things, the party agrees that the cost of building a house should have been targeted in this year's Budget.
Dublin Mid West TD Eoin O'Broin said the new scheme will inflate prices, stating that a similar scheme was introduced in the England and later discontinued.
He criticised the minister for not taking the advice of the Oireachtas Homeless and Housing Committee (which was set up prior to government formation) which recommended the Government look at how to bring down building costs.