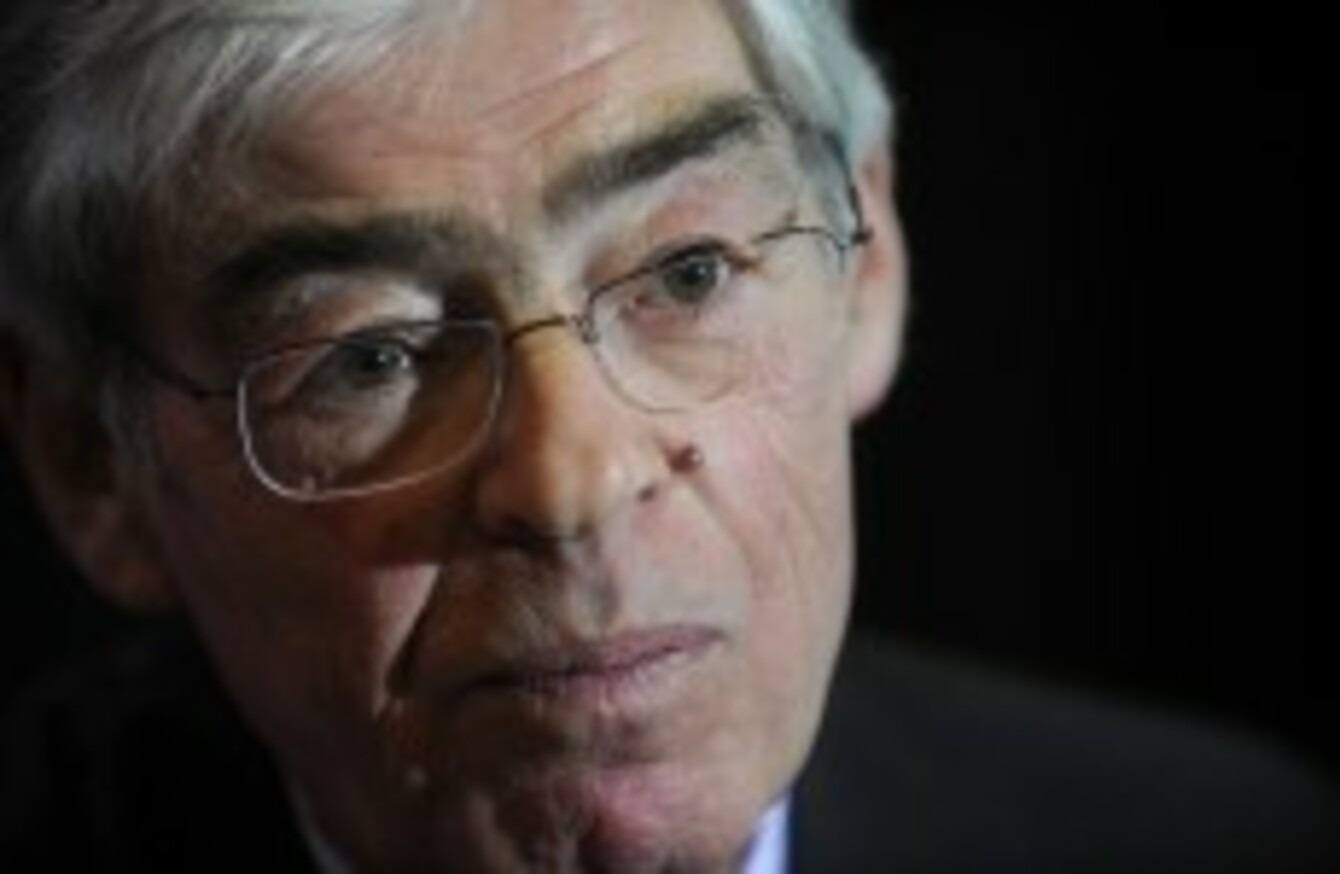 Alan Dukes
Image: Laura Hutton/Photocall Ireland
Alan Dukes
Image: Laura Hutton/Photocall Ireland
Updated 4.45pm 
THE FORMER CHAIRMAN of IBRC, Alan Dukes, has said he is "extremely angry" at suggestions of malpractice or criminality in the IBRC sale of Siteserv.
Dukes, a former Fine Gael leader, was responding to the controversial sale of the Siteserv to the Denis O'Brien-owned Millington in 2012 for €45 million.
"I am extremely angry at any reference to criminality or malpractice. There's absolutely no grounds for suggesting that," he said at a press conference in a solicitor's office in Dublin today.
Dukes said he felt compelled to talk in the wake of days of controversy on foot of the release of documents showing tensions in the relationship between the now-defunct IBRC, formerly Anglo Irish Bank, and the Department of Finance, including Minister Michael Noonan.
Dukes said the "very fact that there's any mention of criminality or malpractice is absolutely outrageous" and of those raising objections in recent days, he said:
"There are people around who see conspiracy in their tea leaves."
He gave an extensive outline of the process by which Siterserv was sold to Millington in 2012 and insisted that the Department of Finance was kept informed and briefed of the sales process throughout this time.
"There was nothing hidden about this," he told reporters.
Dukes said that in his time as chair of IBRC, the focus of the board was on getting the best value for the shareholders and the State.
The sale of Siteserv
Dukes said that prior to Siteserv's sale, the company owed IBRC around €150m and was in some considerable difficulty where it was "bleeding cash" and was finding it difficult to get contracts.
He said that IBRC would have got "very little out of a wind-up" and there was nothing to be gained by calling in loans because "there was just no money there".
Dukes explained that in selling Siteserv there were about 50 expressions of interest but the decision was taken to exclude so-called trade buyers as there was a danger the sale would be "upscuttled" by those looking to get inside information.
He said that while there was another company, Altrad, which was offering a higher bid, the conclusion was that there was a substantial risk that this would be "gradually get whittled down".
He said that the bank's chief risk officer oversaw the transaction because it was likely to be "high value and highly visible".
He said there were "adequate measures" taken to ensure that the legal firm Arthur Cox, which represented both sides, did not present a conflict of interest.
Dukes said the sale was discussed at regular review meetings that the bank had with officials from the Department of Finance.
On the €5 million that was paid to shareholders in Siteserv, Dukes insisted that this was appropriate in the circumstances, saying:
The company was being sold. It wasn't being put into liquidation. Some value, however residual, was being got.
Concern
When IBRC was approached with "incontroverable evidence" of wrongdoing in the Siteserv case, Dukes said this evidence amounted to a "a newspaper clipping".
When the matter was raised by then-Department of Finance secretary general John Moran at a meeting in July 2012, Dukes, who was at the meeting with IBRC CEO Mike Aynsley, told the senior civil servant that the board was satisfied with the sale.
However, Dukes dismissed suggestions that a review of the sale had been carried out – as has been claimed in some quarters.
That matter has morphed into the suggestion that the board carried out a review. The board did not carry out a review.
Dukes also addressed the issue of Noonan being recorded in the minutes of a meeting with IBRC of not being confident about accounting for the bank's actions in answers to the Dáil.
Relations with Michael Noonan
When he heard this, Dukes said he asked his former Fine Gael colleague if there was ever a case where he was nervous or embarrassed about going into the Dáil with IBRC's information.
"His [Noonan's] reply was that he hadn't," Dukes said.
Asked if he had spoken to Noonan in recent days, Dukes said he phoned his former cabinet colleague on Tuesday to say he was "extremely concerned about what was coming out" and asked for unredacted versions of the documents.
On his relationship with Noonan, Dukes said:
As far as I know, there is no personal animus between us.
Dukes said that both he and Aynsley are now seeking all documentation referring to them from the Department of Finance.
He said that he was "quite happy" that the special liquidators are carrying out a review of certain IBRC transactions. He admitted that he did not know how many transactions, or which ones, would be examined.
"I'm quite happy that a review is taking place and I have absolutely no doubt that nothing untoward will be found," he said.