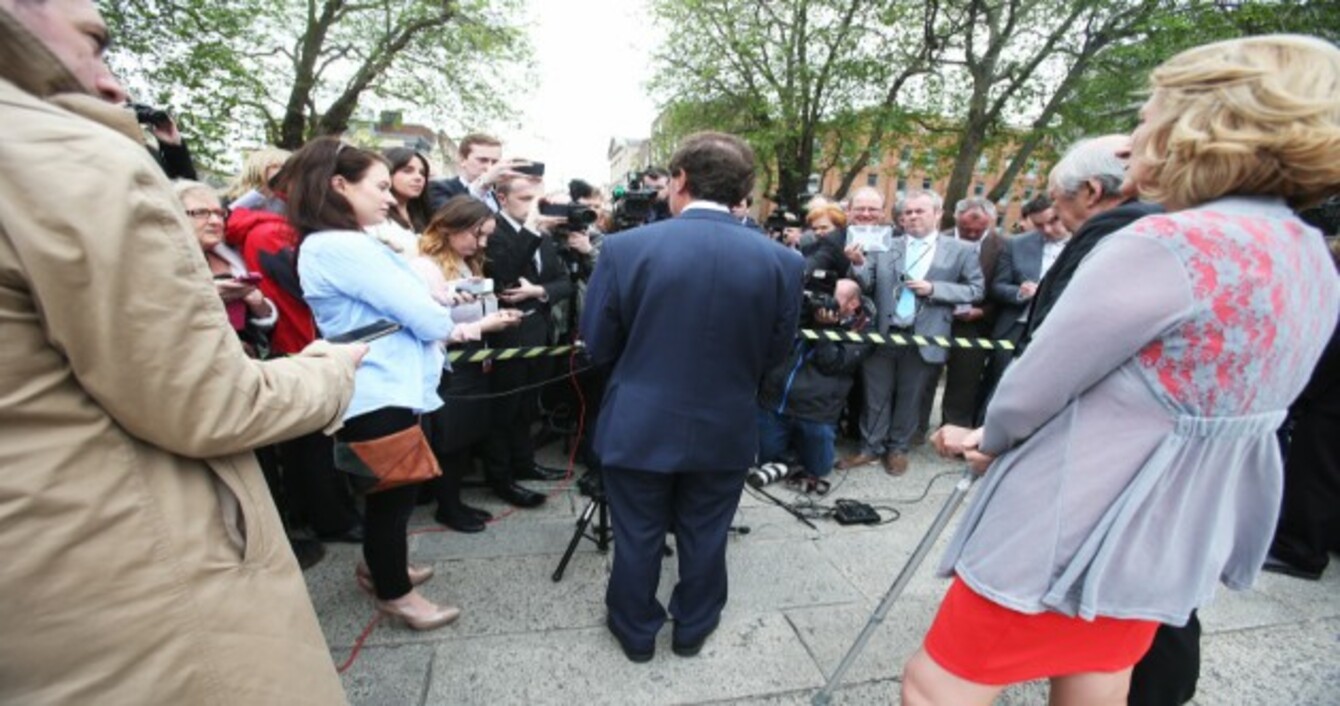 Alan Shatter speaks to the media at Leinster House
Image: Leon Farrell/Photocall Ireland
Alan Shatter speaks to the media at Leinster House
Image: Leon Farrell/Photocall Ireland
HE HAS BEEN utterly silent in the two weeks since he resigned as Minister for Justice in a blaze of controversy so it was always going to be a big event when Alan Shatter eventually broke his self-imposed silence.
But the speculation that he was about to resign from politics altogether, giving up his Dáil seat in Dublin South, added an air of intrigue and anticipation to his 2.30pm press event on the plinth of Leinster House yesterday.
Journalists, photographers and cameramen gathered from just after 2pm with giddiness in the air. There may have been a moratorium but here was a potentially great political story that just had to be reported.
But aside from the resignation question there was also that sizeable controversy over Shatter's severance package. Would he keep it or give it up?
Once he emerged from the Leinster House building with the well-known Jack and Jill chief Jonathan Irwin and his wife Senator Mary-Ann O'Brien it became clear to waiting journalists that Shatter was giving the money to charity – an anti-climax for the politicos dreaming of another by-election.
Still the former minister was determined to put on a show for he is a showman at heart, always one who enjoyed a parliamentary joust as a Minister, or while he was in opposition, and he isn't about to give it up just because he's now confined to the backbenches.
Shatter was the height of chirpiness, giving the air of a man unburdened from the controversies of whistleblowers, GSOC surveillance, buggings, guards, and so many other matters. He was so happy he'd even forgotten that controversial word "severance" confusing it with, ironically, another controversial word: "surveillance".
"Now, ladies and gentleman, thank you for joining us this afternoon," he began, noting his resignation two weeks ago and claiming that he was "somewhat surprised" to learn of his severance package.
He described the letter informing him of this severance as coming from DPER but gave up on saying the mouthful that is 'Department of Public Expenditure and Reform' and exclaimed in the chirpiest of chirpy voices: "Minister Howlin's department, for god's sake!"
But what he do with that letter?
"I did what I normally do, I reflected on that and found that very interesting, and wondered what was an appropriate way to deal with it."
Who knew a letter could be so interesting.
"The first decision I've made is I'm taking the severance payment," he said before pausing very much for dramatic effect. "The second decision I made is that it's all going to go to the Jack and Jill Foundation."
An anti-climax but what a terrific outcome for Jack and Jill who could do "a great deal more with the money" than he could do.
Shatter said that Jonathan Irwin had been surprised when he called him the night before. But that's Shatter, he loves surprises, he loves drama.
#Open journalism No news is bad news Support The Journal

Your contributions will help us continue to deliver the stories that are important to you

Support us now
"The deputy will take questions on today's matter only," an advisor told the media. But the questions rained down.
Could he not have told us this three days ago?
No, he said, but there is no drama, he considered the letter, he made enquiries, he clarified the situation and he thought "the simplest thing" to do was explain what he was doing here on the Leinster House plinth.
"I haven't felt under any pressure of any nature," he insisted, with that newfound care-free tone of voice.
Had he told the Taoiseach? No, in fact even though he had spoken to him the day before they had not discussed this matter at all. Enda Kenny was learning about it at the same time as we were.
But how are you, Alan? "I'm extraordinarily well, how you doin'?" he said to much laughter all round, later confirming that he's "going nowhere".
This was a "good outcome" said a government source. This was also classic Shatter or "Shatter-esque" as one of his Fine Gael colleagues later put it.
Another party colleague noted: "If Shatter was an ice cream, he'd lick himself."