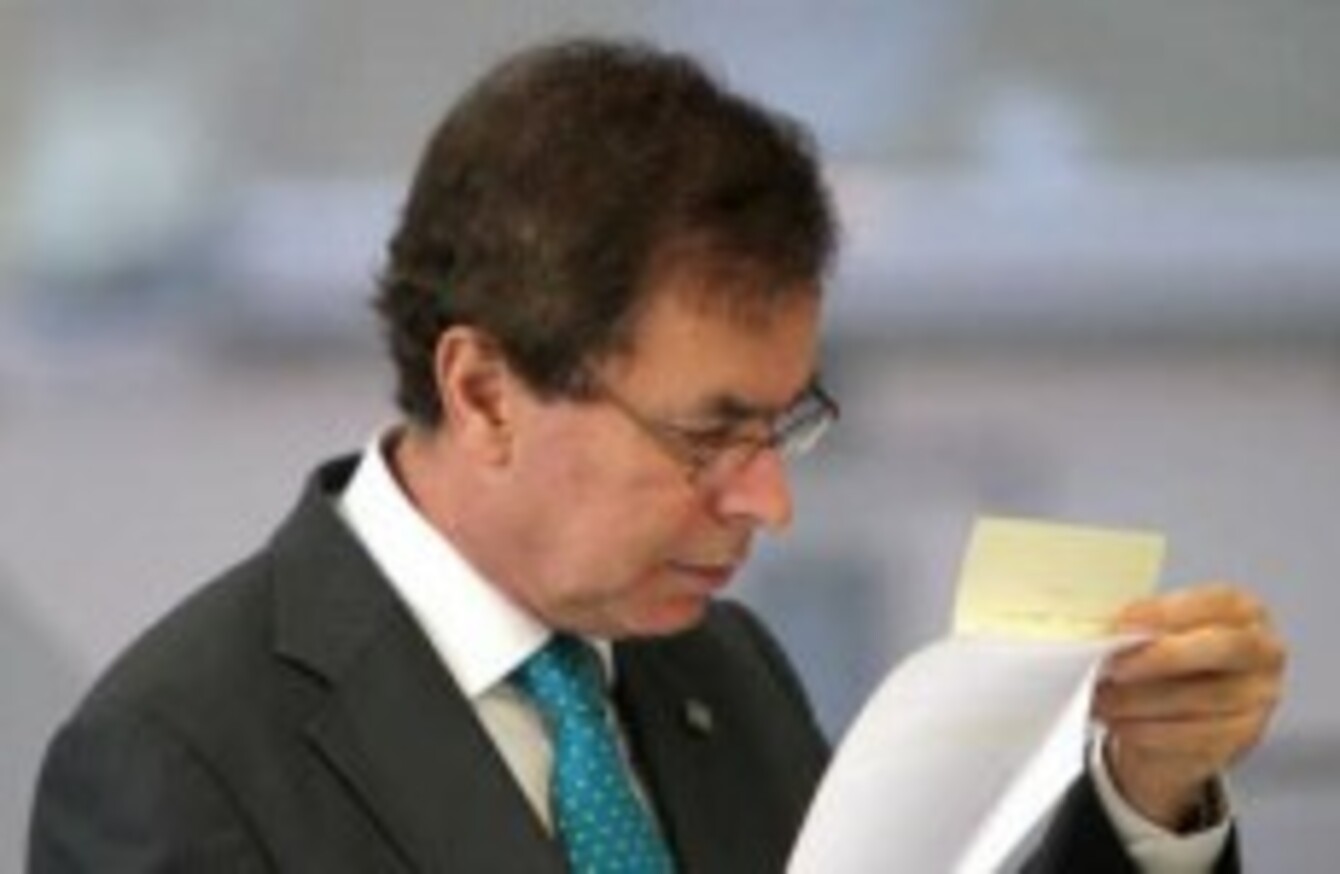 Alan Shatter
Image: RollingNews.ie
Alan Shatter
Image: RollingNews.ie
ALAN SHATTER CONFIRMED this week that he won't be ending his political career just yet and perhaps with that in mind he made an unusual radio appearance this afternoon.
The former justice minister will seek re-election for Fine Gael in the new three-seat Dublin Rathdown constituency at the next election with a selection convention due in September.
Shatter's extra-curricular activities are no secret given his infamous novel 'Laura' .
Speaking to Seán Moncrieff on Newstalk this afternoon he also revealed that he wrote another unpublished novel a number of years ago that may never see the light of day.
I decided if it was published I probably couldn't continue in politics. So that's been put on a back burner and semi-forgotten about.
Describing it as "on the amusing side", Shatter said it was "not all that frisky" adding that there are only five people in the world who are allowed read it.
But what he was really on the programme to talk about was his interest in writing poetry, describing it as a "fantastic distraction from politics".
Shatter said that poetry gives him an "opportunity to relax and think outside the box".
I never particularly made it public that I write the occasional poem. I make no claims for what I write. It's just painting pictures, it's a little bit intellectually challenging. Some of the poems I write are, I hope, amusing, others more serious. But it's something I've been doing on and off over the years.
He said it was a way of "not having to pay someone for psychotherapy" and underlined the importance of having a life outside of politics.
In the first of two poems, Shatter appeared to have a pop at the world of social media.
'Go Fly A Kite' is poem he wrote "a few months ago" which is intended to provide "one or two amusing insights into present day life".
Facebook friends in the cloud, becoming popular with the crowd,
Devoted followers living online.
Fabricated world on which to dine, dedicated tweeter, something to say,
So much neater, 140 characters at play.
Actively engaged in world affairs, brief profundities, but no one cares,
Lots of likes and notifications too.
Social applause, globalised zoo, moribund existence, intellectual cul de sac,
Cyberspace capture, gotta get back on track.
The sun is shining, The day is bright,
Need to meet real people, and go fly a kite.
His second poem 'Sirens' strikes a more serious tone.
Written in 2003, the poem is inspired by a series of suicide bombings in Israel that year and was penned shortly after the bombing of a bar in Tel Aviv, according to Shatter.
Suicide bomber, body parts flying through the air like human darts,
Total mayhem on the street,
On the sidewalk, a baby's feet.
#Open journalism No news is bad news Support The Journal

Your contributions will help us continue to deliver the stories that are important to you

Support us now
Severed head on the ground, blind staring eyes, morality drowned,
People running everywhere,
Panic spreading, scorched human hair.
Ambulance sirens, anguished wailing, dismembered grief,
Live saving, failing.
Suicide bomber, second coming,
Flashing lights, ends my running.
Afterwards, Shatter said he did not anticipate that his poems would result in any book deal.
I don't have any anticipation that there's any need for me to be standing at the end of the phone.
Elsewhere in the course of a wide-ranging interview, Shatter defended himself against charges of arrogance insisting the position he took in relation to the GSOC bugging controversy last year had been entirely vindicated.
I think everyone's entitled to their views and to make their own judgement but I think people shouldn't always take seriously charges coming from opposition TDs to government ministers.
On his relationship with Enda Kenny, the former minister said diplomatically that he hasn't had "any major conversations" with the Taoiseach since his resignation last year.
I think this government is doing a good job. On occasions people get things wrong. No one gets everything right all the time, including me. None of us have a monopoly on wisdom.
Shatter said that the "small group of militant protesters" outside Leinster House last week were "not entitled to prevent members of the Oireachtas from entering or leaving" the complex.
On his political future, Shatter said: "There's any awful lot that I'd like to see still done in the country.
I hope I have a positive contribution to make to it particularly areas of social legal reform.
And maybe a bit of poetry too.