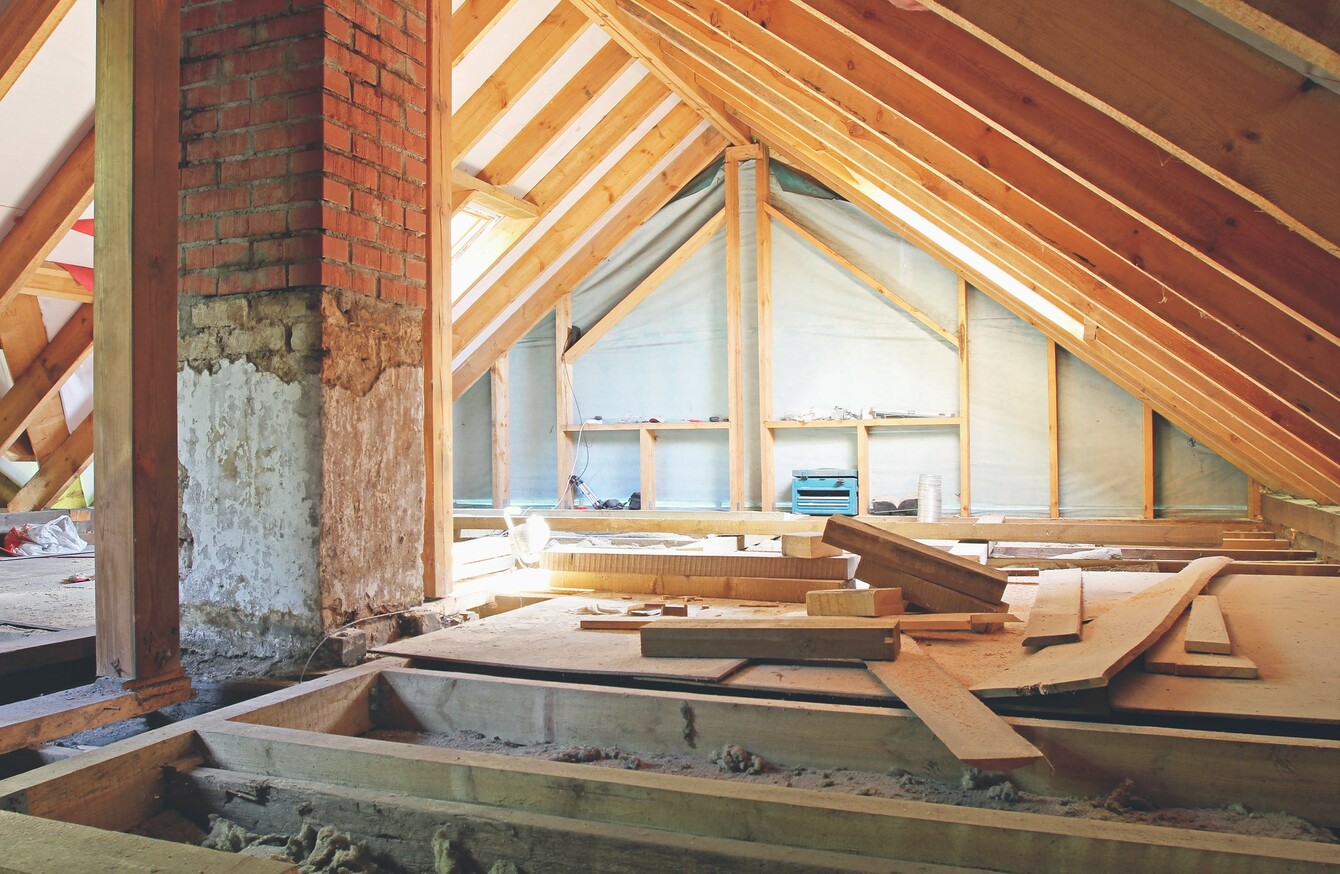 Image: Shutterstock/ronstik
Image: Shutterstock/ronstik
HAS A HOME renovation been on your mind over the last few months? You're not the only one.
When hardware stores re-opened in May after weeks of closure, outlets like Woodies and B&Q reported a boom in sales of "project" items like paint, power tools and construction materials. 
But if you're planning a larger-scale home makeover, there's a bit more to it than just picking up a drill and a few pots of paint. Recently we asked readers to give us a picture of their needs, wants and concerns around renovations projects.
And it seems many of you are ready for a change – you rated your satisfaction with your home's current state at 5.8/10. To address some of your biggest concerns, we turned to an Irish renovations expert, Clodagh Doyle, director and project manager at Placelift.ie.
How do I align my needs with my budget?
While readers said they had a fairly well developed idea of what they wanted from their renovation project, rating their clarity at 6.8/10, their confidence in their budget came in at a slightly more uncertain 6/10.
Wishlists and budgets often clash, says Doyle, but the clearer you are about both to begin with, the smoother your entire project will run.
Start by writing up your list of wants. It's okay to dream here. Get it all down on paper. Figure out what's working for you in your home, what's not working, what parts you want to keep and what you want to lose. Every homeowner has a different lifestyle, right down to small things like where they do their laundry, and the list will reflect that.
Once you have your wishlist documented, it's time to start thinking about your budget, and getting realistic about what you can afford. One mistake people often make is to only factor in the construction costs and building materials when pricing a renovation job. But in reality, a large chunk of your money will go elsewhere.
Doyle gives a top level breakdown for an extension costing €50,000 in total. Half of that amount, or €25,000, goes to the big stuff: construction and labour costs, insurance, building materials, electrics and plumbing.
Another 30%, or €15,000, goes to fixtures and fittings ("that can go up or down depending on your choice of materials, so there's some wiggle room if you need it" says Doyle). Then you're looking at around €7,500 for professional fees like site management and a structural engineer if needed, "and we'd always advise people to include a contingency of 5%, which is €2,500, as a safety net for any unexpected issues along the way."
That's before other extras like new sofas, curtains and paint. "You can see how fast it adds up," says Doyle. "It's so important to take the time to plan, and to make sure you know exactly what you want, and what you can afford. The devil is in the detail."
What can I do to make my home cosier?
In 2019, 80% of Irish homes had a BER rating of C or lower, and it seems many of you are looking to make your home more energy efficient. Readers ranked the importance of sustainability and reducing energy costs at a strong 7.3/10.
Doyle says that insulation and heating upgrades are common asks from her clients, though they're rarely discussed in terms of energy bills.
It always comes down to heat and how cosy the house is. People will say, 'the place is too hot in summer and too cold in winter.' We put so much value on warmth and comfort, not as a luxury, just as a basic need.
If you're already planning a large-scale renovation, now could be the time to tackle your wall and attic insulation too, as both projects will require some level of disruption in your home. But if all of that is too costly right now, there are other options:
If you don't use your fireplace, a chimney balloon is cheap to buy and install, and will help prevent draughts. You could also look at upgrading your boiler and heating system, or swapping older appliances for more energy efficient options.
What about creating more light and space?
Anyone who has been working from their kitchen table for the last few months, or who struggles to remember a time when the living room wasn't overrun with toys, may understandably dream of a home with some extra square footage.
Readers gave "more space" a priority rating of 5.8/10 on their renovation wishlist. If you're thinking that way too, but you aren't in a position to start knocking walls and building out into the back garden, think outside the box instead:
There are so many ways to add functionality to the existing footprint of your home. Think about features like under stairs storage, taller wall units, or pocket doors to give you back the 'dead zone' that your double doors open into.
And how do I find a contractor I can trust?
Readers weren't all that keen to tackle their home without professional help (4.2/10) but rated their confidence in finding the right contractor for the job at a healthy 6/10.
Aside from all the usual common sense rules like checking a contractor is registered and has insurance, asking for recommendations from people you trust will make your search a lot simpler, says Doyle.
Ask your family, friends or colleagues. Maybe someone down the road had their house done recently. Ask them how they got on, and if they were happy with the job.
And when it comes to quotes, be fair. "Not just to the builder, but to yourself. Compare like with like, and don't just go with one contractor because they're offering a low price. You want to go with a contractor you can trust and who will get the job done well."
If you're looking to upgrade your home to be warmer, more comfortable and more sustainable, the An Post Money Green Hub could help you get there – and An Post's one-stop Home Energy Upgrade Service takes the hassle out of the process too. To find out more about the benefits of a home upgrade, check out the An Post Green Hub.