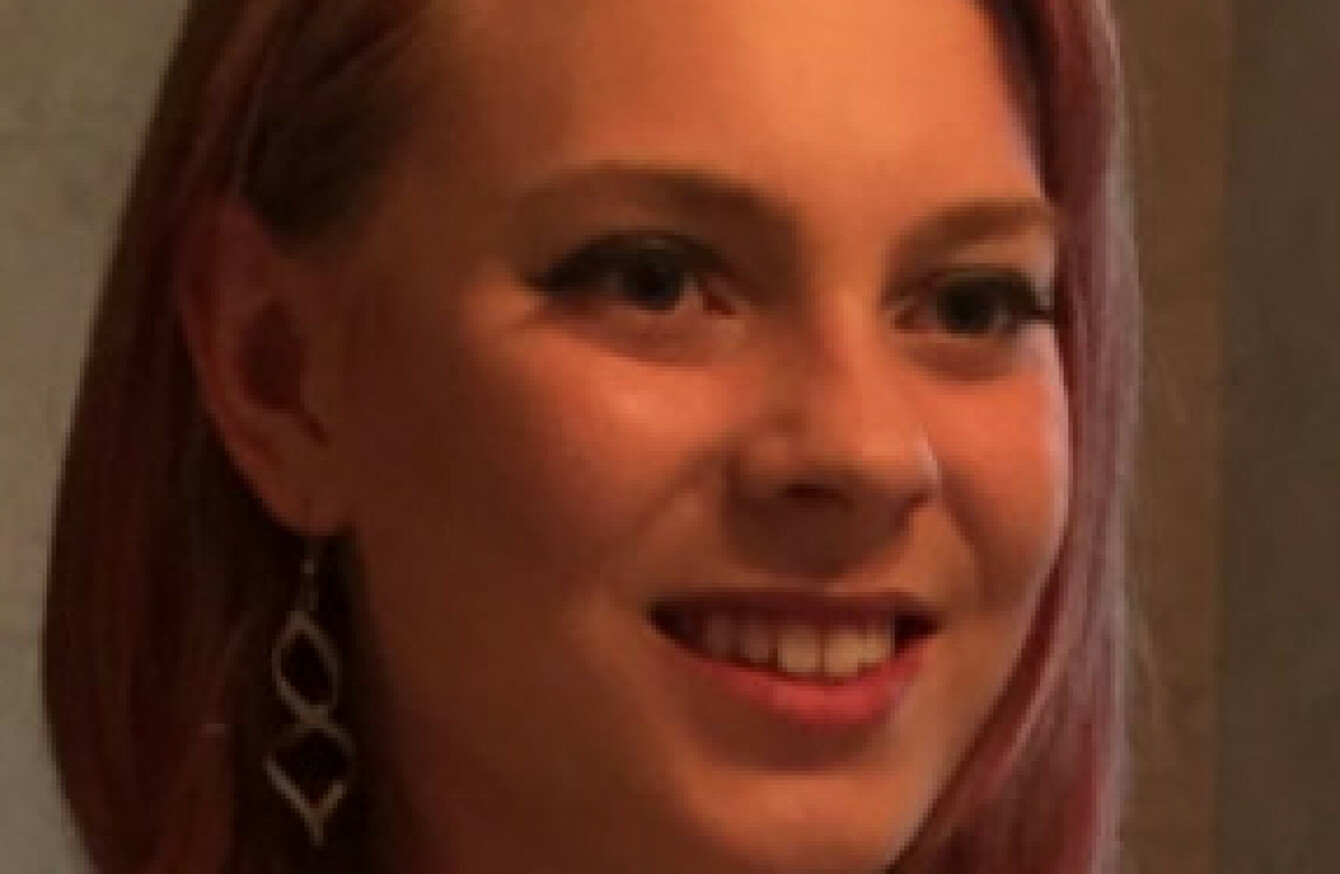 A photo of Ana released by her family.
Image: RIP.ie
A photo of Ana released by her family.
Image: RIP.ie
A 13-YEAR-OLD boy accused of the murder of schoolgirl Anastasia 'Ana' Kriegel has been further remanded in custody for formal directions to be obtained from the Director of Public Prosecutions (DPP).
The teen faced his second hearing at the Dublin Children's Court today having been charged and remanded in custody last week.
Judge Brendan Toale heard it was a "complicated case" and he acceded to a request from Garda Inspector Mark O'Neill to remand the boy in continuing custody to appear again on 25 June next.
The boy, who cannot be named because he is under 18, was charged with the murder of Anastasia Kriegel at Glenwood House, Laraghcon, Clonee Road, Lucan on 14 May, contrary to common law. Her body was found at the disused farmhouse three days later.
The teen sat on the defendant's bench and acknowledged his parents sitting to his right just before the proceedings commenced.
His grandfather was also seated close to him. The teenager remained silent during the brief hearing.
Garda Inspector Mark O'Neill told Judge Toale, "I am looking for a further remand to obtain written DPP directions in this case".
Adjournment
Judge Toale noted from defence solicitor Donough Molloy that there was consent to the case being adjourned until 25 June next. He asked if the directions will be ready then.
Garda Inspector O'Neill said, "It is a complicated case, I'm not sure if we will have have formal directions at that point. We will be making every effort to expedite matters".
His parents and grandfather hugged him at the end of the hearing before he was escorted out to await transfer back to the Oberstown detention centre.
They then left the courtroom, his parents in tears.
There was no indication as to how he will plead. Bail can only be granted by the High Court in murder cases.
Death
Anastasia, known as Ana, left her home in Leixlip, at about 5pm to go to the nearby 200-acre St Catherine's Park, however, she did not return home. In the following hours when her parents were unable to contact her phone, they alerted gardaí.
The court has issued a warning that if boy's name, school or address or a picture of him was reproduced on social media it will result in a prosecution.
At the boy's first hearing on 25 May, Garda Inspector O'Neill told the court: "In reply to that charge after caution, he had nothing to say."
Legal aid had been granted after the court was told the teen's age and that he was a schoolchild.
Hundreds gathered in west Dublin for Ana's funeral service yesterday. Her parents Patrick and Geraldine had asked mourners to wear "sparkle and colour" as a reflection of her personality.
The 14-year-old girl was adopted from Russia aged two.
A guard of honour was formed by a number of young girls dressed in black with red and white headbands as her coffin was brought into the Newlands Cross Crematorium.
A second juvenile male arrested last week during the investigation has been released without charge and a file will be prepared for the DPP.
Comments are closed as legal proceedings are ongoing.