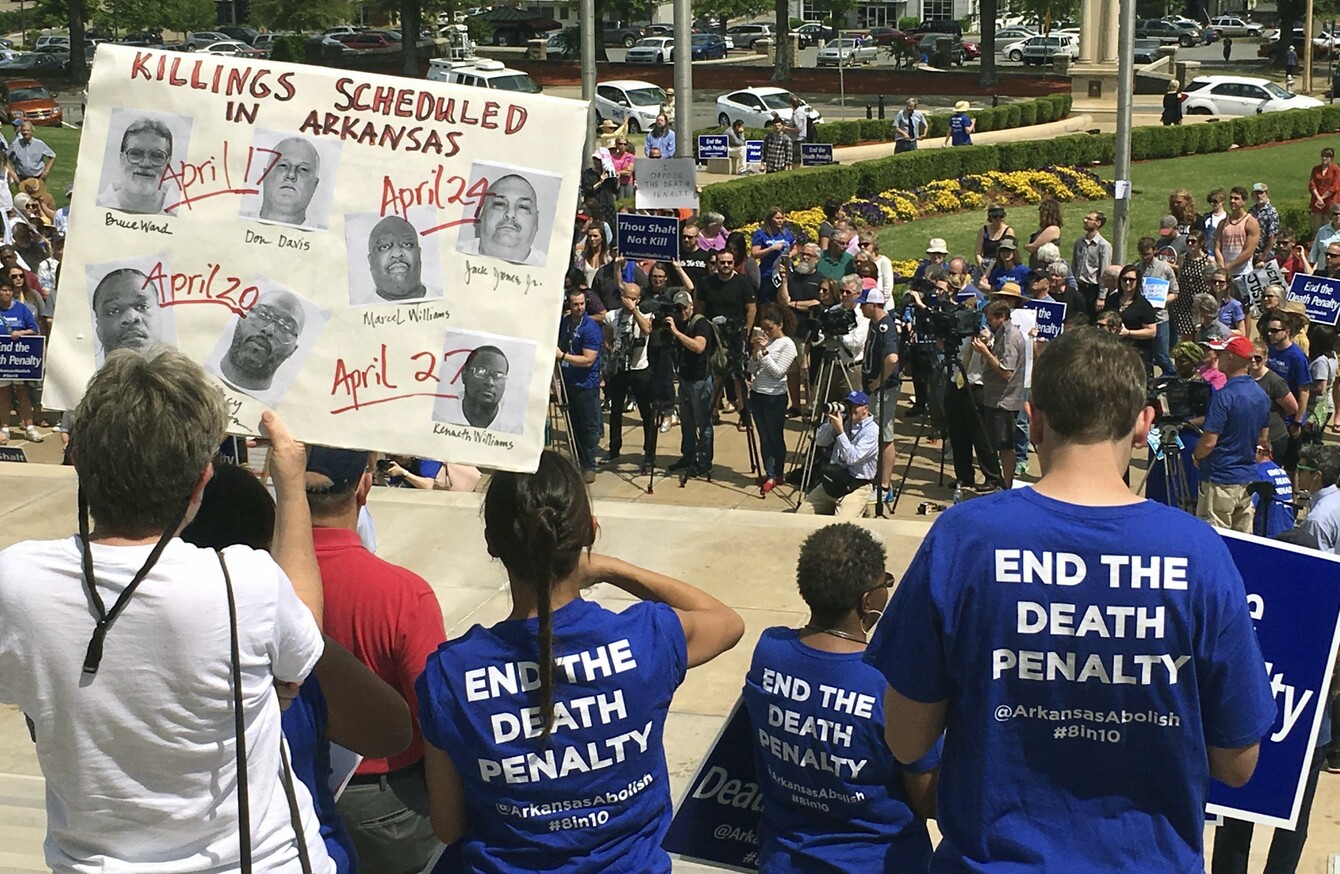 Protesters gather outside the state Capitol building on Friday.
Image: Kelly P. Kissel
Protesters gather outside the state Capitol building on Friday.
Image: Kelly P. Kissel
THE US SUPREME Court last night denied a last-minute request from Arkansas state authorities for permission to carry out its first execution in more than a decade.
The US high court decision is the latest in a flurry of legal setbacks to the southeastern state's original plan to carry out eight executions between April 17 and 27, an unprecedented pace.
Justices declined an appeal from the state's attorney general to lift a stay barring the execution of Don Davis, who was slated to be the first of several inmates to die this month.
The Arkansas Supreme Court had blocked the executions of Davis and one other inmate, after lawyers had requested the executions be delayed until the US Supreme Court hears a separate case concerning prisoners' access to mental health experts who are independent of the prosecution.
But Arkansas Attorney General Leslie Rutledge swiftly filed an application with the US Supreme Court to obtain permission to proceed with the execution of just Davis.
As he awaited the court to decide his fate Davis ate fried chicken, mashed potatoes and strawberry cake – what could have been his last meal.
The US Supreme court's denial of the state's request came minutes before Davis's execution warrant expired at midnight local time , wrapping up a day of legal wrangling among state and federal courts over the state's accelerated execution plan.
'An exhausting day'
The legal roadblock constitutes yet another setback for Arkansas's Republican governor, Asa Hutchinson, who had pushed for the accelerated executions as the expiration of the state's supply of midazolam drew near.
"While this has been an exhausting day for all involved, tomorrow we will continue to fight back on last minute appeals and efforts to block justice for the victims' families," Hutchinson said in a statement.
He said the state would continue towards carrying out the executions of the other inmates.
Hours prior to the US Supreme Court decision, state courts had lifted obstacles to continuing those plans.
The US Court of Appeals for the eighth Circuit reversed a federal judge's broader stay on the executions, clearing the path for deaths scheduled to take place later this month to proceed.
The state's Supreme Court also vacated an order blocking the use of the drug vecuronium bromide as part of a lethal-injection protocol.