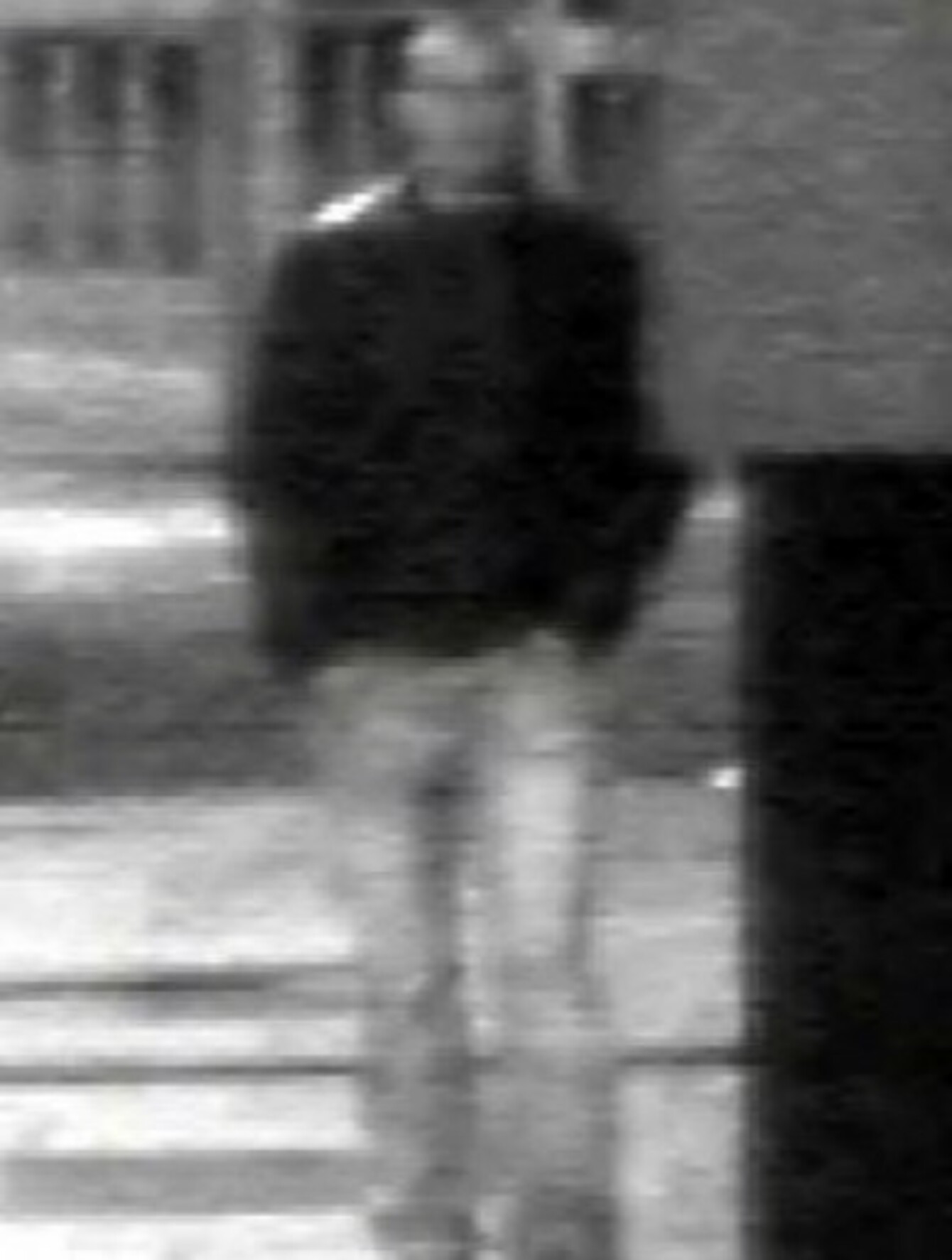 Gardai wish to speak to this man, who might have vital evidence in relation to the attack on a woman on Arran Quay in Dublin city on 18 November 2010
Image: Garda Síochána
Gardai wish to speak to this man, who might have vital evidence in relation to the attack on a woman on Arran Quay in Dublin city on 18 November 2010
Image: Garda Síochána
GARDAI ARE INVESTIGATING two serious assaults on two young women in the Dublin area.
The attacks occurred separately and a year apart but have been forensically linked, gardai said at a press briefing in the Bridewell station in Dublin this afternoon.
The first of these assaults occurred on 18November 2010 at Arran Quay in Dublin. At approximately 3am a young woman was walking home after a night socialising. She was walking alone on the north quays to her apartment on Arran Quay.
The woman was followed into her apartment complex and was assaulted by a male who knocked her to the ground. She received punches and kicks to her face and body and the male attacker attempted to choke her. The male suspect then sexually assaulted the woman. The attacker made his escape over the apartment complex gate that exits onto Lincoln Lane in Dublin 7.
The injured woman described her attacker as a male in his 20s, approximately six feet tall with light brown hair that is possibly shaved. He had a normal build and a fair complexion. He also had a piercing with a silver ring in his right or left eyebrow. At the time of the attack he was wearing light-coloured jeans, dark shoes and possibly a leather jacket.
In relation to this serious sexual assault, gardai are appealing to two witnesses who were around the area at the time of the assault. One man was seen on a scooter in the Temple Bar area – he was wearing a dark jacket and light jeans. The second man was walking along near the Four Courts. Both these men are urged to come forward as they may have vital evidence to the case. This assault was featured on Crime Call in October 2010 and gardai pursued a number of lines of enquiry following the show but the attacker has yet to be convicted.
The second attack took place on 11 September 2011 at Monastery Estate in Clondalkin, Dublin 22. Again a young woman was attacked in the early hours of the morning. She had been out with friends that night and was walking the short distance home alone. A man attacked her from behind pushing her to the ground. He placed his hand over her mouth and tried to choke her.
The victim fought vigorously with her attacker by biting and scraping his face. The attacker suddenly stopped punching his victim and left, heading towards Monastery Road. Gardai said he would have sustained scraps and marks to his face.
Prior to the attack, the woman said a man had passed her by on her way home. She bid him 'goodnight' as he continued. Gardai are appealing to the man to come forward as it is believed he may have information that will assist with the investigation. He is described as male in is 20s, with a possible non-Irish accent and he was wearing a distinctive jacket. The jacket was electric blue in colour, with white elasticised cuffs, collar and waistband. The collar extends up to the chin. The word 'ITALIA' was emblazoned in block letters across the back of the jacket and there was a logo of a soccer World Cup trophy in the Italian national colours (green, white and red) beneath the word 'ITALIA'.
Superintendent James Hynes of Bridewell Garda station said today that the joint live investigations between Bridewell and Clondalkin Garda stations were advanced but that they needed the public's help.
He said there are similarities between the two attacks quite apart from the "definitive forensic evidence" adding that both attacks took place in the early hours of the morning, both occurred on a weekend night and both incidents were substantially violent attacks.
When asked whether women out socialising in Dublin should be concerned about this man, Superintendent Hynes said that they always advise that no one should leave somewhere alone, that people should try and stay together and that people should always get a taxi home.
A fresh appeal for the public's help will be made tonight on RTE One's Crimecall.
Jacket of possible witness in Clondalkin

Man wearing similar jacket who was in the area at the time of the second attack is urged to come forward.

Man with possibly vital evidence in Arran Quay attack

Man who might have vital evidence on the attack in Arran Quay. Gardai would like him to come forward.