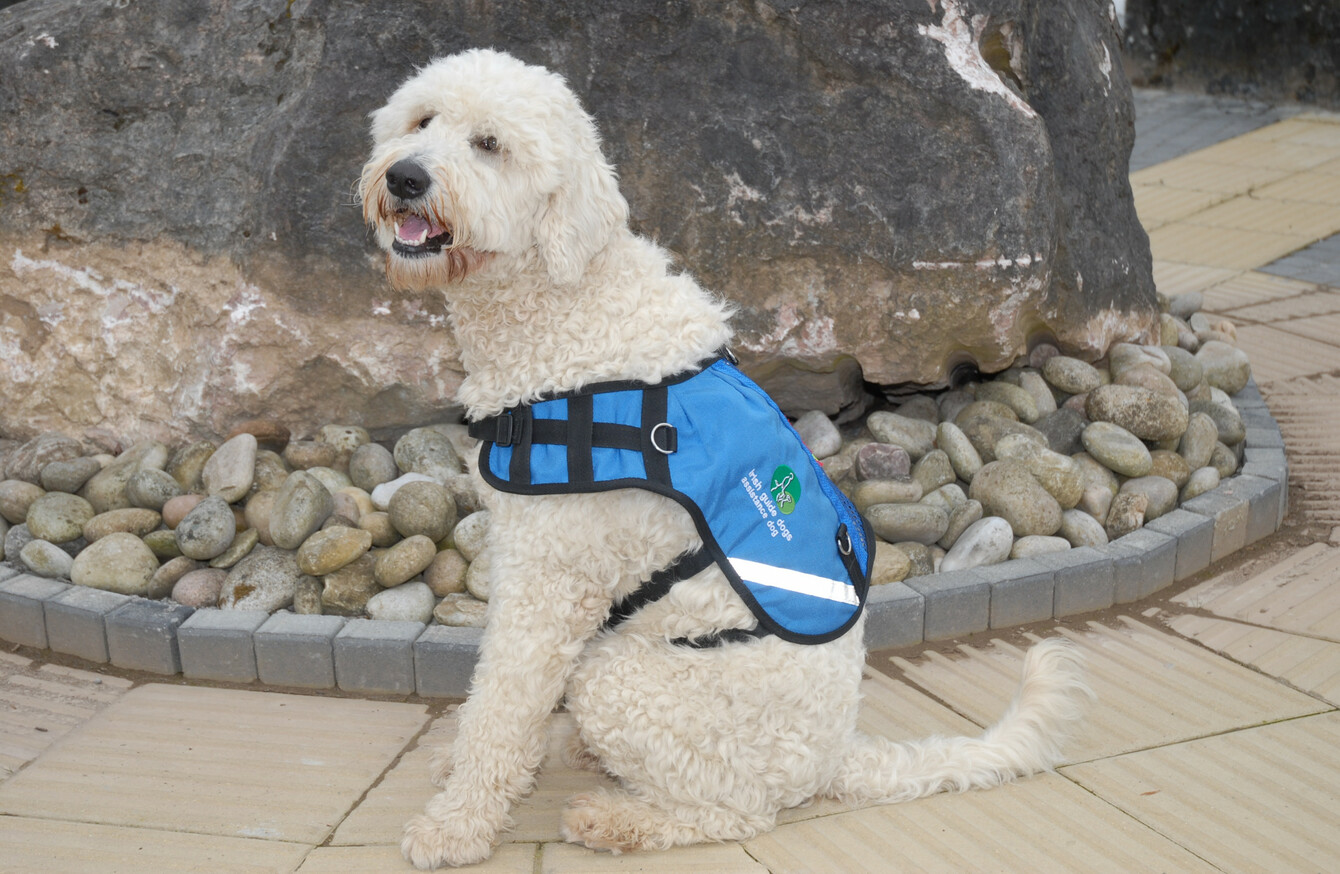 An assistance dog in training in official jacket.
Image: Irish Guide Dogs
An assistance dog in training in official jacket.
Image: Irish Guide Dogs
AN EIGHT-YEAR-OLD boy and his mother have received an "unreserved" apology from Lidl Ireland after they were told to leave a store with their autism assistance dog.
The mum and her son, who has autism and requires the presence of the specially-trained dog for support in public situations, had just arrived in the Lidl store in Nutgrove, Rathfarnham, Dublin with the dog earlier this month when they were approached by a staff member and asked to leave.
The mother told TheJournal.ie that the dog was wearing an official Guide Dogs blue jacket, as is the recommended protocol with autism assistance dogs. The dog was trained, vetted and supplied by the Irish Guide Dogs association as part of its Assistance Dog programme.
The young boy is connected to the dog by a black belt which prevents the child from bolting, as is a danger with his condition. Assistance dogs act as an emotional and physical anchor for a person with autism in public and potentially stressful situations.
Appalled
"On entering the shop, a staff member, who was cleaning the floor with a machine, told me that I couldn't bring the dog into the shop," the mum told TheJournal.ie. "I replied that I could because he was a guide dog."
"The staff member repeated that I couldn't bring the dog into the shop. I continued up the aisle with my child and his assistance dog. On coming back down the next aisle we were approached by the same staff member who had returned with another member of staff."
She continued:
I was appalled and dismayed that we were now being approached by two members of staff. I said that I couldn't believe they were coming back to hassle us. The second staff member started to say that we were not allowed in the shop with the dog. I interjected and showed him the dog's blue jacket, pointing to the Irish Guide Dogs sign on the jacket, and explained that my son has enough challenges in his life without having to deal with further hassle.
The mother said that she had felt "humiliated and embarrassed" by the confrontation and that while her son had remained calm in the shop, "he went to bed that night biting his own arms in a distressed state".
Lidl Ireland told TheJournal.ie: "We are aware of the incident that took place and apologise unreservedly to the customer for the inconvenience and any distress it caused."
On receipt of her complaint in the wake of the incident, the mother says she was offered a free teddy bear and a €30 voucher by Lidl Ireland customer representatives. She refused both, telling TheJournal.ie that she felt the company was trying to "fob us off".
Education
She has since spoken to a regional manager about the experience, asking for details from Lidl Ireland on the education currently in place for staff members to prevent discrimination of access to their stores and services for people with disabilities. She has also asked what steps will be taken to prevent a similar incident recurring and confirmation of those steps.
"I explained to the customer service manager and the regional manager that the reason I'm not letting this lie is that I want to ensure that my son, and other people with disabilities, can lead the most normal life possible. They have a legal responsibility to educate their staff about equal access rights," she told TheJournal.ie.
Lidl Ireland did not respond to a request from TheJournal.ie for comment on the offer of a teddy bear and a €30 voucher.

The company said that its current policy allows guide dogs in stores and "unfortunately in this instance, a human error was made on our part".
Lidl Ireland also told TheJournal.ie that it is "taking the matter very seriously and an investigation is currently under way".
The mother of the eight-year-old boy has filed an Equality Status Act complaint to Lidl Ireland on behalf of her son and is awaiting a response.
The Food Safety Authority of Ireland (FSAI) says that food business operators, a sector that includes supermarkets, should allow entry to guide dogs for those whose vision is impaired, for assistance dogs for families of children and adolescents with autism and companion dogs for people who have other disabilities. This exemption to autism assistance dogs has been in place for three years.
"The reasoning," according to FSAI guidelines, "is that these dogs are specially selected and highly trained animals that receive comprehensive training and together with their owner become a mobile team."
#Open journalism No news is bad news Support The Journal

Your contributions will help us continue to deliver the stories that are important to you

Support us now
Equal Status Act
The Irish Guide Dogs association published a fact sheet for supermarkets which outlines that such businesses are legally obliged under the Equal Status Act to not discriminate against persons with disabilities.
The fact sheet states: "Supermarket owners and food premise owners provide reasonable accommodation when they facilitate guide dogs and assistance dogs on their premises when the guide dog or assistance dog is assisting its owner." The fact sheet includes an image of an assistance dog wearing its distinctive official blue jacket.
Lidl Ireland this week announced a phased introduction of a two-hour 'Autism Aware' shopping experience one evening a week to all its stores across the island of Ireland. This rollout is to begin on 2 April.
The company told TheJournal.ie: "Our store teams are in the process of being trained to gain a greater understanding of autism and our customer's needs. In addition, sensory adjustments are being made to stores which include reduced lighting, no in-store announcements, no music, priority queueing for customers dealing with autism as well as extra assistance upon request and lowered till scan sounds."
An initial trial of the autism-friendly evenings – which are to run every Tuesday from 6-8pm – was deemed a success by the company, and positive feedback was received from customers. It is hoped that the rollout will be complete by the end of May.
Autism awareness
On a Facebook post about the rollout, a Lidl Ireland customer said that her son's assistance dog had been refused entry to a Co Cork Lidl store and that she was told by a manager that "only dogs for blind [people are] allowed". Lidl Ireland told TheJournal.ie that it has urged this customer to get in contact should they wish to make an official complaint, and reiterated that the company policy is to allow all guide dogs in stores.
A number of companies and stores in Ireland have announced autism-awareness initiatives and projects in recent years. SuperValu has a list of stores  that provide "autism-friendly" shopping evenings around the country and is introducing a trolley dubbed ALF (Autism Lifeskill Friend) to 50 of its stores nationwide. Designed by a SuperValu employee and his wife, inspired by their son who has autism, it features a visual guide that gives a young person a task to focus on as they move through the shop.
Shannon Airport won plaudits last year when it launched Europe's first sensory room tailored for passengers who are living with autism.
Some cinemas and theatres have also introduced autism-friendly sessions which see lights raised in auditoriums and sound systems lowered to make entertainment experiences more suitable for those with sensory sensitivities.