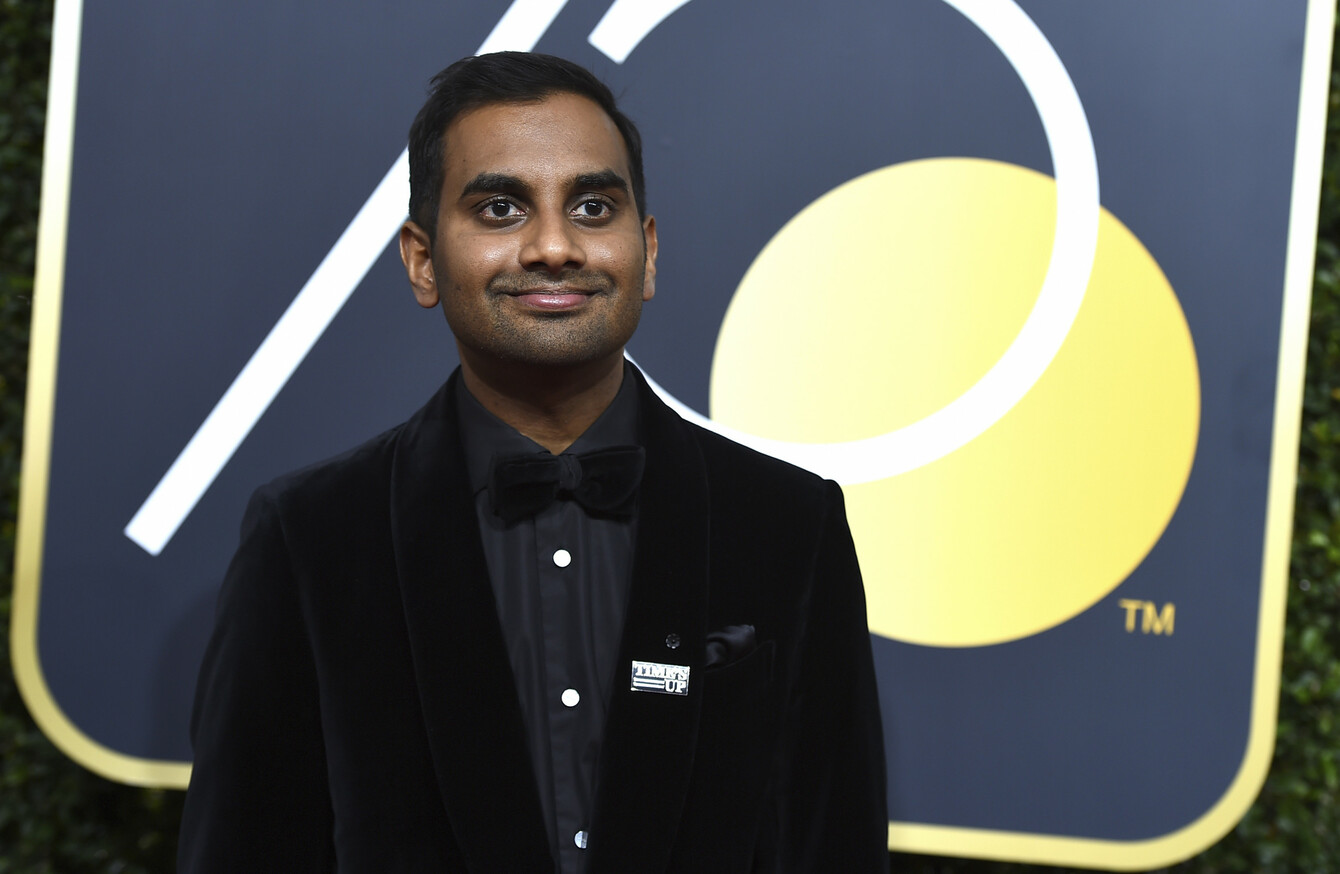 Ansari wore a Time's Up pin at the Golden Globe awards.
Image: Jordan Strauss/PA Images
Ansari wore a Time's Up pin at the Golden Globe awards.
Image: Jordan Strauss/PA Images
COMEDIAN AZIZ ANSARI has responded to allegations of sexual misconduct by a woman he dated last year.
Ansari said in a statement yesterday that he apologised last year when she told him about her discomfort during a sexual encounter in his apartment he said he believed to be consensual.
"In September of last year, I met a woman at a party. We exchanged numbers. We texted back and forth and eventually went on a date. We went out to dinner, and afterwards we ended up engaging in sexual activity, which by all indications was completely consensual," Ansari said.
The next day, I got a text from her saying that although "it may have seemed okay," upon further reflection, she felt uncomfortable. It was true that everything did seem okay to me, so when I heard that it was not the case for her, I was surprised and concerned. I took her words to heart and responded privately after taking the time to process what she had said.
The woman, identified as a 23-year-old photographer in an interview with Babe.net, says she was furious when she saw Ansari was wearing a Time's Up pin while accepting a Golden Globe on 7 January.
She said it brought back memories of him assaulting her after a date in his apartment.
In her account of what happened, the woman said that Ansari was repeatedly forceful in touching her and grabbing her to touch him despite her repeatedly making it clear she was not comfortable.
"It was 30 minutes of me getting up and moving and him following and sticking his fingers down my throat again. It was really repetitive. It felt like a fucking game," the woman said.
The next day, the woman texted Ansari letting him know that she was upset with his behavior that night.
"You ignored clear non-verbal cues; you kept going with advances. You had to have known I was not comfortable. I want to make sure you're aware so maybe the next girl doesn't have to cry on the ride home," the woman said in the message to Ansari.
In a response, Ansari says he was surprised and apologised.
Ansari is the writer and star of Netflix comedy Master of None, for which he won a Golden Globe earlier this month.
- With reporting by Associated Press