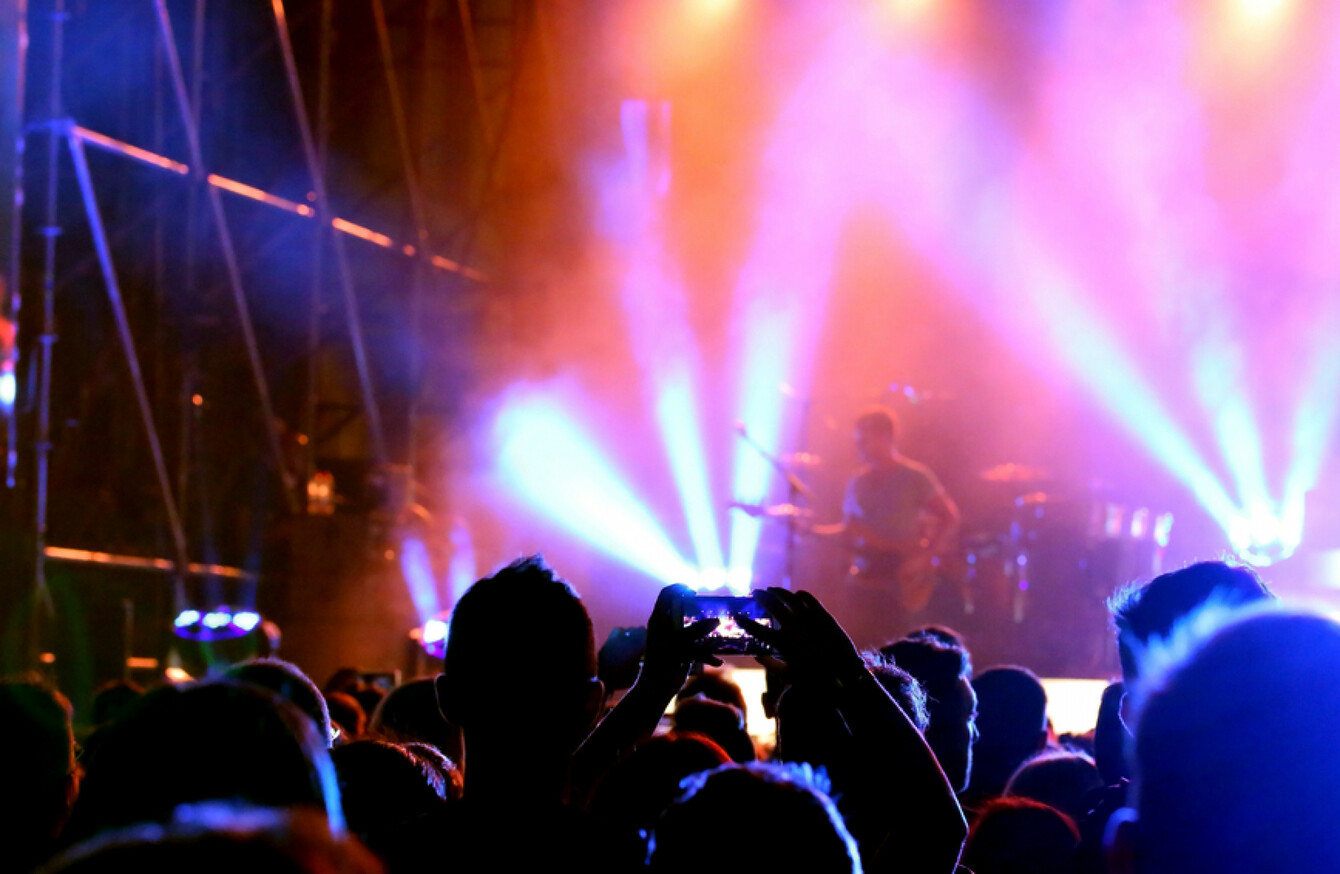 Image: Shutterstock/ChiccoDodiFC
Image: Shutterstock/ChiccoDodiFC
WHAT IS IT like being a full-time musician in Ireland in 2017? How do you make money? And how has the industry changed as technology has changed?
This week, Imro released a new report which said that the music industry brings in €703 million to the Irish economy annually. But when it comes to the musicians whose work is bringing in the dosh, it seems it's not so easy to keep things afloat – and going to the bank to ask for a loan is not always an option.
At the launch were two long-time Irish musicians, whose careers span decades: Eleanor McEvoy and Steve Wall. While McEvoy is a solo musician, who was once signed to Columbia Records and is now independent, Steve Wall first found success with the band The Stunning, before going on to form The Walls. The Stunning have reformed and a new album is imminent.
'Ask for a bank loan? They'd laugh at you'
TheJournal.ie asked both musicians about the reality of trying to make money as a musician in Ireland today.
"It's really, really hard and I have to say for me the access to finance is a huge issue," said McEvoy. "You can't go into the bank and like for my last album, you can't say 'can I get a bank loan to do my album' – they'd laugh at you. So you have to find some way of financing it yourself."
Recording and releasing an album requires musicians to spend money on a lot of different things, often at different phases. There's the actual recording, usually in a studio, then the post-production work, design, pressing, distribution, press, and video – and that's before you get to the costs of going on tour.
"Often I think, well it would be great if I could do my album and then do the video and then you know coordinate it – my cash flow won't take that," said McEvoy. "So you're desperately trying to get money to do the album, bring in a bit of revenue from that, and then try and do the next step, and then try and do the next step."
Source: EleanorMcEvoyVEVO/YouTube
"When I first went independent when I came off Columbia records, I remortgaged my house for X amount and then I paid it back," she recalled. "It's not great, no it's not great but what do you do. You do it because you love and you want to keep doing it and of course I just keep reinvesting, from an artistic perspective, reinvesting."
She said that the reason why banks aren't keen to loan money to album makers is "really because they don't understand it, they don't understand the potential of the royalties you might earn from it, they don't understand how it all works".
So you've to educate those guys as well as educating ourselves on that kind of thing.
This is something that Imro mentioned in their report, too – access to credit being an issue for Irish musicians.
It said that "musicians' assets can be intangible, and financial institutions do not always recognise their full economic value".
It recommended an amendment to the Artists' Taxation Exemption relief to allow people to access it across a number of years, instead of one, as well as the retention and promotion of the Employment and Investment Incentive Funding taxation relief. Under this, a taxpayer who puts their money into an approved EII investment "can reduce a substantial portion of their taxable income for the year in which the investment was made".
Steve Wall compared musicians to other business owners, saying at a new shopping centre "the key tenants will get rent relief, or they might go in there for two years rent-free till they get established".
But there's nothing like that in the music industry, there's no kind of assistance like that, or nothing you can avail of. And yet we're providing employment, we're not getting anything from anybody, there's no sort of start-up money there or credit as they were pointing out in the report, nothing.
'Gigging in America cost us a fortune'
Wall has been making music for 30 years, and The Stunning's story serves to illustrate just how much the music industry has changed.
"The Stunning started in 1987, we didn't have a record deal, we funded our own records, we went out and we gigged around the country," he said. "I came across a flyer from 1991 – we did a tour to promote a single, a single release and there were 22 gigs around Ireland. Out of all those gigs there were probably maybe five today, five towns that you can actually play in."
The band are now regarded as a headline act, so can headline festivals and other large events, but Wall said they can only play about six or seven shows in Ireland a year.
He said that when Irish acts get to album three or four and find themselves in a headline act position, "playing abroad is actually key to the artist's future".
But how feasible is it to tour, and how much money could you make doing that?
"We're an island – the internet has made so many things possible, but Irish artists still have to leave the country, they still have to get on a plane, you've got to ship your equipment and all that," he said. "That's an area that I would like to see addressed in the National Music Strategy [an idea mooted by Imro] some way."
Gigging abroad has a price – Wall says that the band's three trips to America last year "cost us a fortune".
"You're getting hit in all sorts of ways – even to bring your guitar on the plane you're getting charged a fortune, and the visa is just brutal," he said, citing a $5,000 visa charge about 15 years ago, while it cost the band members €1,200 each to go to the USA to play in Boston most recently.
"And then you're hit with 33% withholding tax in America, and your fee," he said. He took issue with the fact that major names who perform in Ireland aren't subject to a withholding tax in particular.
Source: The Stunning - official/YouTube
He said that the costs of travelling have gone up. "We went to London last weekend, and we had 10 people. So the costs: the van went over in a ferry, we had flights each way, and then you're paying people per diems and paying for a hotel. So it's really expensive."
He estimates they may have lost a little bit of money on this trip, but were doing it to get their toe back in the water.
He said that ideally, bands would have some sort of assistance to tour abroad, even if that was just in the form of an organisation that shared knowledge with booking agents, or helped bands link in with the UK or Europe.
"I think America has become just so difficult, we've more or less decided it's just not worth our while going there anymore, it's too expensive. Whereas Europe is on our doorstep and I just think there's miles of road there. It should be easier to do that," said Wall.
Making money
Both McEvoy and Wall said that the biggest change for musicians is how the main source of income for musicians has been flipped around.
"We used to tour to make money from the album, and now it's completely different. Now you release the album in order to publicise the tour, and you make money from touring," said McEvoy.
While bands used to see revenue from music sales, now it's merchandise sales at a gig that makes them a decent amount of money. "It's part of the gig now, you go down there and sell your wares," said Wall of the post-gig merch stand.
McEvoy mentioned the now-disbanded group Fight Like Apes, describing them as "the band that were forced to disband because they couldn't do it any more not making any money".
Fight Like Apes said in a statement announcing their 2016 split that:
Ireland is the healthiest it's ever been in terms of talent and diversity. But, there are massive challenges for a lot of bands, mostly financial, that make this a tough job and sadly, those obstacles have become too big for us.
"And this is a successful band, with a good fanbase and great music, somebody like that – that broke my heart, it really did, because it was just due to the fact that nobody was paying for their content. But the interest was there," said McEvoy.
Life as a musician
As for whether it's possible to be a full-time musician, Wall points out that all the members of The Stunning have different day jobs.
"I was doing acting before the Stunning, and I've gone back to that," he said, adding that he also does voiceovers.
"All the lads in the band are doing different things, they're teaching, one of the lads plays with Christy Moore, another guy works with Tommy Tiernan, the drummer teaches and plays with some wedding bands. There's no way at the moment you could just do an original band full-time here. You can't."
McEvoy quoted an American figure that said that songwriters who normally earned $55k a year were earning $35 dollars a year from song royalties. "So it's gone from a living to the prize of a very nice pizza," she said. "That in terms of how much you used to earn from your royalties as a songwriter to what you're earning now."
McEvoy is a songwriter and performer, so said that while she loses on her writing, she is still earning money as a performer.
People might assume that the members of their favourite band are making a lot of money, only for the reality to be very different.
"They see you on the Late Late Show and they think you're making a fortune and that you're just busy all the time," said Wall. "Last year I think the Stunning did six gigs in Ireland. You're probably good for one or two shows a year in Dublin and they'd have to be well spaced out. When you go into other towns like Galway and that, we could probably just do one Galway show a year."
The issue of copyright, which we explored earlier this week, is a big one for the musicians. "People come to my gigs having burned off a CD and they say 'will you autograph this for me' and I have to say 'well you know, no I can't really because this isn't legal'," said McEvoy.
The next generation
Louise McNamara and her sister Ellie together make up the band Heathers, who found success with their song Remember When, back in 2008 while doing their Leaving Certificate.
Louise McNamara is a tutor at BIMM, Dublin music school, working with students on music production, songwriting and performance techniques.
At BIMM, students can study a range of subjects related to the music industry. As well as the music end of things, they also get to learn about publishing deals, management, sync (synchronisation) deals and copyright, for example.
"To me the main things that would be difficult for someone starting out today would be over-saturation of the market," said Louise. "There are just so many bands, so many musicians out there in Ireland and around the world. Social media, while it has been fantastic in ways it can hinder in ways because anyone and everyone in their bedroom can write and record a song and put it online."
"So it's so much more difficult to stand out now today than it was 20 years ago or even 10 years ago," she said. "And then being able to make money, not being able to rely on album sales or even touring. It can be a lot more difficult, a lot more costs involved."
One of Heathers' main sources of income over the past five years is what's known as sync placements – such as songs placed on TV shows, films and advertisements.
When students arrive at BIMM, Louise said they often think "the only route they can go down in music is 'I want to be the next Prince' or 'I want to be the next Ed Sheeran' and it is showing them that there are so many more routes that they can go down in the music industry."
"For anyone who wants to make a living in the music industry, I think it's really important to have knowledge and educate yourself," she said.
Personally if I have one big of regret it's that I didn't do that early on when I was 17 years old.
"I think there'll always be work for people," she said. "For talented musicians who are going to work hard and spend time honing their craft, whether as session musician or teacher or cover or wedding band; or writing for games or TV or working in gig promotion or management. There are so many routes."
It's not easy, it's a challenging industry to be in but I think that if you educate yourself and you're clued in and you work hard at your craft and what you're doing, it's definitely achievable and possible.
She echoed Steve Wall's comments on people presuming bands were making more money than what they were really making. "I remember a few years ago when we were getting a few placements, friends being like 'ah sure you're loaded'," she said.
She added that she is privileged to work in music and do music at the same time, "but it definitely is more difficult to make a living off solely being in a band or touring, and I think in a way you have to be more innovative and clever in the way that you approach things".
The key, perhaps, is to be able to do more than one thing at the same time – and put all your skills to good use.
Overall the message from the musicians was that they are working hard, but there is a lot of change needed in many different areas of the music industry – and wider entertainment industry and technology industry – before they feel they are truly getting their due.
"You know what, you've seen from this report – for every €1 that is spent you get €2 back," said McEvoy. "Let's invest some more and get more back. We're not asking you to invest money and never see it again, quite the opposite – we're saying give this industry a euro you'll get two back to the exchequer."
"We've just been pretty much self-sufficient for years, ourselves, I just think it could be better and it's one of our greatest exports, music," added Wall.