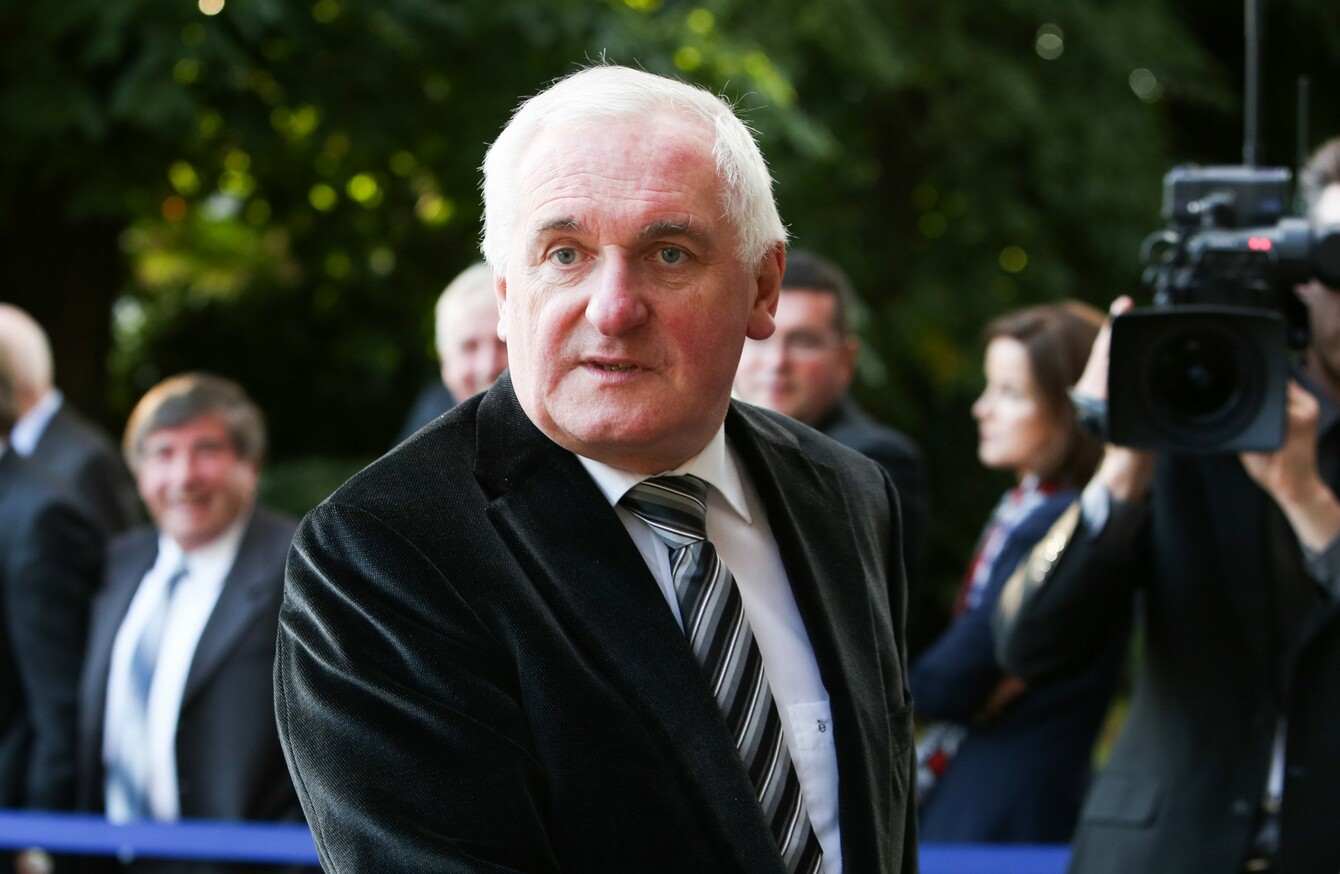 Image: Maxwells/PA Images
Image: Maxwells/PA Images
FORMER TAOISEACH BERTIE Ahern was interviewed on Newstalk's Yates on Sunday show today, and indulged in some speculation on which party he'd go into coalition with if he was Fianna Fáil leader.
Given the choice between Fine Gael or Sinn Féin, Bertie said he was always more on the left, and previously wanted to go into coalition with the Labour party.
But he said that the mood from his Fianna Fáil friends at the moment, is there's no feeling about going with Sinn Féin whatsoever.
On the possibility of a Fine Gael-Fianna Fáil coalition, he said that it wouldn't be too difficult to find six or seven major points that both parties agree on:
I don't believe in the long-term that the Fianna Fail and Fine Gael, bitter enemies of the past will continue.
But when he was asked on whether Fianna Fáil would be willing to form a coalition with Sinn Féin if deputy leader Mary Lou McDonald was leading the party, Bertie gave his cautious approval, saying "that could change the game."
"I don't think it could just happen that Mary Lou comes in and it would just happen and everything just changes, she would have to be in there for a period of time."
During the course of the interview, the Celtic-Tiger Taoiseach weighed in on the North and the EU, his feelings towards the Mahon Tribunal and whether he'd like to rejoin Fianna Fáil.
'Not a big deal'
When asked about the Northern Ireland deal the EU agreed to yesterday, which would mean the Northern counties would rejoin the EU in the event of a vote for a united Ireland,  "It's not a big deal."
"It's a fact of life because the German precedent is there and nobody could take that away for us. To be honest; it was a given," he said.
(That argument has been made by other critics, particularly those looking to avoid praising the government too much).
#Open journalism No news is bad news Support The Journal

Your contributions will help us continue to deliver the stories that are important to you

Support us now
Rejoining Fianna Fáil
On a reconciliation and rejoining Fianna Fáil, he said: "I spent over forty years as an active member, from treasurer to youth officer to secretary…
Of course, listen if I was a card carrying member tomorow I would be happy, in the meantime I still go on and support it in whatever way I can.
Last November, Fianna Fáil's chairman in Dublin Central Brian Mohan confirmed that Bertie Ahern had been invited to rejoin the party.
Brian Mohan said that while Ahern is "controversial in some people's eyes, he has been nothing but loyal to Fianna Fáil" and "deserves a second chance", but no developments have occurred since.
You can listen to the interview in full here.