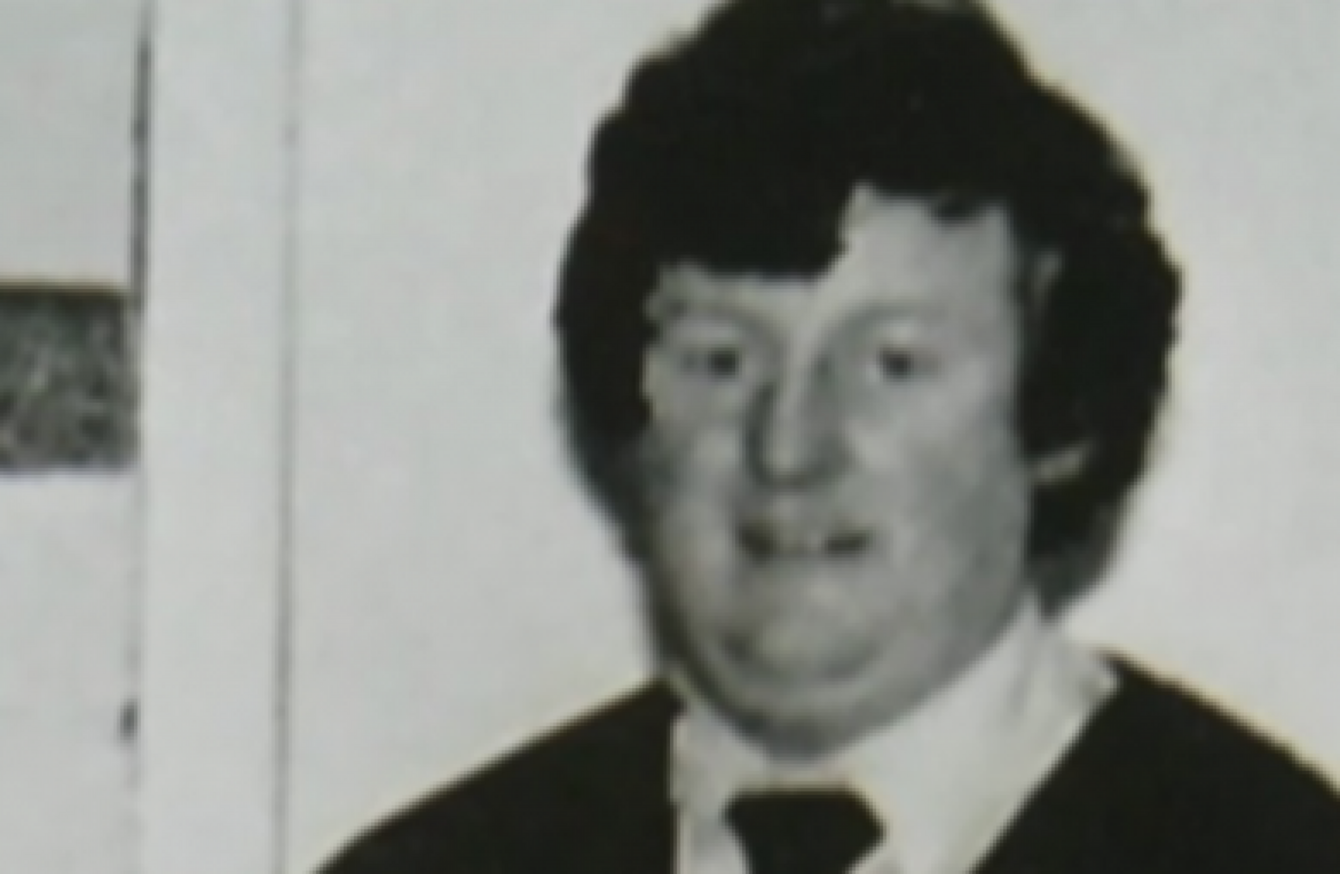 File picture of Kenneally in the 80s
Image: With permission from RTE
File picture of Kenneally in the 80s
Image: With permission from RTE
THE JUDGE WHO sentenced Bill Kenneally for abusing ten teenage boys in the 1980s seemed "vengeful" and inappropriately addressed his mind to redress for victims, the former sports coach's lawyers have told the Court of Appeal.
Kenneally (67), with an address at Summerville Avenue, Waterford City, had pleaded guilty to 10 sample counts of indecently assaulting 10 boys at various location in Waterford in the 1980s.
Kenneally was originally charged with 70 counts spanning dates in the 1970s and 1980s.
He was sentenced at Waterford Circuit Criminal Court to 14 years and two months imprisonment by Judge Eugene O'Kelly in February 2016.
The Court of Appeal reserved judgment on Kenneally's appeal against the severity of his sentence yesterday. The three-judge court heard that the sentencing judge imposed consecutive 17-month sentences in respect of each of the 10 victims.
Opening his appeal, Kenneally's barrister, Michael Counihan SC, submitted that the sentencing judge decided that he was going to give Kenneally "14 years" and he built in everything that he could to reach that "predetermined" point.
Counihan said it was a "very emotive case from a public point of view" but there were unique factors to it also.
Vengeful
He said the sentencing structure placed undue emphasis on the victims and the sentencing judge appeared "vengeful … addressing his mind to redress – from the victim's point of view" using "emotive, rhetorical language influenced by outrage" when addressing the victims and their victim impact reports.
Counihan said it was inappropriate to conduct a mathematical exercise. He said the sentencing judge had to look at the sentences piece by piece no matter how tedious that might seem rather than looking at the "carry on, say this was dreadful and proceed from there".
Mr Justice John Edwards remarked that "it was a model of how a sentence should be reasoned".
In response, Counihan said that on a cursory reading "all of the boxes are ticked" but the sentencing judge "did not really engage with the ultimate substance of what he was required to do".
Tenor of the judgement
In the first four pages of the sentencing judgment, the judge addressed the victims and their long term suffering. He did so "in an emotional way", Counihan said, and in a way that told the victims they would be "looked after in this court". The whole tenor of his sentencing structure was to achieve that result.
Counihan said the sentencing judge picked a tariff and multiplied it out "to give satisfaction to the victims – as he says so himself". However, he said "one can't let one's outrage be the only informing factor".
Counihan said the duty of a court is not to victims, but to the public, and to reach a sentence the public demands, not what the victims demand, "and that's where he (the sentencing judge) became blinkered".
Counsel said it was through no fault of Kenneally's that these matters came to the attention of Gardai in 2012. In fact, Kenneally was prepared to "fess up" in 1987 but matters were not advanced, Counihan said.
He said the Gardaí were then in possession of an acknowledgement from the accused and there were others potentially affected by his conduct. No real credit was given to Kenneally for that.
Mr Counihan asked was it fair to put the onus on Kenneally for the lack of an enquiry or investigation. He said Kenneally couldn't have been expected to have done more than he did in 1980s.
Was it not the gardaí's duty to enquire as to whether there was "more of this out there", he asked. Had Kenneally been asked the question then the court could infer that he would have provided assistance, he submitted.
Disorder
When Kenneally was confronted in 1987, he stopped what he was doing and "turned his life around" to the extent that he didn't offend for the next 30 years.
Counihan said Kenneally had a psychological disorder of some sort as described by the psychologist. The judge recited what was said about the psychological evidence but did not include it in the mix. It was "absolutely absent" from the ultimate result, he argued.
Counihan said Kenneally's "addiction" was not only in his mind but informed the quantity of what went on. If one accepted there was an addiction having regard to a "psychological kink" and "something of a disorder" then there was a compulsivity to that but there was no reference to a reduction in moral culpability.
Counihan said the judge recited the mitigating factors to "simply box them off" and he didn't attach ample weight to the guilty plea.
He said there had been an avenue of Judicial Review open to Kenneally with regard to delay, missing records and so forth "if he had chosen that route". That would have gone on for a number of years and the victims would have had to swear affidavits but Kenneally "saved them all of that by simply owning up from the start". If he wanted to "play the game" or "stand on his rights" it would have been a very unpleasant number of years for the victims, counsel said.
Counihan said the unique set of circumstances that occurred in 1987 was rather remarkable. It was common case that Kenneally was able to overcome "whatever addictive disorder or peculiarity of his mental make-up" that he had.
From 1987 until the date of sentence, Kenneally had not come to any adverse notice of any sort. There was no suggestion he was hanging around social clubs or making himself threatening to any degree.
Apology
It was all too common that sex offenders don't "fess up" and tend to shy away and indeed contest cases. Kenneally's approach was "quite a unique feature".
Counihan said Kenneally did make an apology although it wasn't accepted – victims walked out of court as it was being read. But it was acknowledged by the judge to have been genuine and fulsome without being a tactical move on Kenneally's part.
Counihan said Kenneally's career as an accountant was "finished". His social standing was "gone". He'd become a "media pariah". Counihan said he wasn't asking for sympathy for Kenneally but an element of a suspended sentence was one way of addressing rehabilitation in that regard.
He said prison for Kenneally in 2016 as opposed to 1990 was a much more serious affair. He was 67 and had a number of health issues including diabetes and issues with blood pressure.
He said there did not seem to be any emphasis placed on the fact Kenneally was a first-time offender. He said Kenneally was a man with an "otherwise blameless life of 30 years". From 1987 onwards, nobody had suggested that Kenneally lead anything other than a "perfectly proper and normal life".
Counsel for the Director of Public Prosecutions, Noel Whelan BL, said that while the sentence was extraordinary it was entirely appropriate and proportionate to the "extraordinary and exceptional offending in this case".
Whelan said a striking feature of the case was that none of the 10 young teenage boys who were abused were prepared to go to the authorities or gardaí for a period of 25 years. It was indicative of "the hold he had over them" that they would keep this secret.
'Never seen anything like it'
While Kenneally was abusing them he had this "manipulative control over them" which included "waiving polaroid photographs" of the abuse in front of them. In some of the photos he encouraged the boys to smile so that he could tell people not only had they been abused but that they enjoyed it.
The first injured party was able to "break the extraordinary hold he had over them". The other nine never came forward but gardaí went to them. Whelan said that in his 19 years of experience at the criminal bar, he had "never seen anything like it".
Every single facet or attraction that might be of interest and appeal to young teenage boys was exploited by Kenneally. He drove them around in his car, he facilitated there involvement in sports, he gave them things they weren't entitled to like alcohol and cigarettes. He gave them "significant sums of money" in the recessionary period of the 1980s. It was a "systematic process of grooming" which in itself was "extraordinary".
Whelan said the offending was extraordinary. The physical invasions were some of the grossest type. It was done by a person in a position of authority. Alcohol was part of bringing down their defences and was effectively an anaesthetic before, during and after the abuse. There was the use of a strange range of paraphernalia including handcuffs, ties and wires. There was an element of force in some of the offences.
Thirdly, Whelan referred to Kenneally's manipulation and control. One of the victims recounted hearing Kenneally beeping the horn of his car near his home – if he beeped twice, the boy knew he had to meet him outside his house. It went to the sense of control and command he had over these young teenage lives compounded in some instances by the use of the photos.
Whelan said Kenneally told gardaí in 2012 that he had destroyed those photos many years ago. His lawyers suggest that he didn't contribute to the delay but the victims didn't know those photos had been destroyed. It illustrated the hold he had over them.
The photos would be the subject of an additional charge nowadays, counsel added.
Whelan said gardaí had approached Kenneally in 1986/87 on foot of a report they had about an individual, not one of the 10 victims in this case. The gardaí took the step of having a formal conversation with Kenneally but there was no investigation and no formal complaint. It appeared to have been an extended conversation but it wasn't an interview.
He said Kenneally accepted responsibility for matters related to this 11th person and he indicated he would engage with psychiatric help. But that was the sum total of the evidence the sentencing court had before it.
Mr Justice George Birmingham, who sat with Mr Justice Alan Mahon and Mr Justice John Edwards, said the court would reserve judgment.
Comments are closed as legal proceedings are ongoing.