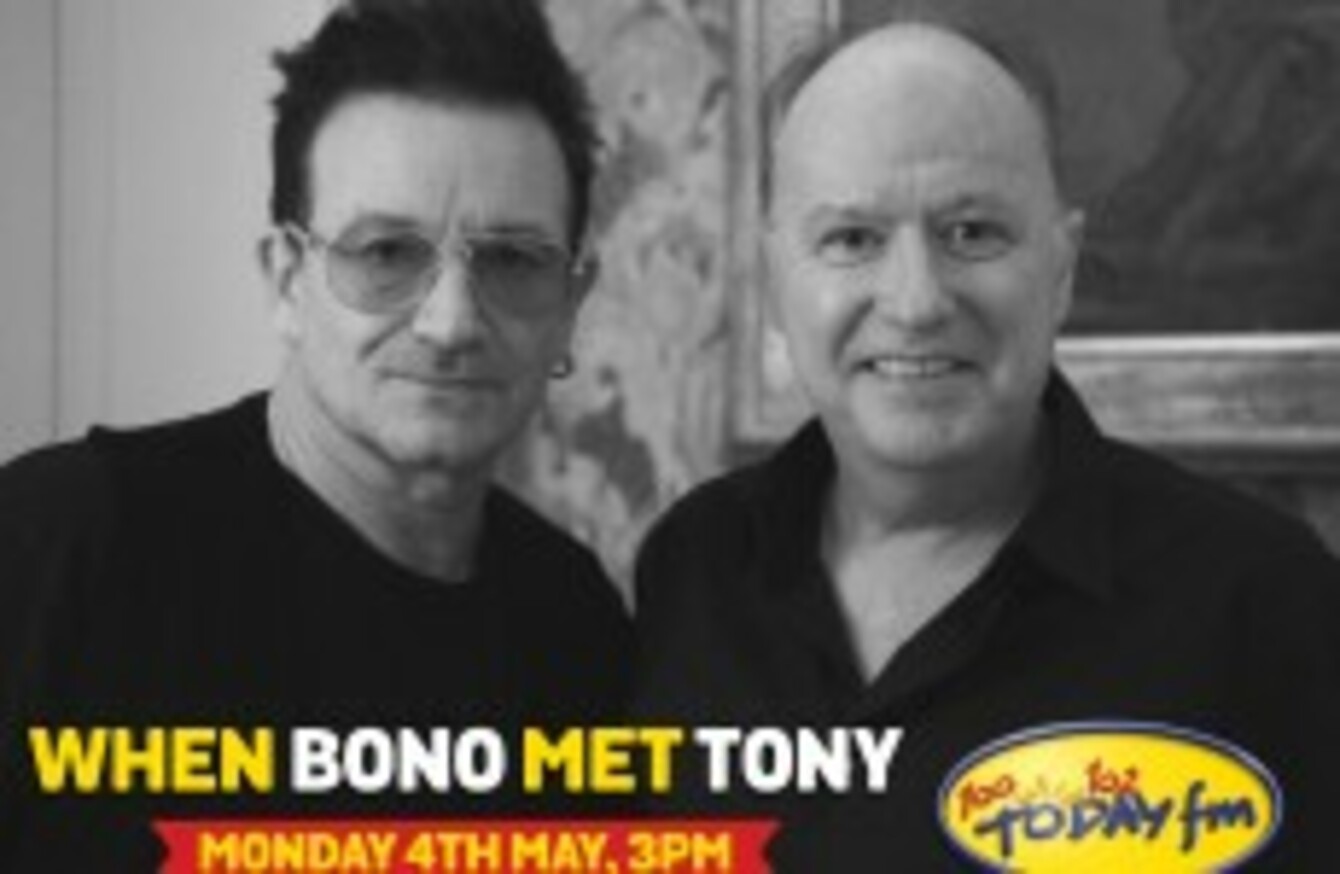 Image: Today FM
Image: Today FM
A NEVER-BEFORE-AIRED interview between the late Tony Fenton and Bono is to be broadcast on Monday, and it includes some details of U2′s upcoming Dublin shows.
The band will play three three concerts in Dublin's 3Arena this Christmas.
The interview, which was recorded at the U2 frontman's home in Killiney, will be broadcast on Today FM this Monday 4 May at 3pm.
The station explains that Fenton had wanted to interview Bono for years and when the pair bumped into each other on a night out they agreed to make it happen.
But when U2′s Songs of Innocence was released, Fenton was in hospital being treated for cancer. Bono asked Fenton to his home so they could talk there instead.
It was the last interview Fenton recorded before his death in March.
During the course of their chat, Bono credits Fenton with championing Irish music and tells the DJ that he's been "more consistent for the Irish public than U2″.
The pair also reminisce about growing up not far from each other on Dublin's Northside before Bono reveals some details of the yet-to-be-finalised U2′s shows in the capital.
U2′s Songs of Innocence tour begins in Vanocuver in two weeks and sweeps across North America before reaching Europe in September.
The venues the band are playing are much smaller than its record-breaking 360 Tour in 2009.
When the tour was announced, U2 said that they would also being playing dates in Dublin that weren't listened on the official tour schedule.
Bono revealed some details of those shows to Fenton:
So we decided, let's do something we're not going to do anywhere else in the world. Let's create the most intimate shows we've ever done. Let's focus, you know, try everything else out. So, it will be risky but it's gonna be interesting. We're gonna do it at Christmas and two of the shows are going to be for music generation.
With reporting from DailyEdge.ie