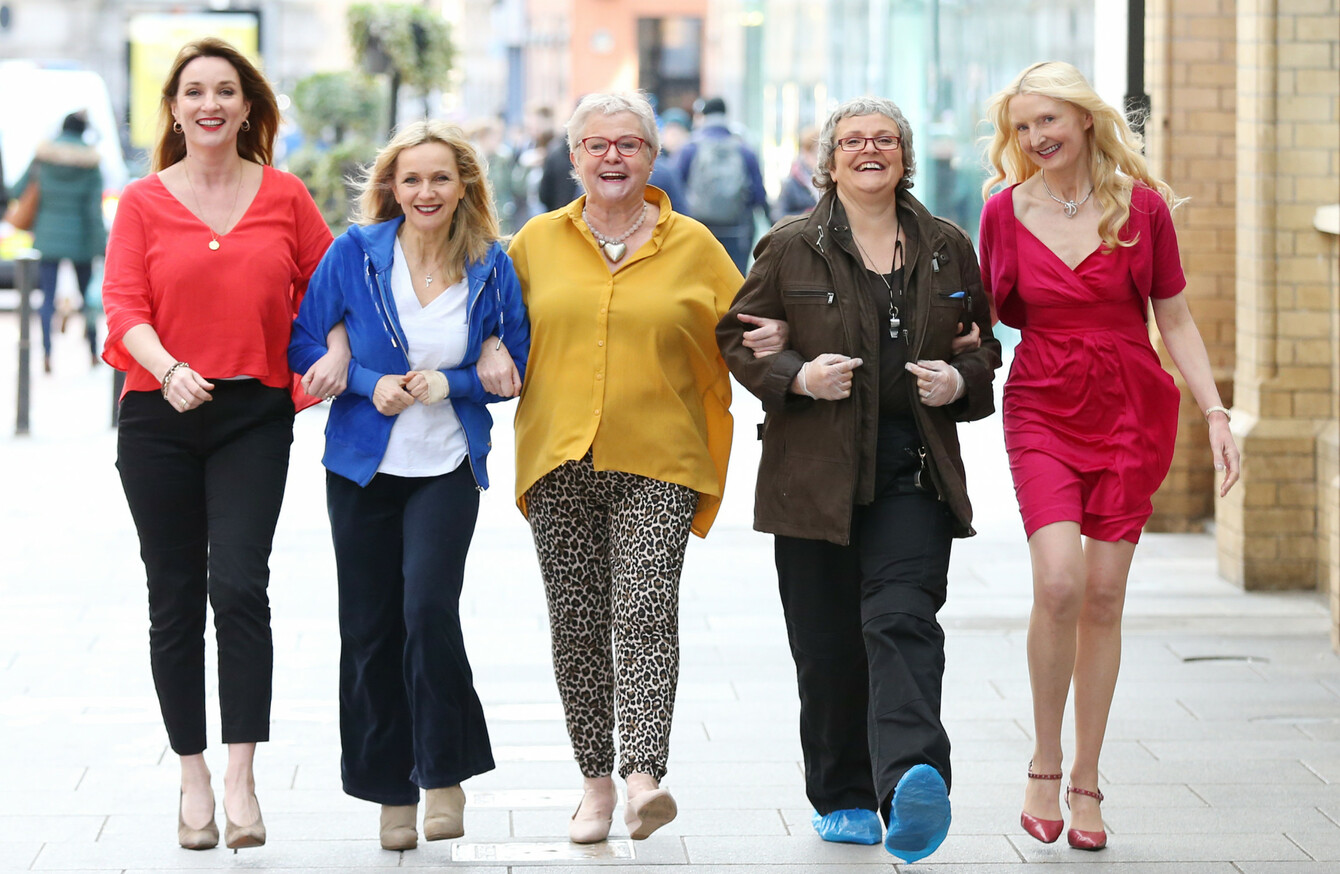 WHEN ACTRESS AND playwright Isobel Mahon first moved to suburbia, it was during the height of the Celtic Tiger.
She found the period strange: the obsession with money and spending, the need to keep building onto your home, the desire to show off what you own. The experience felt so odd that it has inspired her play Boom? which looks at what happens when a young woman decides to have a party to show off her new extension.
"I moved to the suburbs relatively late in life – I was living in flats and apartments before that," Mahon tells TheJournal.ie.
"So to arrive in a South Dublin suburb when there was so much going on, literally everyone was building extensions, it had got too expensive to move so people were building extensions everywhere. Everyone had 4x4s, everyone had new clothes, you couldn't wear old clothes – everyone had to be spanking new. Everything was blinged."
You probably know Mahon's face from roles on stage and in shows like Glenroe, where she played barmaid Michelle. But not content with being an actress and writer, she's also a practicing psychotherapist – and perhaps that role has helped her get a handle on why people behaved they way they did during Ireland's Celtic Tiger. Now, with Boom?, she gets to look at what made people tick back then.
"I just was looking at them thinking this is extraordinary: what happens if I felt a bit fish out of water? What happens if you can't buy into that or it just doesn't really work for you?" she says of that time. "It felt like being yourself didn't come close to good enough."
Mahon watched as people got swept away on the Celtic Tiger wave. "I don't think Ireland knew itself. Ireland was having this strange identity crisis where it was keeping up with the Joneses."
It was ridiculous and I felt it was such a moment in history and what it meant had to be captured. This was a moment that needed to be dramatised.
Family drama
In Boom?, we follow one family and how they dealt with the situation. "It's set at a party to celebrate the launch of [a woman's] new extension. She's come through a bit of a bad patch this girl whose house it is, and she wants a quiet gathering, but her mother comes and wants it ramped it up. She's asked people – she's doing the whole Celtic Tiger thing. It's a suburban farce and a family drama."
The play looks at the difference between those who embraced the Celtic Tiger lifestyle and those who found it didn't suit them.
"Perhaps she has been trying to live the life where she has got everything, but behind it all there is this big gap between where she is supposed to be and who she is. And that comes out in the play," says Mahon.
An early draft was written just before the end of the boom, but Mahon says it wasn't the right time to put on the play. When the recession hit, understandably "nobody thought jokes about helicopters and 25 different types of ripping your kitchen out [were good]… that wasn't even funny anymore."
But about two years ago, Mahon realised the play would work now, in this new phase for Ireland. While we're in recovery, things are far from perfect or equal. "We've recovered sufficiently or times have changed enough that it would land again, and I think if anything it lands more so there's that big or ironic [feeling]."
"It's quite affectionate, it's fun – it's not a savage play."
Mahon says there was a "funny atmosphere" when she was working during the Celtic Tiger period.
"First, people got paid a lot for stuff – there were bits and pieces floating around, there were always bits and pieces. Ireland was like 'Paddywood', so there was a time when there was a lot of stuff being made internationally here so that was good. But I think they got priced out of it."
Creatively it was a bad time for dreamers – anything that wasn't a bank account was stupid.
"Money was everything and I think that now hopefully although things have improved – and not saying they have improved for everyone – I think things are somewhat more balanced is my perception," says Mahon. "And there is more room given to creativity because although there was a lot of money it don't seem to end up in the arts. It's like the arts were devalued because they were soft."
She got private investment to put on Boom?, and the play is also being put on off Broadway in the USA, under the title of Party Face.
In the American production, Hayley Mills ("the sweetest lady") stars, while Amanda Bearse of Married With Children directs. Also starring are Brenda Meaney (daughter of Colm Meaney) and Maria McDermottroe, who's also in the Irish production.
"I was so amazed – really amazed that a modern suburban comedy would land to an American audience," says Mahon.
The New York Times even says:
There are glimmers of a state-of-the-nation play here, in which shiny surfaces mask the dissatisfaction underneath. Mostly it's a welter of women behaving badly and doubtfully. What does it say that Bernie, a manically depressed obsessive-compulsive moved to swathe everything in plastic wrap, seems like the most grounded and believable person onstage?
Mahon is in her fifties, and is embracing this phase of her career, where she worries less about what others think.
"I am very glad at this stage in my life," says Mahon. "I've stopped waiting for the phone to ring, so I go from the blank page and I try to create the work for myself and others. Find the stories, tell the stories, find the people to tell the story."
She says that to do your best work, you have to believe in it and in the process. "I think it's a universal thing and we all have our own unique story to tell – you tell it as well as you can."
"It's about trusting yourself, trusting your story and the fact that nobody can tell our particular version of things. Even if the subject matter is the same we all have our own unique story."
And when it comes to the Celtic Tiger, Ireland's story is very unique indeed.
Boom? runs at the Gaiety Theatre from 26 – 31 March, starring Claudia Carroll, Isobel Mahon, Maria McDermottroe, Aisling O'Neill and Rose Henderson. For more information or to buy tickets, see the Gaiety Theatre website.