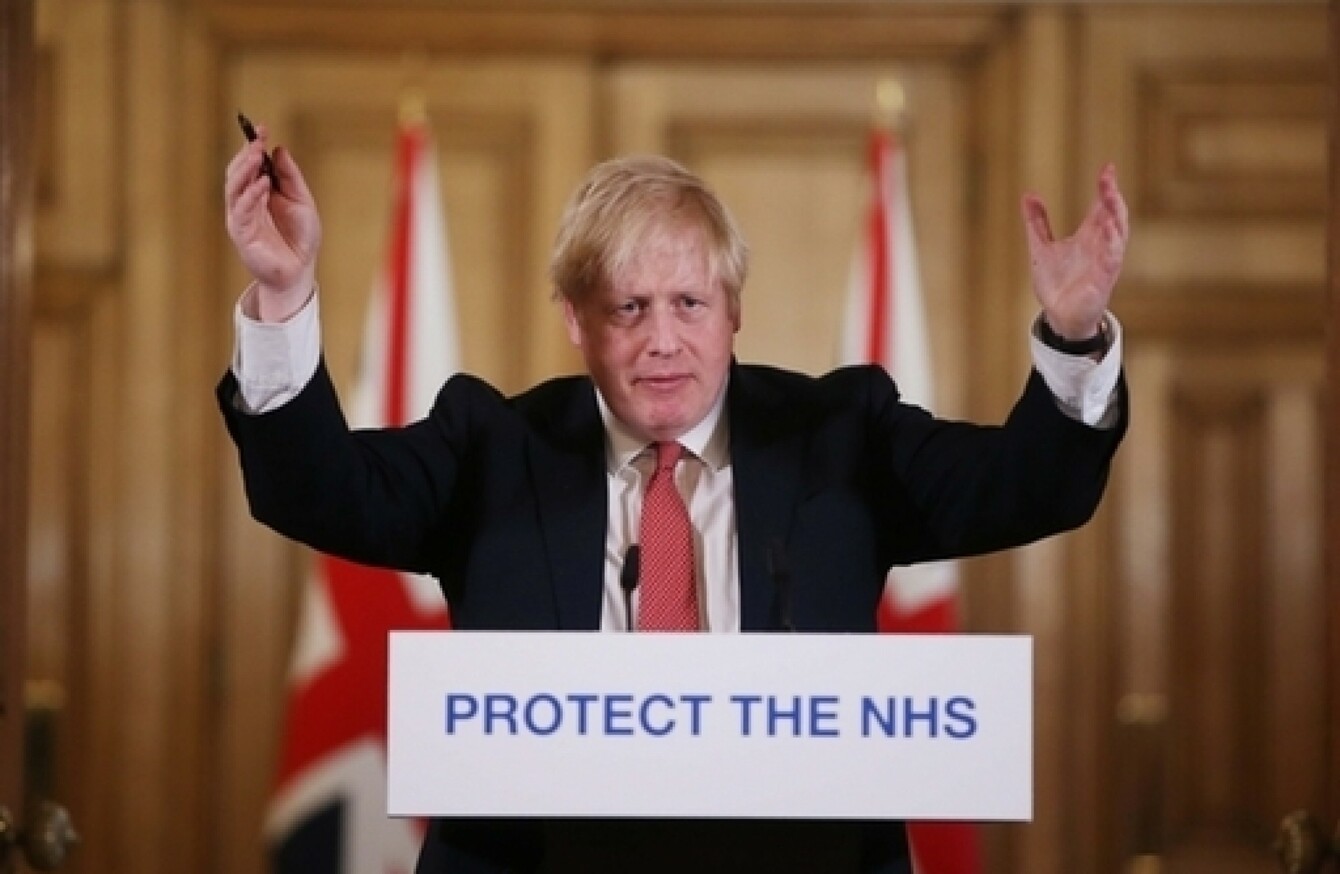 UK Prime Minister Boris Johnson.
Image: PA Images
UK Prime Minister Boris Johnson.
Image: PA Images
Updated Mar 23rd 2020, 10:30 PM
BORIS JOHNSON HAS ordered a tough suite of measures across the UK to enforce people staying in their homes.
The UK Prime Minister said that from this evening people will only be allowed to leave their home for very limited purposes including shopping for basic necessities, one form of exercise a day, medical need and travelling to work only when absolutely necessary.
"From this evening I must give the British people a very simple instruction – you must stay at home," Johnson said. 
Because the critical thing we must do is stop the disease spreading between households.
That is why people will only be allowed to leave their home for the following very limited purposes: shopping for basic necessities, as infrequently as possible; one form of exercise a day – for example a run, walk, or cycle – alone or with members of your household; any medical need, to provide care or to help a vulnerable person; and travelling to and from work, but only where this is absolutely necessary and cannot be done from home.
Johnson made the announcement in an address to the nation from within No 10 Downing Street.
He added stores selling "non-essential goods" would be closed.
"To ensure compliance with the government's instruction to stay at home, we will immediately close all shops selling non-essential goods,​ including clothing and electronic stores and other premises including libraries, playgrounds and outdoor gyms, and places of worship," he said.
We will stop all gatherings of more than two people in public – excluding people you live with and we'll stop all social events​, including weddings, baptisms and other ceremonies, but excluding funerals.
"If you don't follow the rules the police will have the powers to enforce them, including through fines and dispersing gatherings," he added.
"No Prime Minister wants to enact measures like this," Johnson added.
"I know the damage that this disruption is doing and will do to people's lives, to their businesses and to their jobs. And that's why we have produced a huge and unprecedented programme of support both for workers and for business.
And I can assure you that we will keep these restrictions under constant review. We will look again in three weeks, and relax them if the evidence shows we are able to.
"But at present there are just no easy options. The way ahead is hard, and it is still true that many lives will sadly be lost. And yet it is also true that there is a clear way through." 
The severe measures came after widespread calls for tougher measures to slow the spread of Covid-19. The UK now has over 5,600 Covid-19 cases and there has been 335 deaths. 
Johnson's statement came after Foreign Secretary Dominic Raab told citizens travelling overseas to return to the UK using commercial routes that are still running.
"If you are on holiday abroad the time to come home is now while you still can," he said.
Foreign Office staff were working to help citizens get back where routes have been halted due to the growing crisis.
Northern Ireland
Both the First Minister and Deputy First Minister of Northern Ireland have reacted to the measures this evening, with the latter seeking clarity in relation to some of the measures.
Deputy First Minister Michelle O'Neill tweeted that following the guidelines "will help to save lives" and that "all non-essential workplaces must shut". 
She then, however, said that she objected to construction sites being considered essential work. 
"In response to queries: Construction is deemed essential at this time. I have made the case to Boris Johnson that it should be considered non-essential and I will continue to do so. I accept that this announcement is confusing and I will seek urgent clarity for you," O'Neill tweeted.
Speaking on UTV's View from Stormont, O'Neill added: "It's going to be very dark days ahead. What we all need to do is make ourselves, mind others, be thoughtful, be creative, try to reach out to people as best that we can. We are all in this together. And we all need to work our way through it together."
The threat of the measures being enforced on UK citizens has led to particular concerns about the implications within Northern Ireland. 
Speaking on the same programme, First Minister Arlene Foster said enforcement of the measures should not be necessary. 
We shouldn't wait on enforcement measures we should, as a community, as Michelle has said, take this up and realise that we're doing this not only for ourselves, not only for our National Health Service workers, but for our elderly and vulnerable. It's important that we take personal responsibility. And I hope that people are listening very carefully to that because some of the things that came out over the weekend, frankly, we're not social distancing.
In Scotland, First Minister Nicola Sturgeon said following Johnson's announcement that further enforcement measures are coming. 
"I fully expect that the vast majority of people will do the right thing. And I thank you in advance for that. However, later this week, emergency legislation will give us powers of enforcement, and we will use those powers of enforcement. If that is necessary," she said.
- With reporting by Press Association