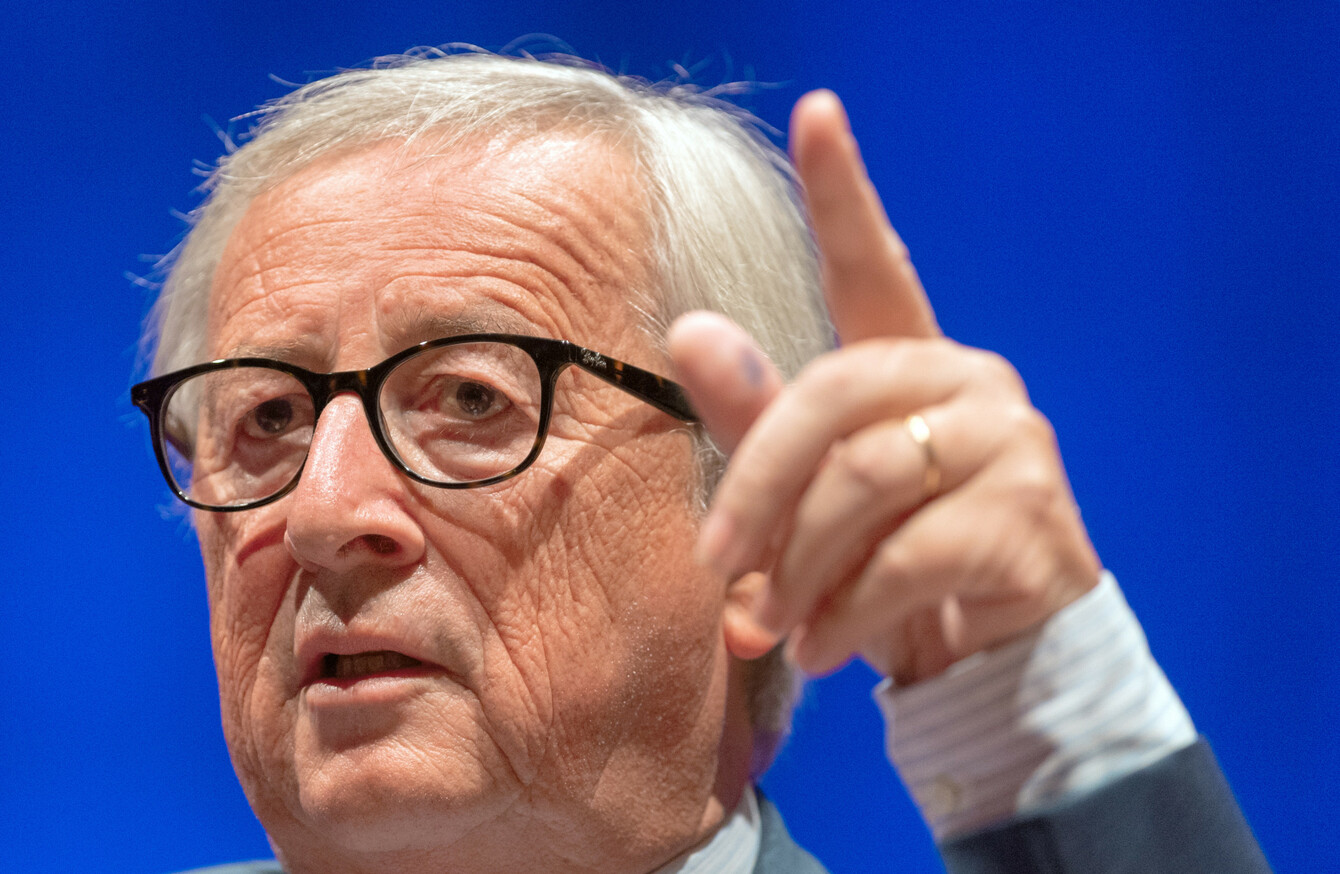 European Commission President Jean-Claude Juncker
Image: Patrick Seeger via PA Images
European Commission President Jean-Claude Juncker
Image: Patrick Seeger via PA Images
THE CHANCES OF a Brexit agreement have grown in recent days, European Commission President Jean-Claude Juncker has said, after weeks of growing fears that Britain could crash out of the EU without a deal.
With less than two weeks to go before a crunch summit in Brussels billed by the EU as the "moment of truth" for Brexit negotiations, Juncker gave an upbeat assessment of the chances of a deal.
The change in tone comes two days after EU Council President Donald Tusk gave London a stern warning that time was running out to strike a deal in time for Britain's departure from the bloc at the end of March.
Deadlines in EU talks are notoriously elastic, and Juncker told Austrian media that if an agreement was not reached at the 17 and 18 October summit, he was confident it could be done in November.
"I have reason to believe that the potential for rapprochement between the two sides has increased in recent days," Juncker said in comments reported by the Standard newspaper.
But it is not possible to predict whether we will be able to conclude the talks in October. If not, we will do so in November.
May has been invited to address the other 27 EU leaders over dinner on 17 October, to give her a chance to convince her peers that a solution can be found to the sticking points in Britain's tortuous negotiations to leave the bloc.
Diplomats have suggested the leaders could talk through the night and approve the outlines of an agreement while they are still in Brussels for the broader 18 October talks.
At their annual conference this week, May urged her Conservative party – which is bitterly divided between Brexit hardliners and moderates – to unite behind her negotiating stance during what she warned would be the "toughest phase" of talks.
Juncker said the EU was determined to reach an agreement to avoid a "no deal" Brexit, which experts say would cause chaos for both sides.
"I believe that we must distance ourselves from this no deal scenario," the former Luxembourg prime minister said.
"We are not there yet. But our will to reach an understanding with the British government remains unbroken."