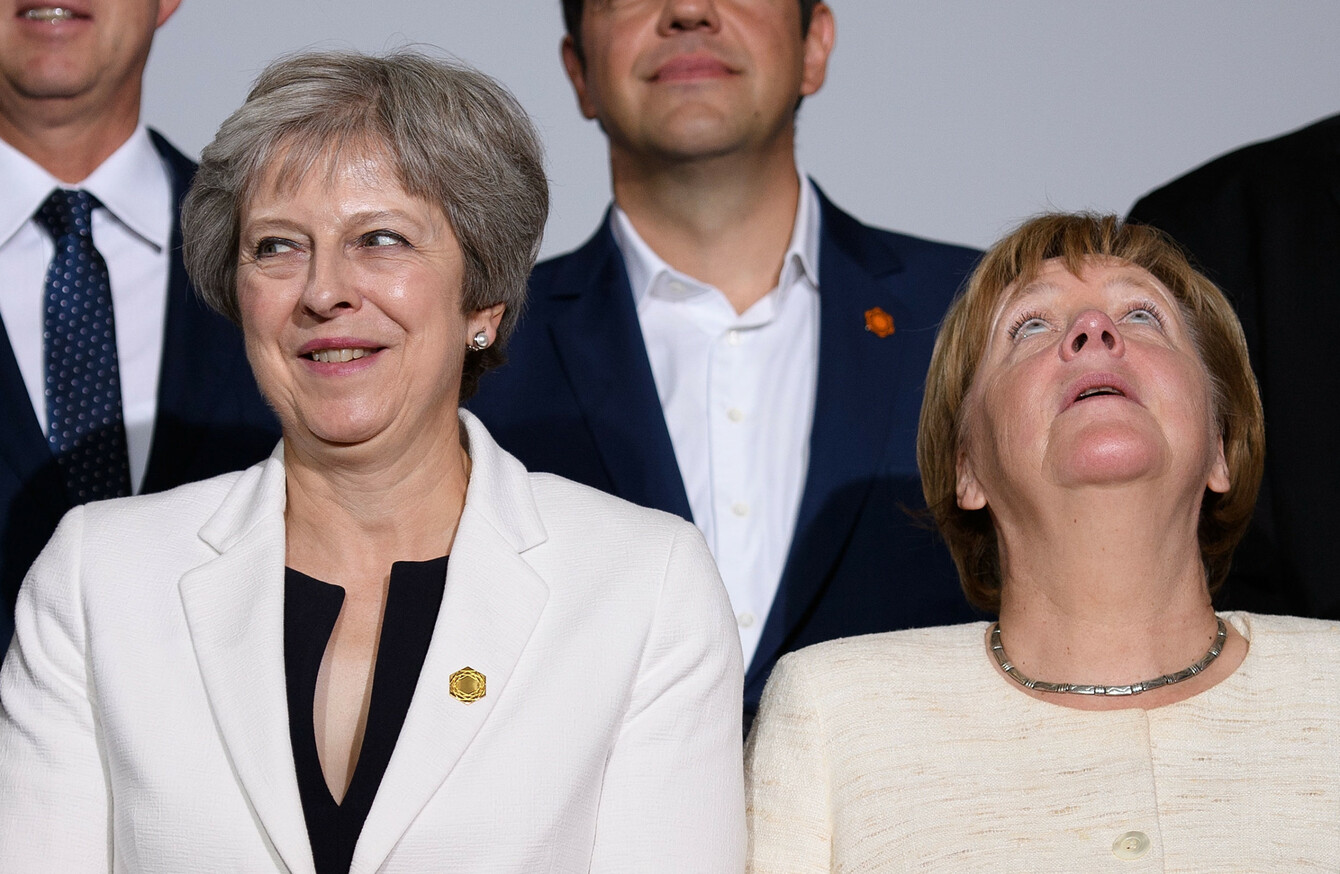 May and Merkel at a summit in London last year.
Image: Leon Neal/PA Images
May and Merkel at a summit in London last year.
Image: Leon Neal/PA Images
Updated Apr 9th 2019, 12:21 PM
MINISTER FOR FOREIGN Affairs Simon Coveney has rubbished rumours suggesting Germany could be open to a five-year time-limit on the Brexit backstop, saying they have "no credibility".
Coveney was speaking in Luxembourg ahead of a meeting between British Prime Minister Theresa May and German Chancellor Angela Merkel in Berlin. 
May will also travel to Paris to meet with French President Emmanuel Macron as part of a last-gasp bid to keep her country from crashing out of the European Union without a deal.
The PM's meetings in Europe come on the eve of another tension-packed summit in Brussels where EU leaders will decide whether to agree to the UK's request to delay Brexit until 30 June.
May has been unable to get her deal through parliament and there have been suggestions this morning that a time-limited backstop could break the House of Commons deadlock.  
This approach has already been ruled out by EU leaders and chief negotiator Michel Barnier again ruled out renegotiating the backstop today, but some senior UK politicians have suggested it as a way forward. 
Speaking this morning, Leader of the House of Commons Andrea Leadsom said that Merkel should be open to negotiating the backstop.
"What I think would be fantastic is if Angela Merkel will try to support a proper UK Brexit by agreeing to reopen the Withdrawal Agreement and there have been rumours that some senior members of the German government would be willing to do that in order to get Theresa May's deal across the line," Leadsom said.
As the person with the responsibility to get the legislation through, if we could get the Prime Minister's deal over the line because the EU have decided to support measures on the backstop that would be the best possible outcome, but we'll have to see what happens. 
BBC Newsnight political editor Nicholas Watt added in a tweet that at least one Brexiteer has said Merkel could be open to a five-year time-limit on the backstop. 
Responding to the rumours in Luxembourg this morning, Coveney said they have no basis in fact.
I don't think they're very credible rumours, you know the Prime Minister herself has said the Withdrawal Agreement isn't going to be reopened, my understanding is that the German side has confirmed that there is no truth to those rumours.
"So I suspect that may be a rumour started and circulated by someone in London but it really has no credibility when it comes to the reality of where we are."
In his press conference, Barnier did not specifically mention the rumours but repeated that renegotiating the Withdrawal Agreement was off the table. 
"You will have heard me say on a number of occasions that the Withdrawal Agreement is not up for negotiation and is not going to be reopened. That continues to be the case," he said.
Ahead of tomorrow's Brussels summit, attention is turning to the circumstances in which EU leaders would agree to a further Brexit extension. 
The 27 European leaders have already signed off on one extension and have serious doubts that May will somehow break through the political gridlock now.
May's predicament is complicated by growing EU fears that the chaos will soon carry political and economic costs even heavier than those potentially incurred in case of a messy "no-deal Brexit".
This view is being promoted publicly by Macron and is also believed to be backed by Belgium and Spain.
"We'd need a strong political reason to delay," a diplomat from this camp said.
#Open journalism No news is bad news Support The Journal

Your contributions will help us continue to deliver the stories that are important to you

Support us now
Coveney said that it was his view that EU leaders would be open to an extension if the UK did have a reason.
"I think EU leaders this week are open to an extension but they certainly want to see a plan to go with that extension, so that everybody knows the time is being used to try to conclude the first phase of Brexit, which requires the ratification of the Withdrawal Agreement and if necessary changes to the future relationship declaration."
What leaders will want to hear from the British Prime Minister is that there is either some agreement or a serious process underway that has a realistic chance of success. And what I mean by that is a middle-ground position that can command a majority in Westminster, which of course hasn't been possible to date.
Asked for greater details, Coveney refused to go into specifics.
I'm not going to say what the British Prime minister needs to do or not do, what I'm saying is that the European leaders will make a judgement but they will want to see a clear plan to make progress, in return for giving an extension. To give the time and space to get that done. 
EU Council president Donald Tusk's office last week floated a compromise proposal that gives Britain a "flexible" extension of up to a year — which ends earlier should some way forward emerge in London.
But a diplomatic source insisted that this was "Mr. Tusk's position, not the position of the Council".
Merkel takes a more conciliatory approach backed by Ireland.
"I will do everything in order to prevent a no-deal Brexit," Merkel said Friday. "Where there's a will, there's a way."
Speaking yesterday in Dublin, EU chief Brexit negotiator reaffirmed that the bloc "stand fully behind Ireland".
With reporting by © – AFP 2019