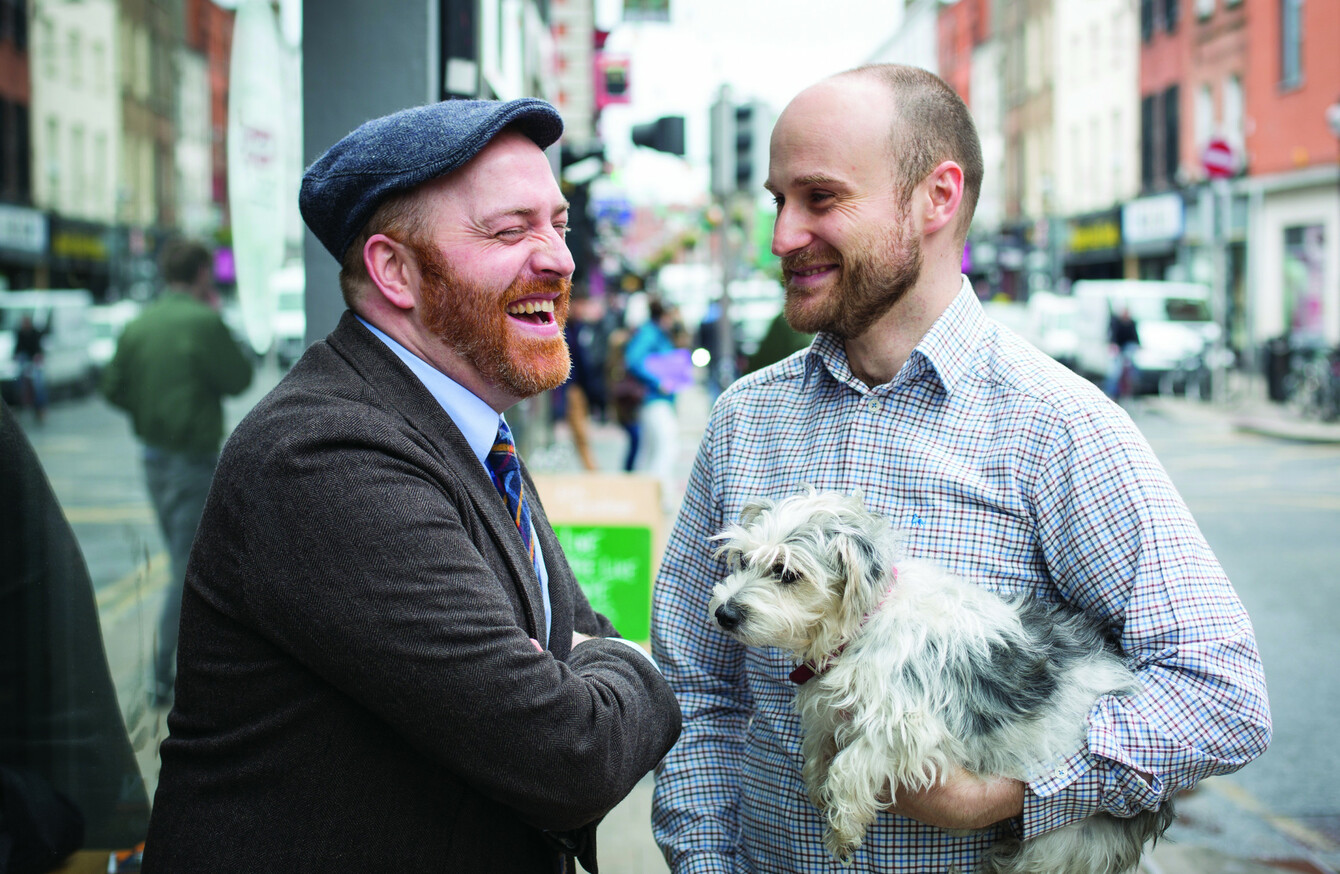 Image: Brother Hubbard
Image: Brother Hubbard
"FULL OF HIPSTERS". It's a label that Garrett Fitzgerald hates – and one he's glad seems to be slowly dying out.
His restaurant Brother Hubbard, which he opened on Capel Street with partner James Boland in 2012, has been at the forefront of the trendy café trend in the Irish capital over the past few years.
Customers' appetites for flat whites and avocado toast has been good for business, but with a vegetarian-focused menu and world food influences, the business has attracted some unfair labels, according to Fitzgerald.
"A friend of mine who worked nearby, she was in her office and she was talking about our café and someone said, 'They're all hipsters.' And she said, 'Garrett isn't a hipster, he grew up on a farm.'
"I'm glad the word hipster is dissipating now – people don't use it as much any more. It's used as an insult and is a bit derogatory. We really are not a hipster place."
It's true that Fitzgerald grew up on a dry-stock farm in Adare, Co Limerick. He helped out in the family business when younger but later wound up in a civil servant role with the energy regulator.
When he approached the 30-year mark, however, he decided it was time for something else.
"I was really happy in my job, which doesn't suit the narrative, but I had a niggling thing. I was spending my own personal time in all things related to food and travel.
Planning
Fitzgerald took a career break to put the legwork into preparing for his move into the food business.
He enrolled in the Ballymaloe Cookery School and after graduating began travelling with Boland to sample the international food scene.
"The two of us headed off into the sunset for two years. The idea was to travel for one year, explore the world and then settle in Melbourne, because we knew it had an interesting casual dining scene. That allowed me to get practical experience.
"I made sure I worked in two small, owner-run businesses. I had two jobs at once to maximise the experience. I got to see what it was like at the coalface of the business, rather than working in a chain or franchise and not learning too much."
This planning phase started pre-recession, Fitzgerald notes, when the notion of opening a café or restaurant fit in well with consumers' Celtic Tiger spending habits.
When the time came to put his research to use, the economy was in a very different state. But Fitzgerald felt he had committed too much to the Brother Hubbard idea to sit tight and wait out the financial crash.
"I was lucky that I was a public servant on a career break, so I could have gone back to my job. But I felt we had changed our entire lives and put a lot of effort into researching the café and restaurant. And I knew if I went back to my job I would never leave it again.
"We couldn't go back to the old lives while we waited for the world to change. We needed to make the change ourselves and go for it."
Good and bad decisions
Since the duo opened the café, which started with two staff selling coffee and cakes, they have slowly expanded the offering – first to lunch and then a brunch offering.
In 2014, they opened a second outlet, on the other side of the Liffey, initially called Sister Sadie but later rebranded as Brother Hubbard South.
Last year their business booked a profit of more than €400,000, while Fitzgerald also produced a Brother Hubbard cookbook.
#Open journalism No news is bad news Support The Journal

Your contributions will help us continue to deliver the stories that are important to you

Support us now
Expansion
The company currently has 70 staff on its books, and it recently expanded on Capel Street when a space next door became available.
It was a frustrating project, according to Fitzgerald, who says builders' holidays, council permits and the decision to stay open during the work all stalled the process.
"We got there in the end. We launched at 10am on a Saturday and the builders only finished work at 5am. But I was determined that when the finish line was in sight, I said that's the date we'll open no matter what."
The latest expansion has doubled seating capacity at the café and restaurant, which can now accommodate up to 130 people.
The extra kitchen space has also allowed the duo to expand the Brother Hubbard menu and also start producing their own bread on site. Fitzgerald says its only the beginning of the expansion.
"There are another two spaces off the main area we've ignored for the time being. So we have more space and should have it up and running before Christmas because we want to be in a position to take Christmas party bookings.
"We've had a cautious and organic approach to how we evolve so far. We like to do it slow and steady – it's better to get it right."
Sign up to our newsletter to receive a regular digest of Fora's top articles delivered to your inbox.
Written by Killian Woods and posted on Fora.ie