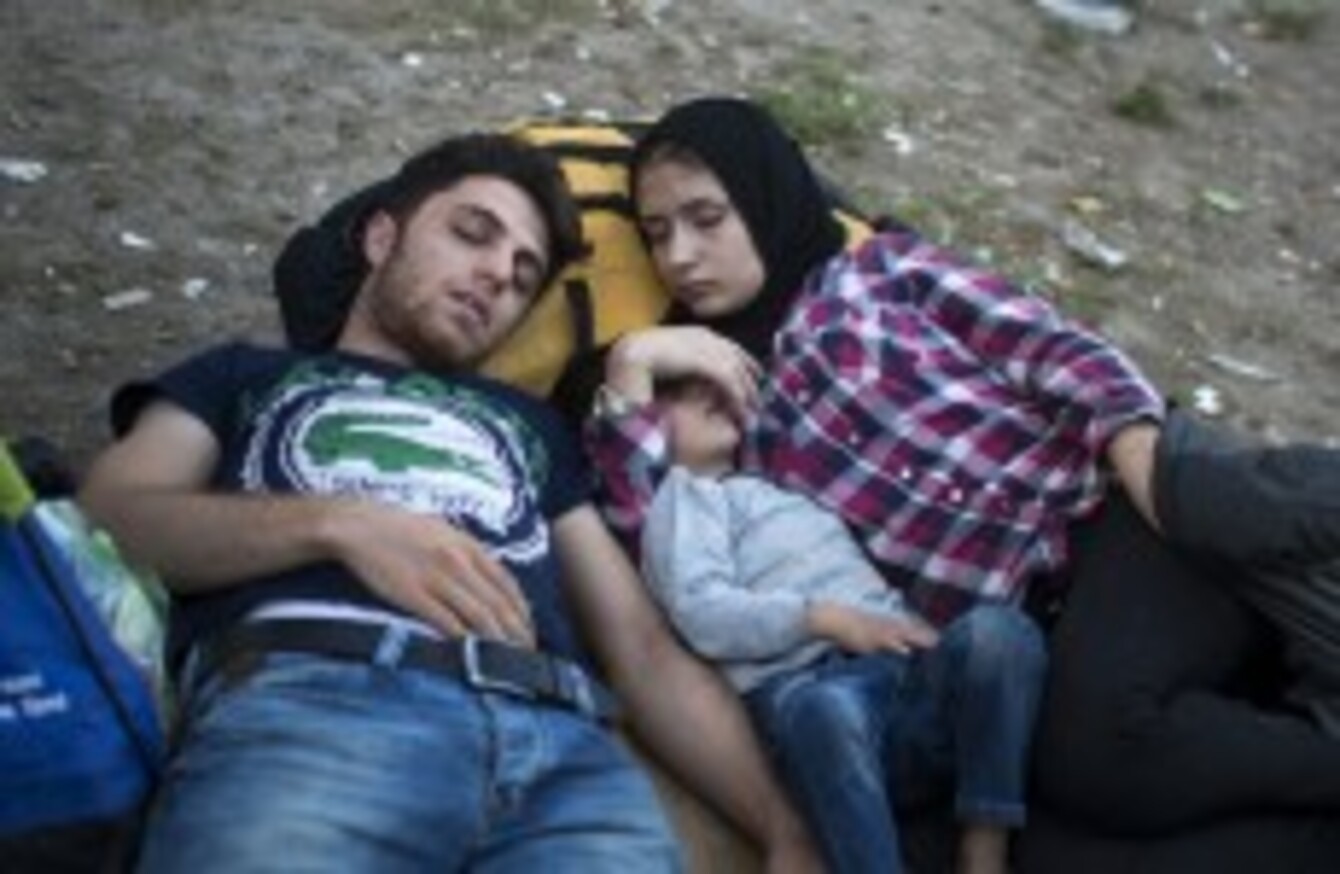 A family sleeps in a park in Belgrade yesterday.
Image: Associated Press
A family sleeps in a park in Belgrade yesterday.
Image: Associated Press
Updated 4.20pm
TÁNAISTE JOAN BURTON has indicated Ireland could take in further numbers of migrants.
Her comments come ahead of a crisis meeting of EU ministers in two weeks' time to discuss how to deal with the largest influx of refugees into Europe since World War 2.
German chancellor Angela Merkel has pressed other European countries to do more to share the burden said it's not right that some governments are refusing to accept more refugees.
Ireland's stance
Speaking at the weekend, minister for European Affairs Dara Murphy said the government would make no commitment on the issue.
In an interview with RTÉ's This Week programme the Fine Gael TD said Ireland had agreed to take in 600 people as part of a Europe-wide agreement earlier this year to disperse 40,000 refugees across the EU.
"Six hundred is the amount the European Union has requested of us to take. We will continue to play a very significant role," Murphy said.
Burton told reporters this morning that Ireland would seriously consider any further requests for help.
"If we are asked to look at perhaps taking further people I think that the government – both parties in government – will look at that in the same way that we have addressed each of the requests that have been made of us so far," the Tánaiste said.
She said that one country on its own "no matter how well-meaning" would not be able to deliver the kind of larger solution needed.
"And in that larger solution, as leader of the Labour party, Ireland I'm confident will be playing its part.
"So far we have committed fairly intensive resources as requested both in terms of the Navy and in terms of our agreement to take additional numbers of people."
She said powerful Middle Eastern states needed to do more to address the crisis, in addition to EU efforts, and highlighted the work the Defence Forces have been doing in the Mediterranean.
Also speaking this morning, Taoiseach Enda Kenny said the crisis in Europe was now turning into an "enormous catastrophe".
He said he looked forward to the meeting later this month and that Ireland would participate "diligently and fully" in the discussions.
Kenny said there needed to be some "really serious analysis on what it is that Europe can actually do" and that there also needs to be an examination of the "root causes of most of the pressurised migration".
#Open journalism No news is bad news Support The Journal

Your contributions will help us continue to deliver the stories that are important to you

Support us now
Merkel comments
Speaking today, Angela Merkel said Germany wasn't to blame for the stream of Syrian refugees in Hungary trying to board trains headed for Germany.
Hungary's government has pinpointed Germany's "more flexible attitude" toward Syrians as a problem that encourages migration. German authorities have advised officials not to send Syrians back to the first European Union country where they arrived, as EU rules stipulate.
Merkel said today that Syrians do have a high chance of getting asylum but "that should be no surprise … and should actually be similar in every European country."
"The current rules are clearly not being practiced," Merkel said.
She said the answer is a common European asylum policy with a "fair distribution" of refugees across the 28-nation EU.
With reporting from AP.