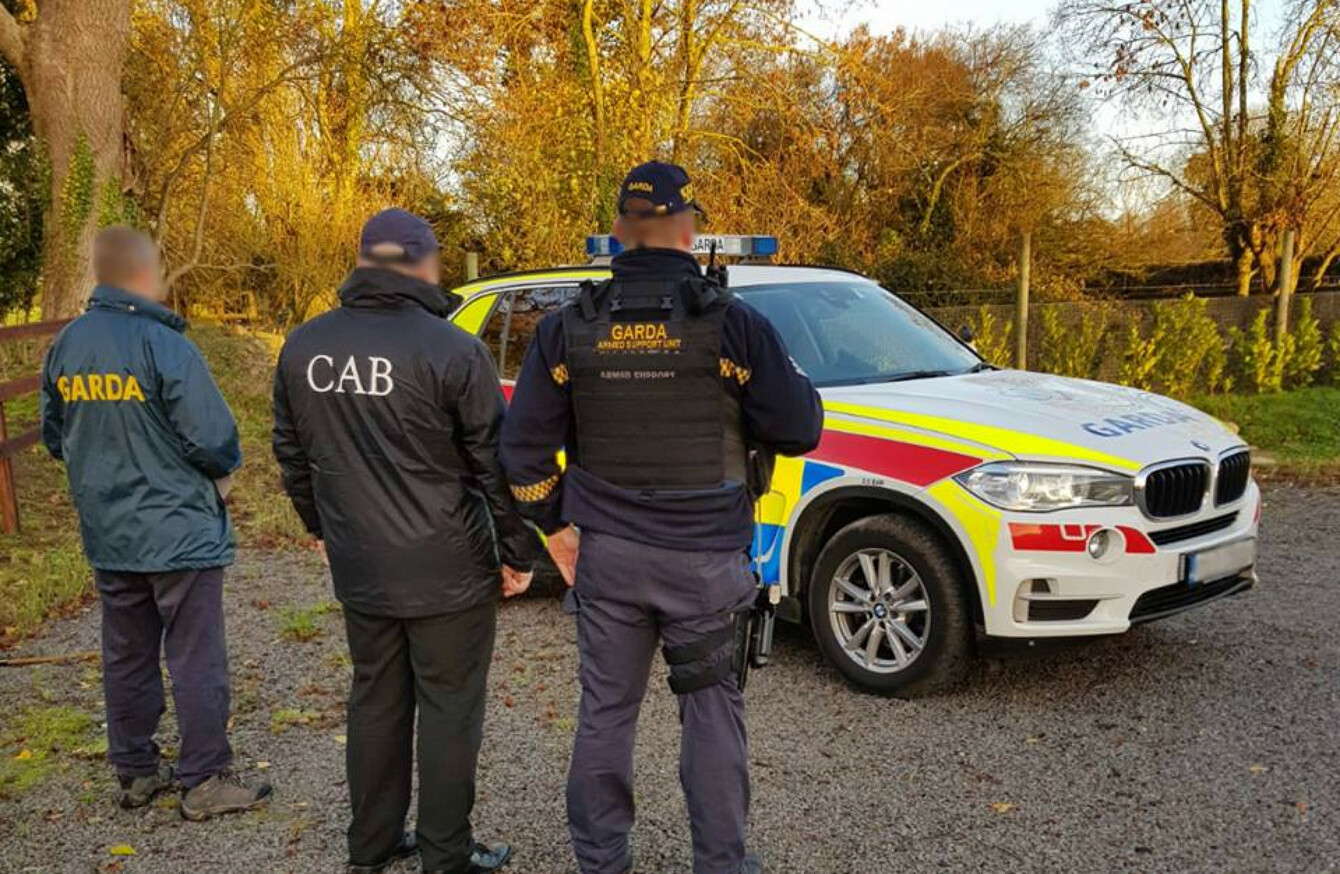 Officers at the scene this morning.
Image: Garda Press
Officers at the scene this morning.
Image: Garda Press
GARDAÍ INVESTIGATING A criminal gang suspected of laundering money and operating a stolen car ring have conducted a number of raids targeting the illegal outfit.
Seven searches in total were carried out in total consisting of five homes and two professional offices. Four of the five residential searches were carried out in the Ashbourne Garda District and one in the Navan area. The two professional searches were conducted in offices in Dublin.
All searches were conducted under CAB Warrants, Section 14 of the Criminal Assets Bureau Act 1996, as amended.
The following were seized:
3 stolen vehicles: Toyota Landcruiser, Toyota HiLux, Toyota Avensis
4 vehicles were seized for having marked gas oil (Green Diesel)
1 vehicle was seized as evidence in connection with the theft of another SUV in Cork
Drugs (Ecstasy) to the value of €2,500
Assorted plant, machinery and tools (including an topper/mulcher)
€1.500 in cash
An air rifle
Jewelry, documents, mobile phones and electronic devices
Gardaí said that an investigation is also being conducted in the theft of electricity from the national grid.
One man was arrested on warrant issued by the District Court.
A garda spokesman said: "Documentation in relation to the ownership of assets, financial documentation, mobile phones and electronic storage devices were seized and are currently being examined by bureau officers."
CAB Revenue Bureau Officers are investigating the tax affairs of each of the targets as well as social welfare issues. 
The spokesman added: "The CAB investigation centered on an organised crime gang made up of members of the one family based in County Meath, who are involved in drugs, theft and fraud.
"This morning's search operation is a significant development in the CAB investigation."