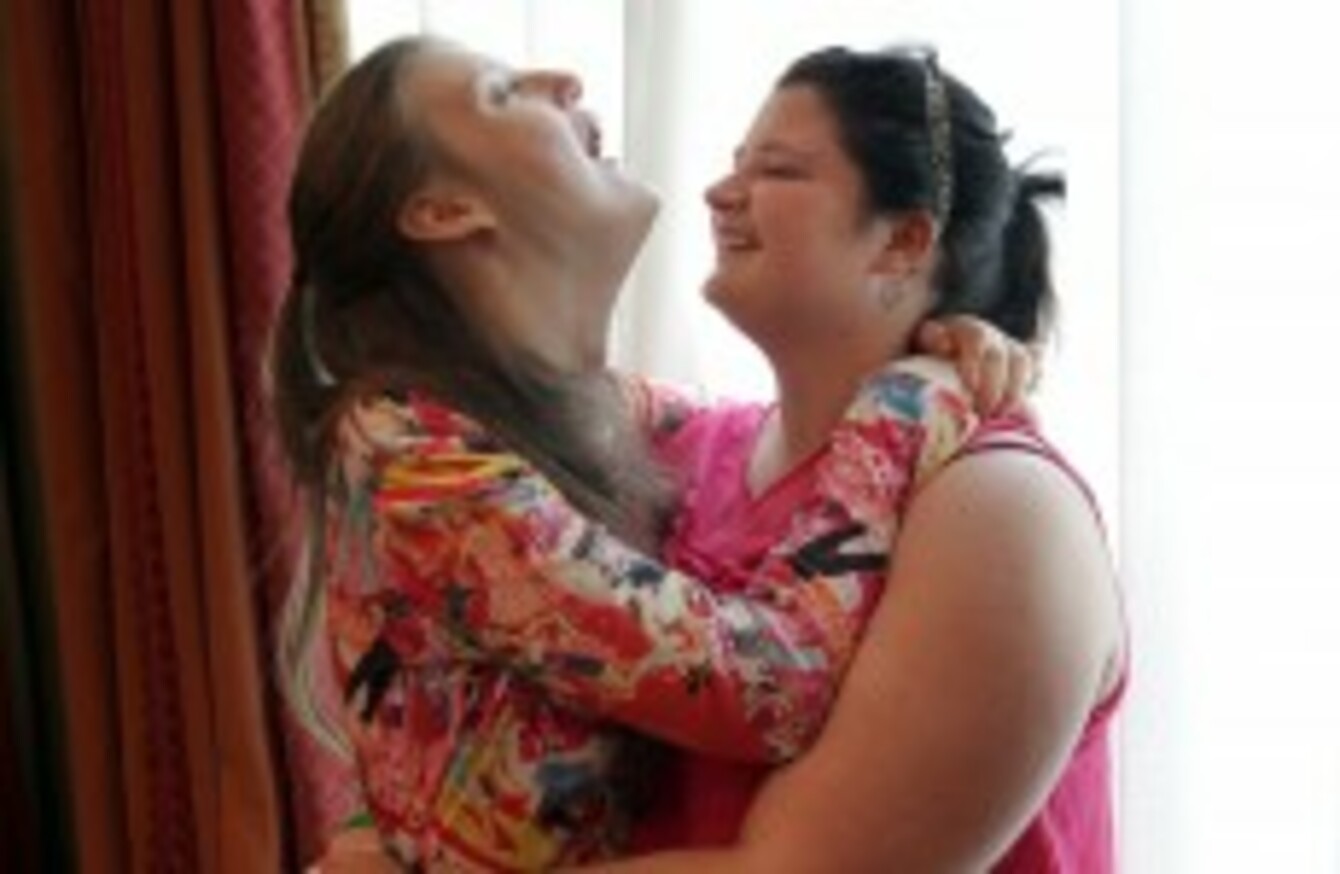 Young carer Amanda Norris, right, and her sister Demi at the launch of the 2013 Carers of the Year Awards.
Image: Mark Stedman/Photocall Ireland
Young carer Amanda Norris, right, and her sister Demi at the launch of the 2013 Carers of the Year Awards.
Image: Mark Stedman/Photocall Ireland
THE NUMBER OF people in receipt of a carer's allowance has increased from 23,000 in 2004 to close to 57,200 at the end of last month - an increase of 40%.
Collectively, carers will receive €806 million in payments this year. It is estimated that there are 187,000 family carers in Ireland.
Nearly 25,000 people are in receipt of a carer's payment at "half rate" as they are also in receipt of another social welfare payment.
For example, a lone parent who is caring on a full-time basis for an elderly relative can receive €219.80 in one-parent family payment and €102 per week in half-rate carer's allowance.
There are currently 3,500 carer's allowance applications awaiting approval.
Social Protection Minister Joan Burton informed the Dáil of the figures last week.
She was responding to a parliamentary question posed by Fianna Fáil TD Willie O'Dea, in which he asked her what she intends to do to help carers affected by the cut in the respite grant last year.
€5 billion
O'Dea said that for every euro the State spends on carers, it gets back about €5.
"The value of the total caring done in this country is estimated to be between €4.5 billion and €5 billion," he stated.
Burton said that she did not know what changes the next budget would hold for carers.
There are no commitments at this time in relation to any particular group in respect of the budget.
She added that there was "a slight tone of irony" in O'Dea's comments as he was a member of the government that "cut the weekly payment to carers by approximately €16.40 per week … that is €850-plus per annum".
O'Dea said Burton was "trying to avoid answering the question" and noted that she had overseen a weekly cut of €6.50 in the allowance.
Burton noted: "The current payment of €1,375 per annum is more than twice the amount of €635 per annum paid in 2002 by the previous Government, of which Deputy O'Dea was a member, and is higher than it was at the height of the boom in 2006, when it was €1,200 per annum."
'Hoodwinked'
O'Dea remarked that Burton was "well aware that everybody who is in receipt of a carer's allowance is automatically entitled to the respite care grant".
Thus, when the respite care grant is cut, that represents a cut in the core rate of social welfare. Regardless of how the Minister juggles it up, that is the reality.
He went on to say that Burton had "successfully fooled", "conned" and "hoodwinked" the public.
The social protection minister said that recipients of the carer's allowance also "qualify for free travel and, if they are living with the person they are caring for, the household benefits package".
She noted that payment of the annual non-means-tested respite care grant commenced recently, saying that more than 70,000 carers would receive a total of approximately €122 million this year.
On Friday, O'Dea launched Fianna Fáil's position paper on carers. The document proposed a series of recommendations, including a re-examination of the Household Benefits Packages; changes to the prescription charge and the re-introduction of a Mobility Allowance.
Waiting times
The average wait time for appealing a decision made by the social welfare related to respite care grants is just over 14 months, or 61.8 weeks. The average wait time in 2013 was 24.6 weeks.
People Before Profit TD Joan Collins asked Burton if she is "satisfied with the processing times for current social welfare payments that require a medical assessment".
Collins stated:
Almost everybody who comes to my office in regard to this problem has been waiting six, seven, eight or nine months or even longer for the claim to be dealt with. The complicated nature of the application is causing huge problems for people and for submitting their information. What does the Minister plan to do to address this?
As of the end of April, the average wait times in weeks for the four main schemes involving a medical assessment were as follows:
Disability Allowance: 11
Carers Allowance: 12
Invalidity Pension: 9
Domiciliary Care: 10
"These processing times are a significant improvement over previous processing times and the numbers of people awaiting a decision at the time when I came into office. The average number of weeks to decide on a new carer's allowance application has decreased from approximately 26 weeks at that time to a current average of 12 weeks," Burton noted.
She added that a total of €3.4 billion was spent on illness, disability and caring schemes in 2013, including a total of €2.5 billion on the four schemes listed above.
"There are currently approximately 3,500 carer's allowance applications awaiting decision. The equivalent number in 2012 was 11,600," Burton stated.
Collins said that "several things would facilitate a quicker turnaround of claims, one of which would be simpler application forms".
Another would be if someone were to sit down with people and tell them exactly what was required from their doctor in terms of medical evidence. When a doctor writes to the panel and verifies that a person is disabled, very ill and that his or her condition will not improve, the panel should accept this, rather than refusing the application.
Sinn Féin's Aengus Ó Snodaigh noted that in the past "up to 50% of the original decisions by social welfare deciding officers were overturned on appeal".
National Carers Week
Over 150 events took place last week to mark National Carers Week.
On Monday, the Neurological Alliance of Ireland and Care Alliance Ireland published the results of a nationwide survey on carers.
Of the 170 people questioned, 82% said they had been affected by cuts to home care packages over the past three years. Some 77% said they had been impacted by cuts to respite services and 70% by cuts to home help.
Just over four in ten of the respondents had given up work to look after a person with a neurological condition.
Over one fifth of carers who took part in the survey said they could not access any respite services.