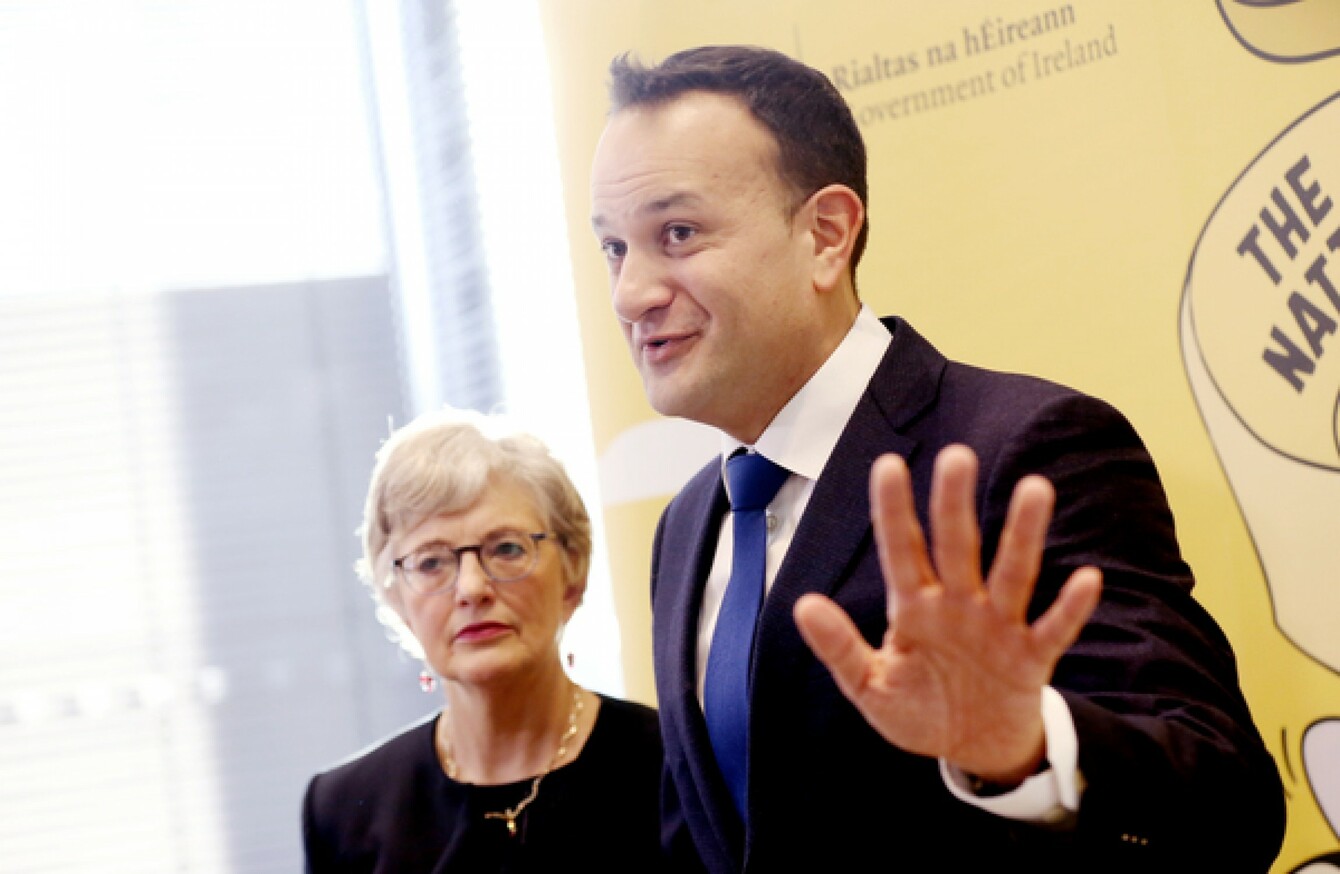 Questions remain about how the government failed to provide a childcare scheme.
Image: Sam Boal/RollingNews.ie
Questions remain about how the government failed to provide a childcare scheme.
Image: Sam Boal/RollingNews.ie
NINE WEEKS AGO, the government announced that all schools would close in a bid to tackle the Covid-19 outbreak. Today, the government is facing criticism after it admitted that a much-heralded childcare scheme for healthcare workers has been scrapped.
The scheme, when it launched last week, was already much delayed. Taoiseach Leo Varadkar had admitted that it was taking much longer than planned. 
So how did it all go so wrong?
Schools closed
Childcare questions have dogged the government throughout the course of the crisis since Leo Varadkar stood at a podium in Washington on 12 March to announce that schools and crèches across the country would close. 
The problems posed by the loss of childcare were immediately apparent. Less than 24 hours after Varadkar announced the unprecedented measures to curb the virus, health unions were demanding action on childcare support for frontline workers. Trade union Forsa said that the HSE was urging the Department of Health to prioritise the issue too. 
Some childcare facilities said that they would be forced to still charge parents fees. On 13 March, one parent told TheJournal.ie that it was a "major stress". 
"Our creche asked us to continue paying so that they could keep paying their staff. We are happy to do that for the two weeks that have been announced but we're really worried about what happens next," the parent said.
That same day, as concern spread across the country, the government promised action – even if it was apparent it didn't have all the answers.
Finance minister Paschal Donohoe promised that there was "work underway" to support healthcare workers facing childcare demands during the outbreak. 
He said that the government recognised "that those involved in our public services and in our front line public services, upon whom we are really relying at the moment, that those decisions on the availability of childcare could have a particular effect on them". 
But progress was slow. On 25 March, the government announced new measures that would see parents not having to pay their provider for childcare they're not receiving, but no comprehensive scheme for healthcare workers had yet materialised. 
Several days later on 6 April, Varadkar promised that his government was ready to push the button on a plan, but it needed to be cleared by the public health team.
"While we are ready to push the button in terms of providing childcare for essential workers, we need clearance from the public health team."
He said they needed to make sure whatever new plan put in place did not in itself become a public health risk or allow the virus to be spread.
All the while, government officials stressed that they understood the importance of a childcare scheme for frontline staff. 
Yet by 16 April, a scheme was still not in sight. Minister for Children and Youth Affairs Katherine Zappone could only say that the National Public Health Emergency Team (NPHET) has been looking into the situation.
She said she hoped a decision would be reached on this relatively soon.
Plans to issue contracts to childcare providers were deferred "in order to ensure that there is compatibility with schemes in other sectors".
Solutions
Varadkar, week after week, acknowledged the scale of the problem. Indeed, he said that he knew parents who faced the predicament of trying to solve the puzzle of childcare during the pandemic. 
On 22 April, he said that the government was considering a proposal to give paid leave to the partners of healthcare workers – if their partners worked in the public sector, but not in the health sector.
The sticking point, he seemed to indicate, was anxiety from NPHET about the prospect of childminders going en masse into people's homes to care for children. Still, a solution was promised soon. 
The plan did not go down well. The Irish Nurses and Midwives Organisation (INMO) decried the proposal as "surprisingly old-fashioned" and said that it did little to support the majority of nurses while also discriminating against single parents. 
"For most of our members with childcare needs, this is worse than irrelevant. It actively discriminates against single parents and many modern families, who will still have the same problems in relation to childcare provision. It cannot be ignored that over 90% of our members are women," INMO General Secretary Phil Ní Sheaghdha said. 
Chief Medical Officer Tony Holohan also sought to clarify the suggestion that he had "concerns" about childcare workers going into the homes of healthcare workers.  
To him, it was simply a matter of maximising "the right kinds of behaviour in the population". 
"It's conditional on the preparations that are happening intensively at the moment within the HSE to build the sampling, testing and contact tracing capacity so we can have sufficient assurance we can pick up new cases in an environment where we're easing restrictions," he said.
Discussions continued on towards the end of April, when the government told trade unions that healthcare workers unable to find childcare will be able to remain at home to look after children while still being paid. 
At that stage, it was agreed that the worst of the pressures on Irish hospitals had passed.
However, even that proposal wasn't as straightforward as it seemed. As reported by TheJournal.ie, a memo to staff from the HSE's national director for human resources said that "in the event that flexible arrangements do not allow the essential healthcare worker to attend work it will be dealt with on a case-by-case basis".
"There is no special paid leave available for Covid-19 caring arrangements during this time," the memo said. 
The scramble for solutions continued into May, as thoughts turned to the government's roadmap out of the crisis. While the HSE tried to expand the "flexibility" on offer to workers, trade union Forsa called it only a marginal increase in "wriggle room". 
Solution?
On 6 May, Zappone announced that a detailed scheme would be provided for healthcare workers. 
Families would have to pay €90 per week for a childcare worker to look after children in the home, but the majority of the cost will be paid by the State, the minister said.
A total of 45 hours per week of childcare was available under the new plan.
Zappone said the cost of the scheme would be €4.7 million per week.
Childcare was to be provided for a period of four weeks, with a review to take place after two weeks and also at the end of the month-long period.
#Open journalism No news is bad news Support The Journal

Your contributions will help us continue to deliver the stories that are important to you

Support us now
However, there were questions raised about a lack of consultation with trade unions. Forsa said that it had received no information at all about the scheme. 
Problems escalated from there. On 7 May, childcare providers were warned that they wouldn't receive insurance cover for Covid-19 related claims if they took part in the scheme. 
A letter from insurance broker Arachas has said that "it is our duty as your insurance advisor to highlight to you that under the current framework outlined by your Insurer, Allianz, and by the Government Departments, that you will not have insurance cover for any claim relating to Covid-19″.
Several days later, the scheme was no more. The Department of Children and Youth Affairs confirmed that only six providers had applied to the new scheme.
The failure was blamed on concerns about insurance cover, virus transmission and a lack of protection for staff. 
Now, questions persist about what happens to frontline workers and their children. This morning, the INMO told the government to "go back to the drawing board". 
In the Dáil this afternoon, Sinn Féin leader Mary Lou McDonald questioned the failure of the scheme. 
Varadkar suggested that there could have been more engagement over the scheme. However, he told the Dáil that he wasn't sure that insurance "was quite the issue it is being made out to be".
"There are tens of thousands of workplaces in Ireland open today, private and public sector. There will be tens of thousands more workplaces in Ireland open next week and they will open, notwithstanding the fact that they don't have insurance against a virus," he said.
"I'm not sure if it's ever been the case that insurers have indemnified employers for the possibility of being sued over getting a virus, so that's something that needs to be considered."
"I'm just not sure it's possible to indemnify somebody against getting a virus. Or even if you'd have much of a case if you tried to sue," Varadkar said. 
Words like "shambolic" and "inexcusable" have come from opposition parties – it now remains to be seen if a solution can be provided.